In college, I started to do a little bicycle framebuilding. For amateur builders like myself, getting information and sources for supplies can be difficult. So if you're interested in getting started yourself, I've put some links up here so you don't have to do all kinds of searching. In addition, I've got photos of my own work to provide some ideas for other aspiring builders.




Tubing manufacturers

Henry James is the industry leader in bicycle frame jigs, and has just released a new model.
Henry James lugs are some of the best available.
Henry James is the #1 distributor of True Temper tubing.
Henry James also sells braze-ons, silver & brass brazing rod, flux, etc. Pretty much everything you need to build a frame.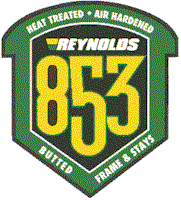 Reynolds is a British company known for their new 853 steel tubing, which gets harder and stronger after welding or brazing. They're also just starting to get into carbon fiber, aluminum, and titanium. You can order tubing directly from their British office.





Columbus is an Italian company that is probably the biggest, most diverse company around. In addition to regular tubesets, they make stainless steel and aerodynamic tubesets. The company also offers aluminum and titanium tubes. You can get Columbus tubing from Nova Cycles (see below), Ceeway, or from Joe Bringheli.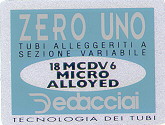 Deddaciai is an relatively new Italian company that makes really great steel and aluminum tubing. I used their Zero Uno steel tubeset for my new road racing frame (see below). You can get this tubing from Joe Bringheli.














Excell is a French tubing manufacturer that makes some very light road tubesets. Giordana frames, sold by Gita in the United States, uses the Excell Podium OS tubing in a 3.5 lb. road frame. Good stuff.








Vitus is a French company that made some nice steel tubing, but are more well known for they're aluminum bikes. Few people build with it here in the U.S. anymore, except for Harry Havnoonian and maybe Rivendell. Last I heard, Vitus was halting steel tubing production in order to focus on aluminum bikes.



Carpenter Technological Corporation makes a new super-stong steel alloy called AerMet 100, but it is exceedingly hard to get ahold of. In addition, few people build with it.






Easton is an American company that makes aluminum tubing. They've got some fantastic new tubing that uses Scandium to increase strength so that smaller diameter tubes can be used.








Alcoa is another American company that makes aluminum tubing, most notably for Saeco/Cannondale's pro road team. Unfortunately, they don't sell tubesets to individuals.





Ancotech is an American company which is probably the largest supplier of titanium tubing around.

Ancotech
2525 Beach Daly Road
Dearborn Heights, MI 48125-1196

phone: (313) 274-0350
fax: (313) 274-3085



Oria is an Italian company which makes steel and aluminum tubing.

phone: 011-39-41429700
fax: 011-39-41429981






Lugs, frame parts, etc.



Henry James is the industry leader in bicycle frame jigs, and has just released a new model.
Henry James lugs are some of the best available.
Henry James is the #1 distributor of True Temper tubing.
Henry James also sells braze-ons, silver & brass brazing rod, flux, etc. Pretty much everything you need to build a frame.


Joe Bringheli imports Dedacciai and Columbus tubesets, as well as many investment cast lugs and other frame parts. He also sells a wide range of jigs and cutters.






Ceeway is a British distributor of tubing, lugs, frameparts, etc. They have tons and tons of lug styles. Peter at Ceeway is very easy to deal with, and they ship fast!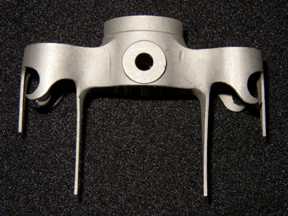 A new company, Pacenti Cycle Design is now selling some very beautiful lugs and crowns.
Mark Stonich of Bikesmith Design and Fabrication creates some dummy headset spacers, perfect for holding your fork to your frame temporarily while you are in the middle of construction.


Nova Cycles is the major distributor for frame parts, lugs, Columbus tubing, and other things. Many builders use them.

Nova Cycles Supply
4111 Citrus Ave., #8
Rocklin, CA 95677
1-800-274-NOVA





Quality Bicycle Products is a bicycle component wholesaler with whom many local bike shops have an account. They also sell True Temper tubing, lugs, and other frame parts.





Tecnociclo is an Italian company that makes dropouts and other frame parts in aluminum, steel, and titanium.




Long Shen is a Taiwanese company that makes lugs and dropouts.




Kinesis is a Taiwanese company that makes dropouts and other frame parts.






Makino is a Japanese company that is the heir to 3Rensho, a company that used to make some very cool lugs and frameparts. They specialize in track, but more specifically Keirin frames. Right now I don't think they're lugs are available for purchase in the US though.




Marchetti is an Italian company that makes jigs and other supplies. Very expensive.


Bike Machinery is another Italian company that makes jigs and other equipment.


Anvil Bikeworks sells frame jigs, fork benders, and other fixtures.


Renaissance Cycles is an internet store that sells Cyclus framebuilding tools. Good quality, and less expensive then other tool makers.


United Bicycle Institute has an online store which sells titanium tubing, frameparts for steel and Ti frames, jigs, and other tools.


Fairing is a California company that has all kinds of neat stuff. Eclectic.


Paragon Machine Works is a company which produces mostly titanium, but some steel frameparts.

Paragon Machine Works
67 Industrial Way
Greenbrae, CA 94904

Phone: (415) 927-0348
Fax: (415) 927-8367



Wicks Aircraft Supply sells plain 4130 Cro-Moly tubing, good for making brake bridges, stems and other miscellanious frame projects.
Wooley Fabrication makes some great tubing blocks, including some blocks that have more then one size tube hole within it. great idea!
Paul Component Engineering produces some really nice steel rear track dropouts. They even come with built-in adjuster screws like the classic rear horizontal dropouts of yore.
Strawberry Bicycles makes a cool internal seat binder bolt mechanism, perfect for those fillet-brazed road frames.
Kavik Bicycles now makes modular dropouts. Once the base of the dropout is brazed into your frame, you can then bolt on different dropout variations; for example, you can start with a vertical road dropout and then change to a horizontal track drop. Cool stuff.
My Projects and Photos
Columbus Cromor cyclocross frameset
True Temper OX-Platinum frameset

Dad's Bike

Custom Lug

Dedacciai 0.1 frame photos

home made tools

metal jig photos

"A Labor of Lug"

bike stool

techniques and tricks

wooden jig photos

comming soon:


Reynolds 531 fork--construction process

future projects

Artists

There are many framebuilders out there that really produce fine frames, pieces of artwork. The following list is only a small representation of them. Looking at their frames is usually a good way to get ideas for what you want your own frame to look like. In alphabetical order by last name.


Painting and/or Chroming

The Color Factory
23 Main Street
Waretown, NJ 08758
(800) 62-GLEAM

Decals
Other information

Take a photo trip through the process of building a Richard Sachs frame on the Campy Only website

To look for stylistic and artisitc inspiration, I go to Mark Bulgier's website, where he has scanned tons of catalogues of bike frames from the 70's and '80s. Lugs 'R Us!


Framebuilder's Mailing List is an e-mail-based framebuilding bulletin that you can subscribe to. Lots of useful information passes through this new forum.

Bill Boston sells a series of computer programs that help with frame design and also with bike fit. Check it out.

Stephanie Monfrey's homepage has lots of useful information about jigs, alignment tables, tubing sources, etc.

Gerritsen & Meijers, Ingenieurs build frames in the Netherlands and sell a cool framebuilding computer program.

Paulo Ganio is another part-time framebuilder who has some neat jig designs. Must read Italian though. If you're like me, you just look at the pictures.

Tim Smith runs a web page focussed on recumbent bicycles, but it has a lot of good information about tube mitering, brazing, and other general skills.

The Bike Forest is a bicycle shop whose web page has CAD programs that allow you to design your frame geometry on-line.

Tim Paterek is a professional framebuilder who sells plans for frame jigs. He also has computer programs which you can download for free which calculate the dimensions for your frame.

Jalon Hawk of Desperado Cycles has a good summary of steel tubing properties, as well as many tables of tube butting profiles. Very useful for out-of-production tubesets.

Josh Putnam has a page describing the steel frame that he built himself. He's also the one that set up the Framebuilder's mailing list.

Damon Rinard has a page describing how he built a frame out of carbon fiber. He's also got a program called Tube Miter that plots the exact shape of a specified tube miter. Look at the bottom of this page for it.

Guy Lautard runs a web page devoted to machinist skills and information.

Gingery's pipe bender is a book that tells how to build a cheap pipe bender. Very handy for bending forkblades.


Pete's Bikindex has links to just about any bike topic imaginable. A great resource.

Robobike, soon publishing a book about homemade bikes?
---

Thanks to David Bohm, Josh Putnam, Damon Rinard, Fred Parr, and others whose ideas and information have gone into this page.


If you would like to get in touch with me, please e-mail me at: root@student.uchc.edu

Created September 20, 1998. Last updated December 30, 2003.




visitors since October 2000



[Top] [Home]