Info about me and my friends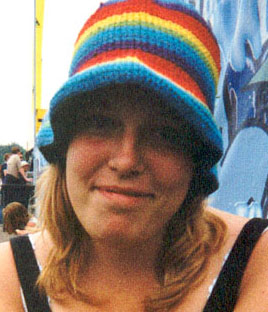 Well, this is me. This picture is taken at Pinkpop 2000, in June. It was a very hot day, and I had to wear that cool, silly hat because of the burning sun. Im really addicted to that hat, it rocks so bigtime! Anyway, now you know what I look like. *g*
Personal stats:
Name: Kelly van der Laan
Birthdate: July 28, 1980 (That makes me 20, yeah)
Sex: Female
Hometown: Hoorn, the Netherlands
Living with: My fiancé Oliver and our pets Bako and Grath
Occupation: @Home Sales department
Education: I study a course of advanced English right now
High School: The OSG Westfriesland in Hoorn
Graduated: 1998
Criminal Convictions: None (unless you count biking in the dark without a light or traveling in the train with out ticket)
Immediate Family: Gerard (father), Ria (mother), Gitty (sister, 17 yrs), Yoni (sister, 14 yrs), Oliver - my hubby to be
Interests: My friends, music, going out, having fun, reading, writing stories
Height: 5 ft. 8 in.
Weight: secret :)
Eye Color: Greyish Blue
Hair color: usually honeycolored, although I dye it rather often
Extended stats
My real name is Kelly van der Laan and I am born in a little city called Hoorn (about 40 kilometres north from Amsterdam), in the Netherlands. I grew up with two younger sisters (Gitty and Yoni), who I love very much, though I argue with them all the time. I had a normal youth, went to an elementary school near to my house, and later, when I became twelve, to High School. At High School (a beautiful, cozy school called the O.S.G.), my life got interesting.
My education level was Atheneum (6 years), and in third grade I met a really interesting boy called Oliver. He was my best friend at the time, and in the fourth class we fell inevitably in love. I also met his ex girlfriend Nienke that year, and ironically enough she became also a very dear friend of mine.
I became a very active schoolmember, I was member of the student committee, the party committee and wrote some articles for the schoolpaper. I loved it out there. But eventually, in sixth grade, the exams were there. I passed without very much learning and after that I went to the HVA (litterary translated: High School of Amsterdam) to study Publishing.
I finished my first year of the study and quit. The lessons were too easy, except for some stupid class called Statistics and Economy. Lets just say those classes were the only ones I failed. I left then, finding a job at
Stream International
in Amsterdam. I liked my job for a while, doing member support at the helpdesk for
CompuServe
, the dutch version of AOL. Oliver and Thomas worked there as well, but recently Olli and I moved on to Excite @Home. Olli works at the Network Operating Centre, I work at the sales.
We still have time enough for our friends. Some weeks we barely have time for eachother with so many friends around: Aurélie, Nina, Bas, Annemarie, Thomas, and, recently, Martijn. If you want to see all these people I am talking about, then take a look at
My picture page
.
My picture page
happens to have pictures of
Thomas
, Bas,
Aurélie
,
Annemarie
and my fiancee Oliver, and me with them. Maybe its also nice to know that Aurélie, Thomas and Annemarie are also members of Dragonmount, they go by with the names Calliste, Tomaz and Nymphia.
What can I tell you more? My hobbies are being online, being with friends, partying/going out, reading and having fun.
If you want the latest news on what happened in my life, just check this page:
Newspage
My zodiac sign is Leo (and fiercely proud of it), because I am born on July 28 1980…. I am a huge fan of the rockband K's Choice. The song below is from them. It is called "Believe"...Erm…. I believe thats about it.
And, ARE you surprised to meet the girl behind Lanfir? Is it like you expected? I suppose not… One is always having idea's about someone on the Net and it always turns out to be different…
Believe
~by K's Choice
Bravely I look further than I see
Knowing things I know I cannot be, not now
I am so aware of that I am, but I dont know where that is and
there's something right in front of me and I
Touch the fingers of my hand and I wonder if it is me
Holding on and on to feelings of prosperity
Someone who can promise me... I believe in me...

Tomorrow I was nothing, yesterday I will be
Time has fooled me into thinking, it is a part of me
Nothing in this room but empty space
No me, no world, no mind, no face

Touch the fingers of my hand, and tell me it is me
Holding on and on to love, what else is real
A religion that appears to me, oh,
I believe in me...

Can you turn me off, just a second please
Turn me into something faceless, waitless, mindless, homeless
vacuum state of piece...

On and on and on and on and on and on and on
I believe in me...
On and on and on and on and on and on and on
I believe in me...

Wait for me I am nothing on my own
I am willing to go on but not alone not now
I am so aware of everything, but nothing seems for real
As long as you are in front of me and I
Touch the fingers of my hand
and I am grateful that it is me
Holding on and on and on and on...
I believe in me....
On and on....
Willing to go on but not alone not now
I am willing to go on, but not alone, not now...
On and on and on and on and on.....




This cute fishy image is taken from the official K's Choice Website


I have a strong nostalgic memories to this song, it represents the period that I graduated high school and had to start a new life. The quote
I am willing to go on, but not alone, not now
represents that feeling entirely. And it's a beautiful happy song, besides.
That is why I chose this song to put on my homepage, though K's Choice made more billiant songs:
"Hide", "Elegia"
etc.
I hope you enjoyed my page. It is, was, and will be forever under heavy construction.
Love, Kelly
Dont forget to take a look at my picture page!!
GO
HERE