KLAUS SCHUHMACHER┤S MARTIAL ARTS RESUME

Soke Schuhmacher's credentials and reputation are world renown. In 1972 he began his experience of studying, training, researching, teaching, and performing several styles, and systems of Martial Arts. Grown up in Frankfurt ~ Germany, his Martial Arts career began as a little boy with Jiu-Jitsu, Karate, and Judo under the legendary Grandmaster Heinz Guenther, who was after Senior Grandmasters Erich Rahn, and Alfred Rhode, the second highest ranked Judo / Jiu-Jitsu expert in Europe.

He is the founder of "Four Water Boxing", "Oh-Do-Kwan-Hap-Ki-Do", five other styles / systems of Martial Arts, as well ten different global non-profit Martial Arts organizations, including the "International Council of Higher Martial Science Education", which is a worldwide institution for a better control of higher Martial Arts levels, and ranks. Therefore he also created several unique higher martial science degrees, like the "Senator", "Minister", "Ambassador", and "Diplomat", to keep the retention of high ranking black belts and to motivate, properly train and certify Martial Arts Instructors.

Additionally he holds to his credit, the creation of the new scientific street defense system called "PROGRESSIVE HAPKIDO" in 1992. Prof. Schuhmacher spends considerable time and effort preparing his Progressive Hap-Ki-Do program. These program grow out of over 35 years learning, practicing and teaching the Japanese-Korean system of Hap-Ki-Do.

His Hap-Ki-Do instructors since 1975 were Song-Il-Hak, Sou-Bong-Kim (Father of Hap-Ki-Do in Europe), Yu-Un-Son (direct student of Soke Choi), Yang-Seung-Woo (Europe's highest ranking H.K.D. Grandmaster at that time). In 1984 Klaus trained under Chi-Han-Jae in Offenbach, Germany.

In 1989 he was one of the founders of the "German H.K.D. Federation" and trained privately with Yoo-Kyung-Soon in Kassel.

Eventually he received additional lessons in Kum-Do, Taekwondo, Tang-Soo-Do, and other Korean Martial Arts styles from several different Grandmasters in Asia, and the U.S.A.

He introduced original Hap-Ki-Do in Thailand (1983), in Costa Rica (1996), in Yemen (2006), and in Bangladesh (2008).

In 1995 he was elected as the chairman of the oldest international open Martial Arts organization, the "World Martial Arts League", which was first chartered in 1953.

In 1989 he organized the last legendary European Martial Arts championships near by Frankfurt ~ Germany ~ Europe, were hundreds of Black Belts, and Masters, from over 36 countries took part.

In 1998 he hosted the 1st international Martial Arts Hall of Fame ever held in Europe and is responsible for bringing some of the greatest Martial Arts Grandmasters and legends to Germany / Europe ! Some were:


O'Sensei Philip S. Porter ~ Highest ranking Judo Grandmaster in the world 10. Dan and father of modern Judo in the U.S.A. Author of the international Judo requirements for competition and testing.


Prof. Rico Guy ~ One of the world's leading experts for Japanese Sword fighting !
Dr. D. P. Hutton ~ One of the world's best knife fighting experts !
Prof. Amin Sami Hassan ~ Founder of Goju-Taichi-Qi-Gong

Sigung Tim Wolfe ~ One of the fastest Close quarter combat fighters and Grandmaster of Black Panther Gung-Fu !

Grandmaster Peter Chong ~ Direct student of Mas Oyama !
Grandmaster Kenneth Lewis ~ Father of Kung-Fu of the Bahamas !
Prof. C. J. Krieger ~ One of the world's best Aiki-Jutsu experts !
Dr. Germon M. Smith ~ Grandmaster of African Martial Arts!



Some of the honors he received are:

"Special medal from the Philippine Sports Commission"(2001)
Award for Continuance of Excellence in the Preservation of the Martial Arts" by the
"Action Martial Arts Magazine Hall of Fame & Spirit Awards", U.S.A.
"Award as one of the World's best Martial Artists" by the H.R. I.M.A.A. 1st Worldwide Hall of Fame in 2003 !

Klaus with some of his many trophies he won during his competition time !



Some of his Martial Arts properties are:

World champion in Soft Style Weapon Forms 1986
European champion in Soft Style Weapon Forms 1986
22 times Grand Champion in Kata /Forms and Weapons
In 1987 he was a member of the A.F.M.A. US Team at a World Championships in Austria
In the mid-eighties he won three professional Thaiboxing fights in Thailand
He also had two victories at Fullcontact non-rules matches 1987 in Hong-Kong
Between 1983-1987 he was a member of an international Show team were performed over
270 Martial Arts demonstrations all over in Europe
He is known throughout the world for his impressive joint lock techniques, pressure point techniques
and high impact Martial Arts exhibitions.

Here Do-Ju Klaus is demonstrating a special breathing exercise, during a World Championship tournament in the early 80┤s: Four wooden arrows and one spear, all with steel heads, are placed on his throat. Later, one man jumps in the air and side kicks Klaus in the neck. All three items are breaking in parts.


Actual Martial Arts ranks, levels and qualifications


Klaus holds honorary philosophy doctorates in different fields of Martial Science, including as the only person worldwide, a Doctorate in Hap-Ki-Do Philosophy and an 11th Dan ~ Degree Black Belt in Hap-Ki-Do for his establishment of the educational Oh-Do-Kwan-Hap-Ki-Do System in 1986. Mr. Schuhmacher is one of only a handful Non-Asians world wide holding a 10th Dan in Tae-Kwon-Do and was the first Non-Asians to receive this highest rank in both Tae-Kwon-Do and Hap-Ki-Do.

All his multiple ranks, and qualifications are certified, recognized, as well official registered by nearly 100 different Martial Arts organizations / institutions, from over 22 countries. Some them are: 10th Dan in Chinese Wu-Shu / Kung-Fu, and Karate, Ho-Shin-Do, 9th Dan in Gum-Do, Tang-Soo-Do, Ju-Jitsu, Okinawan Karate (Tamiya-Kaishin-Ryu & Goju-Ryu), Aiki-Jitsu, 7th Dan in Okinawa Kobudo, Judo, etc.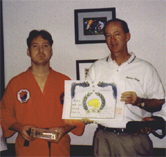 Here he receives the golden key of the city of Bay Minette from Mayor Rhodes.



Klaus is the successor of Chinese "Ba-Zhong-Chuan-Fa", which he started to study in 1973 under the supervision of the great Sigung Wong-Ying-Kui. Until today, he is representing this system as the only person in the Western Hemisphere. Additionally he learned several other styles & systems of Chinese Martial Arts.

As one of the first non-Chinese Martial Artists, he also competed in a big Wushu tournament in China in the eighties.

Klaus also was the first who brought the Yip-Man (Hong-Kong style) of Wing-Chun Kung-Fu to Yemen in 2006, and to Bangladesh in 2008.

Since 1975 he also studies traditional Chinese medicine, and philosophy in Europe, Asia, and the U.S.A.

Soke Schuhmacher is currently labouring to complete his books "The Complete Chinese Martial Arts Factbook", and "The Ultimate Hap-Ki-Do Factbook".

Soke Schuhmacher is one of a few Germans, and one of only a handful other Europeans who gives seminars world-wide since the early 80`s. Since 1981, he taught different styles, and systems of Martial Arts in seminars, and private consultations to people in the Caribbean, the Middle East, Costa Rica, the U.S.A., Asia, all over Europe, and also gave over 100 demonstrations outside of Europe.






This picture from the early 80ดs shows Grandmaster Schuhmacher
performing a brick break with an internal iron palm strike.



He also is a Philippines certified Instructor for Stickfighting (Minos-Perez Kali), which he practice since 1983.

Klaus is certified as a as a "Senior Instructor for Military Close Quarter Combat Tactics", and as a "Master Defense Tactics Trainer" for his many years of teaching U.S. Special Forces, Army, and Airforce personal during their stay in Germany.

Since 1981 he taught Presidential Bodyguards, members of the Special Force, Army, Navy, Air Force, CIA, FBI, Police, and has given seminars, as well as private consultations all over the U.S.A, Asia, the Caribbean, Europe, Latin, and Central America.

Over the years Soke Schuhmacher met some of the best Grand Masters and Legends
in the Martial Arts like Lou Thesz, Grand Master Johnny Kuhl, Grand Master Ken Eubanks, Prof. Robert F. Edwards, Sosei Reno Moralez, Grand Master Chuck Merriman, Grand Master George Dillman, Grand Master Dr. K. Sung, Grand Master Jason Lau, Grand Master Mike Anderson, Grand Master Anthony T. Goh, Grand Master Michael De Pasquale Sr., Grand Master George W. Alexander and Grand Master Gary Alexander.

He also had the opportunities to receive instruction during some of the most prestigious camps and seminars worldwide, from experts such as Soke Ed Parker, Prof. Peter Urban, O'Sensei Phillip Porter, Soke D.P. Hutton, to name just a few.

His passion for the martial arts made him travel to nearly 60 countries ! Besides over 35 Hall of Fame inductions, Klaus was honored by the world's leading publication on Korean martial arts "TaeKwonDo Times Magazine" in their 30th anniversary edition, as the "International Grandmaster of the Year 2009". See here !

This made him the first German, and European, who ever received a Hall of Fame induction, by one of the top three international Martial Arts magazines world-wide !

His goal in life is to touch people's lives, encouraging them to be strong in mind, body, and spirit. He supports human rights worldwide and believes in standing up against any kind of discrimination and injustice.

SOME OF HIS CERTIFICATES




7. Dan by the Goju-Ryu Karate-Do Seiwa-Kai (J.K.F.) Singapore 2001



10.Dan Ho-Shin-Do by the Ki-Do-Kwan 2001



9.Dan Ju-Jitsu by the International Ju-Jitsu Association 2002



Doctor of Philosophy by the American College of Martial Science 2003



Military Close Quarter Combat Tactics Senior Instructor by the
International Military Combat Fighting Arts Federation 2001



7.Dan by the Okinawan Karate Federation 1998



11.Dan for the Foundation of Oh-Do-Kwan-Hap-Ki-Do by the
Supreme International Sokeship Council 2002



8.Dan Kyoshi by the S.R. JuJutsu Association in Osaka, Japan 2002



11.Dan Oh-Do-Kwan-Hap-Ki-Do by the
World Korean Martial Arts Union 2001



7.Dan by the National Karate & Kobudo Federation, Japan, 1999



9.Dan Tang-Soo-Do by the
Korean Moo-Duk-Kwan Tang-Soo-Do & Tae-Kwon-Do Federation, Korea 2000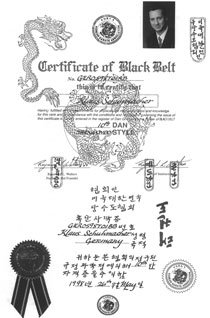 10.Dan Tae-Kwon-Do by the
Korean Karate Association 1998



10.Dan by the Federation of Tae-Kwon-Do Black Belts 2000




Copyright 2013 Schuhmacher Martial Arts International

<

<

<

<

<

<

I