Pomeranian Club Of Central Indiana, Inc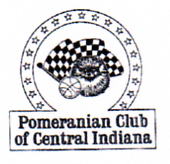 PCCI Meetings & Matches
We hold 6 meetings per year.
Meeting Dates for 2018:
Saturday February 10th after the Poms show at the Indy Winter Classic at the Indiana State Fairgrounds.
Sunday April 29th First Friends Fishers Indiana click here
Sunday July 8th - Summer Picnic First Friends, Fishers IN
Friday September 14th Pomeranian Specialty -- Lebanon IN
Sunday October 28th B Match----First Friends, Fishers, IN.
Sunday December 16TH Christmas Party--First Friends, Fishers, IN.
---
We also publish a newsletter called "Pause For Poms".
If you would like a copy, please email Janice .

Site Map
Officers-- Members -- Meetings/Matches -- Pom Rescue-- Code of Ethics-- Club Photos-- Club News--Member Application-- Pom Links