THE REGAL THEATER
On February 24, 1928, The Regal Theater opened its doors. It was one of 34 theaters owned by Balaban and Katz. Here, the world's finest black entertainers exhibited their talent in music, theater, cinema, and comedy. It seated more than 3,500 and often overflowed it's capacity.

The Regal was one of the most stylish and elegant theaters built in it's time.In it's Moorish influenced lobby, stood Sira, an awesome statue of a slave girl. It boasted of a unique decor consisting of a "starry night" ceiling, reminiscent of an Arabian night. The red velvet curtained stage was anchored on each side by a set of gold beams. Audiences basked in the plush, red vlevet seats.During the 30's, 40's, and 50's, Chicago's night life sizzled. The fiery rhythms spread thru the nights searching for a home. It was found at The Regal Theater.
MR. KENNETH BLEWITT
In 1929, Mr. Kenneth Blewitt embarked on his career at The Regal Theater as an usher. Eighteen months later, he was promoted to floor captain; a year later, he became treasurer. In 1939, Mr Blewitt became Balaban and Katz's first Black manager. In it's early years, The Regal floundered , not producing enough revenue, a result of the Depression. Balaban and Katz threatened to close the theater. The public displayed great dissatisfaction, and in no uncertain terms let Balaban and Katz know it. They relented and decided it would stay open indefinitely. Ken Blewitt worked diligently and enthusiastically to keep the hottest live entertainment at The Regal. The public supported Blewitts's efforts by consistently showing up in great numbers. For the next forty years, The Regal continued to provide the best entertainment in Chicago.
THE REGAL USHERS
THE REGALETTES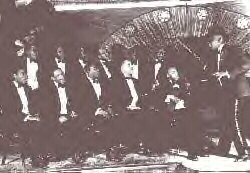 FESS WILLIAMS ORCHESTRA
Noted Chicago historian and author, Dempsey Travis describes Fess Williams as a flashy and dynamic bandleader who was known for his shimmery diamond studded suit. He had personality and showmanship to match. He was regarded as a top flight M.C. with plenty of jive talk for the audience and Mr. Travis proudly proclaimed, "We loved it!"
THE EARLY YEARS
COMEDY AT THE REGAL
CHICAGO SOUL
MOTOWN AT THE REGAL
LINKS
HOME