Davy Jones!
Davy ties with Micky as my third favorite Monkee. He is by no means the last. At first, I didn't really like him, but over the years, I've warmed up to him.
---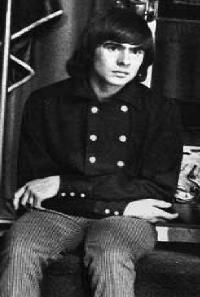 Stats:
Full Name: David Thomas Jones
Also Known As: The World's Best Lookin' Midget. Tiny. Davy Baby. Miss Jones .
Birthdate: December 30th, 1946 (He's 58!)
Marital Status:Single (Married twice)
Children:Four daughters, I believe.
Before the Monkees: Apprentice jockey, and actor/singer.
After the Monkees: Actor/singer, jockey, amd more recently, TV show host ("Meet the Royals") .
Davy's Favorite Monkee: Unknown.
---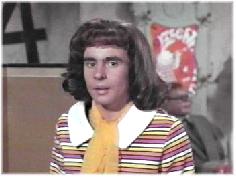 Davy as Miss Jones in one of my favorite eppies, "Some Like It Lukewarm".

Davy, according to Micky
(From Micky's biography, I'm a Believer by Micky Dolenz and Mark Bego. Copywright 1993.)
Stylish, very talented, very short, puckish, unselfish, somewhat vain, congenial, streetwise, and one of the nicest men I have ever known.
---
Davy's Monkee Dressing Room
(According to Micky.)
Classic Hollywood/Broadway. Big mirror covering one whole wall, surrounded by a hundred lightbulbs. Pictures, postcards, letters, and opening-night telegrams encircle the mirror and cover the remaining walls. The only furniture is a bunk bed and a filing cabinet--to hold more picutres, postcards, and opening night telegrams.
---
Keep your eye out for Davy on re-runs of "Meet the Royals"!

My Favorite Davy Sung Songs:
A Little Bit Me, A Little Bit You
Daydream Believer
My Share of the Sidewalk
Ooh Davy Links!

Davy's Homepage
Click here to go home!


Email: silverbluegold@writeme.com