SHEPHERD FAMILY INFORMATION (ALL SPELLINGS)

Shepherd/Shepard/Shephard... we can research all names HERE'S A FEW GOOD MEN (13 generations)
Thomas Shepherd 1650-1698
William Shepherd 1680-1741
Thomas Shepherd 1705-1776
William Shepherd 1741-1824
Thomas Shepherd 1768 -?
Joseph Shepherd 1796 -?
Josiah D. Shepherd 1819-1888
George M Shepherd 1862-1932
Jason Shepherd 1889-1962
Charles Wesley Shepard 1911-1975
Walter Shepard 1933
Walter Wesley Shepard Jr. 1959
Walter Wesley Shepard 1995
My Favorite Web Sites
Shepherd researchers
Back to family ancestry page
The Grays Homepage
Nelson Family Homepage
Glendas Homepage
Brothers Keeper - Download Free Genealogy Program
Fleetwood Family by Kenneth Fleetwood (Adam, son of Isaac Fleetwood line)
Fleetwood Family Homepage by Pam Gray (Solomon, son of Isaac Fleetwood line)
Shepherd Family Photo Page

Remember to always check out all spellings of Shepard/Shepherd. In
doing my genealogy work, I've seen our family spell their name many
different ways.

I am writing a book about the life of Lottie (Fleetwood) Shepard.
So far I have about thirty pages. (April 2000)
I'm looking for interesting stories from the Shepard family. I know we have
lots of good memories and stories. I also need pictures and information about other family members.
Please send via e-mail.


Jason and Lottie are buried in Grand Ridge Cemetery,
Grand Ridge, Illinois
September 1954 Pam with Grandpa Wes and Grandpa Jason
Lottie, Joyce, Elsie, Wes and Jason Shepard at Family reunion
Around 1956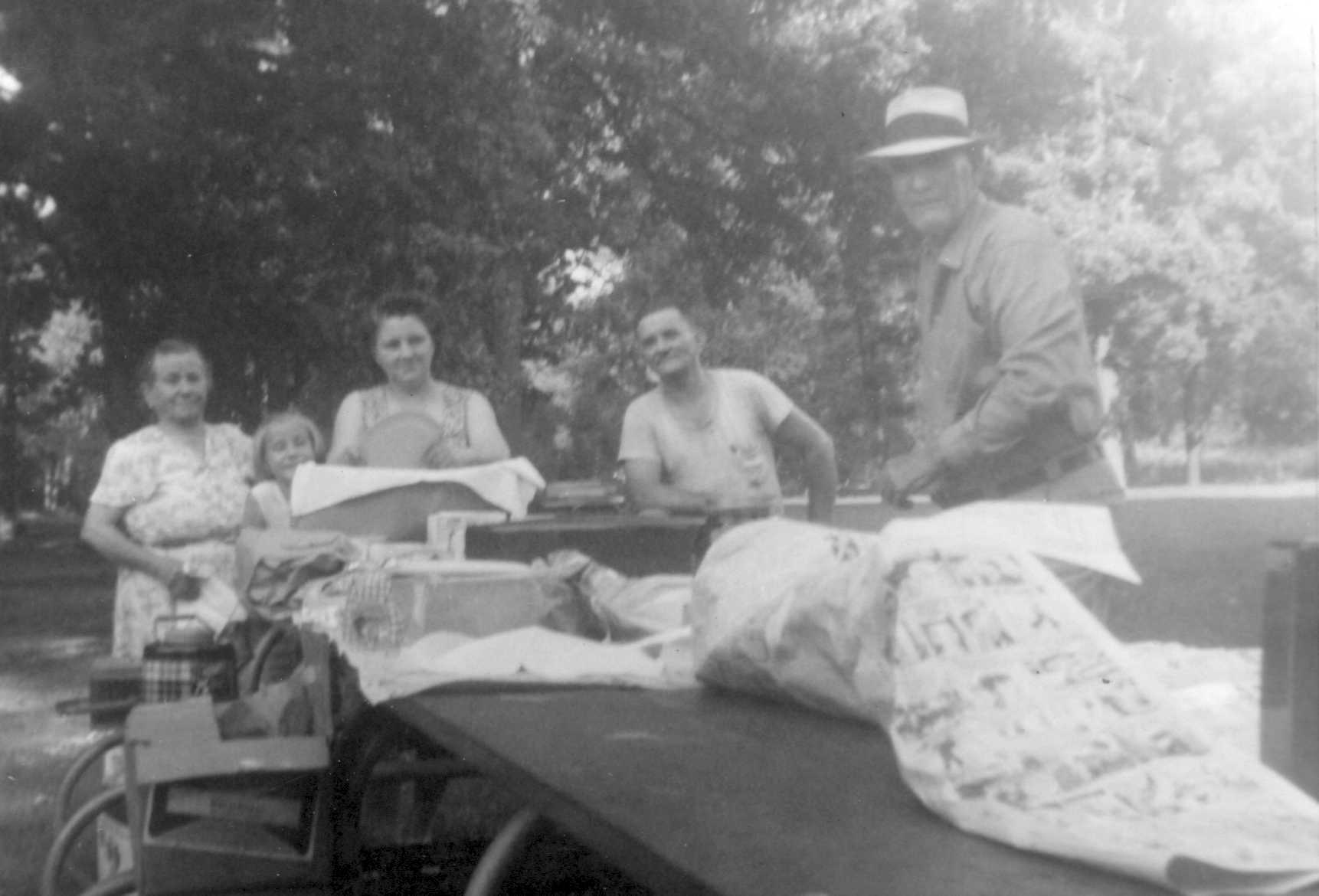 Nelson Family Reunion 2000 in Thayer, MO.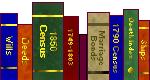 Check out this book:
Prominent Men of Shepherdstown 1762-1962, byKenamond

---
SHEPHERD FAMILY
Josiah D Shepherd 1819-1888 (Born in OH)
m 4-29-1854 Rachael Eddy 1840-1906
Children: George M Shepherd b1-29-1862
Nancy E Shepherd b1856 (b Virginia)
James C. Shepherd b 1858 (b Virginia)
Margaret Jane Shepherd b 3-15-1860 (b Virginia)
George M Shepherd 1862-1932 (b IN)
John W. Shepherd b 4-12-1864 (b IN)
Josiah Shepherd b 8-1-1866 (b IN)
Dority A Shepherd b 1869 (b IN)
Aretus P Shepherd b4-14-1872 (b IN)
Jacob Lewis Shepherd b 11-1-1873 (b IN)
Nora Shepherd b 1877 d 1944 (b IN)
Willard L Shepherd b 9-4-1881 d 1-19-1950(b IN)



 Descendants of: Thomas Shepherd
1 Thomas Shepherd b. 1650 d. 1698 m. date unknown Miss Ellis
2 William Shepherd b. 1680 d. 1741 m. Date Unknown Sarah Cochran
3 Thomas Shepherd b. 1705 d. 1776 m. 1733 Elizabeth Van Meter
4 William Shepherd b. 1741 d. 1824 m. Date Unknown Mary Clark(e)
5 Thomas Shepherd b. Before 1768 m. Date unknown Name Unknown
6 Joseph Shepherd b. 7-10-1796 m. 4-21-1809 Polly Betz b. Date unknown
7 Josiah D. Shepherd b. 1819 d. 1888 m. 04-29-1854 Rachael Eddy b. 05-01-1840 d. 01-27-1906
8 Nancy E. Shepherd b. 1856
8 James C. Shepherd b. 1858
8 Margaret Jane Shepherd b. 1860 d. 1938 m. 04-20-1881 Armstead L Rose b. 01-01-1855 d. 01-17-1921 m. 05-07-1924 Patrick Moran b. 03-18-1872
8 George M. Shepherd b. 01-29-1862 d. 10-26-1932 m. 02-05-1887 Cansadie Shipley b. 08-25-1865 d. 10-26-1936 m. 05-13-1883 Sarah Geneva Moffitt b. 1864 d. 07-30-1895
9 Jason Shepherd b. 11-22-1889 d. 09-08-1962 m. 08-10-1909 Lottie Alice Fleetwood b. 06-27-1889 d. 02-09-1966
10 Charles Wesley Shepard b. 11-09-1911 d. 05-26-1975 m. 03-18-1932 Elsie Marie Wahl b. 08-16-1914 d. 02-09-1986
11 Walter Shepard b. 07-21-1933 m. 03-21-1951 JoAnn Nelson b. 08-30-1933
12 Pamela Sue Shepard b. 10-18-1952 m. 03-14-1979 John Joe Gray b. 10-22-1952
13 Thomas Andrew Gray b. 04-30-1980
13 Michelle Mills b. 04-27-1971
12 Linda Diane Shepard b. 09-30-1955 m. date unknown Rick Sult b. date unknown
13 Rick Sult Jr. b. 05-16-1983
13 Jeromy Seroka b. 03-24-1990
12 Walter Wesley Shepard Jr. b. 07-10-1959 m. 08-08-1994 Dena Clark b. 06-23-1959
13 Walter Wesley Shepard b. 01-26-1995
12 Lisa Kay Shepard b. 01-01-1960 m. date unknown Ed Soule
13 Kayla Sunshine Soule b. 11-04-1979 m. date unknown Bud Phillips b. date unknown
14 Madison Taylor Phillips b. date unknown
13 Jason Soule b. 04-27-1981
11 Donna Jean Shepard b. 03-21-1935 m. 03-21-1951 Wayne Curtis Lowe b. 04-25-1933
12 Valerie Jean Lowe b. 09-28-1952 m. 10-04-1969 Patrick Barnwell, Sr. b. 01-21-1949
13 Christine Barnwell b. 12-28-1969 m. 06-14-1988 Mark Sexton b. date unknown
14 Stacy Sexton b. 09-19-1989
14 Matthew Sexton b. 09-12-1991
13 Leanne Barnwell b. 10-27-1971 m. date unknown Dwayne Davis b. date unknown
14 Katyln Hayes b. 01-18-1993
13 Patrick Barnwell b. 05-23-1974
12 Kathy Lowe b. date unknown m. date unknown Male Noon b. date unknown
13 Michael Pesta Noon b. 08-27-1975
13 Brooke Ann Noon b. 10-13-1980
12 Wayne Curtis Lowe b. date unknown
12 Janet Lowe b. date unknown m. date unknown Male Gelesthorpe b. date unknown
13 Eric Raymond Gelesthorpe b. 05-23-1988
13 Kaylee rae Gelesthorpe b. 12-01-1997
12 Gail Lowe b. Date Unknown m. Date Unknown Male Sedlock
13 Jennifer Lynn Sedlock b. 01-11-1980
13 Kimberly Rene Sedlock b. 08-28-1982
13 Molly Marie Sedlock b. 06-13-1985
11 Marvin Dean Shepard b. 07-25-1936 m. date unknown Karen Unknown
12 Kelley Shepard b. date unknown
12 Katrina Shepard b. date unknown
12 Craig Shepard b. date unknown
11 Richard Allen Shepard b. 09-18-1937
11 Marshall Jay Shepard b. 10-14-1938 m. date unknown Marilyn Lucas b. date unknown
12 Brian Shepard b. date unknown
12 Lori Shepard b. date unknown
12 Troy Shepard b. date unknown
11 Judith Shepard b. 01-08-1940 m. 1957 Robert Fialko b. date unknown
12 Constance Fialko b. date unknown
12 Carol Fialko b. date unknown
11 Nancy Lou Shepard b. 08-22-1941 m. date unknown Robert Otto b. 01-26-1929
12 Gregory Stephen Otto b. 08-02-1959
12 Debra Sue Otto b. 12-28-1963 m. 08-18-1985 Jeffery Harcar b. date unknown
13 Sarah Harcar b. 08-09-1988
13 Jeffery Harcar b. 09-20-1992
13 Jessica Harcar b. 09-20-1992
12 Cindy Otto b. 08-31-1976
11 Joyce Ann Shepard b. 05-11-1949 m. 1972 John Natt b. date unknown
11 Gary Lee Shepard b. 11-18-1950 m. 1972 Darlene Calkins b. date unknown
12 Virginia Shepard b. date unknown
12 Gary Lee Shepard b. date unknown
11 Karen Marie Shepard b. 09-11-1952 m. 1987 Roger Baker b. date unknown
12 Paul Shepard b. date unknown
12 Heather Shepard b. date unknown d. 1998
13 Damien Shepard
12 Lee Baker b. date unknown
12 Beau Baker b. date unknown
11 Doris Arlene Shepard b. 03-17-1955 m. date unknown Not Married
12 Natan Shepard b. date unknown
12 Lindsay Shepard b. date unknown
9 Harley Marshall Shepherd b. 08-05-1892 d. 11-04-1943 m. 11-09-1911 Myrtle Ann Foreman b. 09-01-1887 d. 02-16-1979
10 Goldie B. Shepherd b. 11-17-1912 d. 03-02-1993 m. 03-08-1934 Orville Spriggs b. 06-26-1912 d. 1991
11 Harry Spriggs
11 Dorothy Spriggs
10 Lola E. Shepherd b. 11-01-1914 d. 04-09-1983 m. 03-25-1939 Aquilla Baxter b. 06-15-1903
11 Wilma Baxter
11 Eula Baxter
11 Gerald Baxter
10 Wilbur Shepherd b. 07-22-1916 d. 06-06-1996
10 Charles Alvin Shepherd b. 04-13-1918 d. 3-11-1998 m. 10-26-1979 Hazel Richerson
10 Eunice Marie Shepherd b. 01-10-1920 m. Date Unknown Luther May
11 James May
11 Henry May
11 Cecil May
11 David May
11 Mary Jane May
11 Rodger May
10 Thomas Marshall Shepherd b. 02-17-1922 d. 12-20-1997 m. 11-15-1945 Dorothy Irene Deckard b. 06-01-1926
11 Ronald Lee Shepherd b. 04-19-1947 m. 12-24-1965 Donna Sue Roberts
12 Tracy Allen Shepherd
12 Melissa Dawn Shepherd
11 Janis M. Shepherd b. 09-21-1949 m. 07-21-1979 Lester "Leon" Kelp b. Date Unknown
12 Stephanie Ann b. 09-30-1985
10 Murnal Shepherd b. 06-12-1924 m. Date Unknown Mary Helen
11 Dennis Shepherd
11 Jerry Shepherd
10 Lester Earle Shepherd b. 08-31-1927 m. Date Unknown Gladys
11 Neal Shepherd
11 Deborah Shepherd
11 Diane Shepherd
11 James Shepherd
9 Zelma Shepherd b. 01-12-1894 d. 12-28-1928 m. 12-31-1915 Ina Turpin b. 09-17-1898 d. Date Unknown
10 Irene Shepherd
10 John Shepherd
10 Bernice Shepherd
10 Eugene Shepherd
10 Wallace Shepherd
10 Alvin Shepherd
9 Mernal Ellis Shepherd b. 03-16-1896 d. 11-07-1962 m. 06-18-1952 Margaret McCulloch
9 Hulda Shepherd b. 07-01-1899 m. Date Unknown Lawrence Canale
9 Oma Shepherd b. 1901 m. Date Unknown Andrew Biroschik b. 1894 d. 1952
9 Theresa Shepherd b. 08-22-1903 m. Date Unknown Edward Allan b. 08-22-1903 d. 09-30-1921
9 Maude Shepherd m. Date Unknown Clarence Rogers
9 Josephine Shepherd b. 06-22-1905 m. Date Unknown Earl Turpin
9 Thomas Gilbert Shepherd b. 08-26-1907 d. 1980 m. Date Unknown Mary C. Shepherd b. 1909 d. 12-16-1996
10 Gilbert Shepherd m. Date Unknown Josephine
11 Debbie Shepherd
11 Jackie Shepherd m. Date Unknown Doug Schobert
11 Patty Shepherd
11 Mike Shepherd
10 Barbara Jean Shepherd b. _____ d. 01-14-1999 m. Date Unknown Joesph Walkey
11 Becky Walkey
9 Female Shepherd
9 Emma J Shepherd b. 06-10-1884 d. 02-12-1949 m. 06-07-1903 Gideon Pittman b. 06-07-1903 d. 06-18-1983
8 John W. Shepherd b. 1864 d. 1951 m. 12-15-1884 Mary Elizabeth Hurley b. 06-12-1867 d. 07-25-1945
9 Agatha Shepherd b. 1886 d. 1963 m. 02-16-1909 Charles Edward Sinn b. 03-22-1884 d. 12-14-1965
10 Virginia Ione Sinn b. 1910 d. 1933
10 Mary Lucille Sinn b. 1911 d. 1947
10 William Maurice Sinn b. 1913
10 James Belvie Sinn b. 1916 d. 1978
10 Edith Mae Sinn b. 1918
10 Helen La Vera Sinn b. 1921
9 Roxie Ethel Shepherd b. 1888 d. 1896
9 Arthur Otto Shepherd b. 1889 d. 1918 m. 02-17-1915 Elsie McKinney b. 02-10-1894 d. 04-05-1917
9 Lester Otis Shepherd b. 1892 d. 1896
9 Denver Ellis Shepherd b. 1894 d. 1895
9 Thaddeus H. Shepherd b. 1896 m. 12-13-1917 Edith Thompson b. 04-12-1897 d. 4-16-1984
10 Elizabeth Idel Shepherd b. 09-07-1918
9 Chester E. Shepherd b. 1898 d. 1954 m. 12-29-1920 Dolly Artis b. 09-18-1899 d. 06-17-1979
10 Arnieta Shepherd b. Date Unknown m. Date Unknown Howard Waggoner
10 Arthena Shepherd m. Date Unknown Robert Rutan
9 Fredrick Loyd Shepherd b. 1901 d. 1906
9 Ernest R. Shepherd b. 1903 d. 1979 m. 11-15-1924 Marie Wilkerson b. 06-05-1907 d. before 1966 m. 04-23-1966 Genevieve Kirts Sorters
10 Iva May Shepherd b. 05-18-1925
10 Robert Shepherd
10 Kenneth Shepherd
10 Harold Shepherd
9 Blanche L. Shepherd b. 1905 d. 1937 m. 1926 Rex G. Bond
9 Infant Daughter Shepherd b. 1907 d. 1907
8 Josiah (Joseph) Shepherd b. 1866 m. 04-24-1897 Sarah A. Moore b. 02-02-1853 d. 12-30-1937
8 Dority A Shepherd b. 1869
8 Aretus P. Shepherd b. 1872 d. 1937 m. 03-12-1907 Elizabeth Marlett (Lizzie) b. 10-15-1891 d. 04-11-1972
9 Mary R. Shepherd b. 01-06-1908
9 Bert Shepherd b. 1908 or 1909
8 Jacob Lewis Shepherd b. 1873 d. 1960 m. 07-04-1896 Sarah Ann Deaver b. ca1877 d. ca1910
9 Sylvia A or E Shepherd b. 02-21-1897 m. 11-14-1913 Isaac Franklin Walters b. 02-12-1894
9 Cecil Earl Shepherd b. 03-01-1899 d. 11-08-1899
9 Bert Shepherd b. 12-19-1900 d. after 1974
9 Glenn Shepherd b. 01-01-1904 d. 09-18-1904
8 Nora Shepherd b. 1877 d. 1944
8 Willard L. Shepherd b. 1881 d. 1950 m. 12-31-1904 Lucinda (Ogle) Sinn b. 10-18-1861 d. 01-04-1945
8 Anna Shepherd b. Date Unknown
7 David Shepherd
7 James Shepherd
7 John Shepherd
7 Sarah Shepherd
7 Mary Shepherd

You are Visitor
since April 10, 1998
c 1999, 2000 Pamela Gray
Last revision: June 04, 2000