Optics, Gear, Events, Books
Review of Kaufman and Sibley Bird Guides
The Sibley Guide to Birds by David Allen Sibley
This has some great information in it. More than any other American Field Guide I have ever picked up!...But with all that info comes a price...IT IS HUGE for a Field Guide! Some folks may want to stuff it there backpack anyway. I love all the many details on each species, even more than my National Geographic Guide. I think the week point may be the maps but not enough to be highly concerned. The truth is birds fly and they all go where they want anyway (yes, I really believe this.)
I like the song I.D.s and the paintings are great, sometimes a little small for the pages but for some reason it does not bother me and it seems to make up for it with all the extra paintings. Great book! If you are a serious birder you must have this in your library!

Birds of North America by Kenn Kaufman
That amazing guru Kenn Kaufman has finally finished his all new birding field guide "Birds of North America" using touched up photographs and "pointers"(similar to Peterson) I think this guide will catch on and be loved by amature and beginner birders.
I think the maps are very good and the many colors used really help the maps.Kenn uses two colors for the each of the seasonal ranges. A darker color indicates the area where the species is common during that season, while a paler color indicates areas where the species while present is less common or rare.
The pictures for me at times can become a little crowded and some of the photos are a little pale, but most of them are much better than any other "photo guide". Some of my Photos and ink smeared in my book, so you may want to double check before purchasing your book. This field guide makes it very simple to look up a bird on the field. The Color Tabs are simple as well as the index in the back. I enjoyed the vocal I.D. for each bird but that is a very personal taste.
Each I.D. also adds a little something I miss in a lot of field guides, for example: "A hyperactive midget, common in winter in woods and thickets of south. Harder in summer, when often high in tall conifers. Flicks wings open and shut especially when excited."
Golden-Crowned Kinglet
In closing I must say this is one of the easier field guide to birds to use and is a warm welcome to the birding community.
Martin Phillips
---
Canon S I 10 X 30 binoculars
People who can only use one hand or have a "slight" tremor will find this bino very usable. If you have a disability where you have a "slight" tremor, this may be of great help to you!
Canon's new 10x30 IS Binoculars deliver outstanding optical performance and unparalleled image stabilization capabilities at a very affordable price. Whether you're hawk watching or at the water's edge, you'll get a close-up view of the action with these contoured, lightweight binoculars. The 10x30 IS Binoculars are designed to fit perfectly in your hands. A textured rubber coating provides non-slip grip and protection from the elements, and the center-mounted focus and Image Stabilizer controls are easily accessible from either hand.
by Ralph Eiseman, aaa camera and Marty Phillips
---
PENTAX 8X42 DCF WP ROOF PRISM'S
I never could imaging owning waterproof, phase coated....well I just could not see paying over a grand for binoculars on the field, I think I would just put them behind glass and invite people over. "Hey, have you seen my new binoc's!, Oh wait don't even look at them!" but that's me.
Then I looked through the Pentax DCF WP 8x42 roof prism's at Upstart Crow and found them for under $400.00 and I was hooked!
Pentax included many of the other features of the higher priced roofs as well: pop-up eye cups, excellent rubber armor, close focus (8 ft.), excellent field of view, and a great shaped body that feels good and handles exceptionally well in the field. They also managed to keep the binoculars several ounces lighter in weight than most of the $1000 binocs. With full-waterproofing, they make an awesome package. The best part for me was the 22 mm. eye relief, I have to where glasses on the field and these puppies finally allowed me to see all the action! For the price, you can't beat the new Pentaxes! Especially if you wear glasses.
Field of View:
330'
Close Focus:
8.2'
Weight(oz):
26.8oz
Exit Pupil:
5.25mm
Martin Phillips
---
The Jackson Bluebird Festival Review

By Martin Phillips

Eric and I with our wives were off to Michigan! Jackson, Michigan! The Bluebird Festival was awaiting our presence. As we arrived on that snow filled April day, we could only rejoice at the beauty of the snow all stuck to the trees. The Jackson Community College in Michigan sponsored a variety of seminars from Bluebird habitat projects to Northern Goshawks! Along with an amazing display of art and birding organizations around the country. Our first order of business was the live Bird of Prey show with Lori Neely from MSU. The first showing was canceled, probably because she got lost. All the signs were covered with snow and it would be easy to get lost out there.
So we went to Bluebirds (Darlene Sillik) and learned how to keep those deadly House Sparrows (they're concentrated evil!) away from your bluebird houses. The success of the Ohio Bluebird Society and how to care for healthy bluebirds and Tree swallows at your bird boxes and in your yard. It was very educational and answered many questions I had about successfully having Bluebirds in my area.
Then off we went next door for the Birds of Prey with Lori Neeley. She started with showing everyone her Kestrel and Red-tailed Hawk and explaining the habits and habitat of each one. Then a wide-eyed Great Horned Owl that everyone seemed to be awed by came forth. Lori had the owl flap His wings to prove their amazing silent flapping, even with a broken wing. Then the immature Bald Eagle came from amongst the cages. The discussion went toward pesticides and DDT (at one point Lori asked, "If you ever have used bug spray raise your hand."….no one did…Can't fool her! She somehow knew we had used some! That MSU education is amazing.) We also talked about man and how we have changed things for Birds of Prey. The class had a question and answer section with a lot of good questions. One person asked how all those white blotchy feathers got on the (immature) Eagle?? To which Lori pointing to the sky and replied, "You will have to ask someone with a little more experience in that area."
Eric and I then visited exhibits in the field house. Great works of art from paintings to carvings were everywhere! Some folks were first-rate photographers! But this festival was for the Bluebirds and there were plenty of Organizations and Societies for bluebirds. Everyone was selling Bluebird houses very cheap just to get those bluebirds back!The Jackson Audubon Society had some nice houses. I really enjoyed the Indiana Bluebird Society's Houses; OK I liked everybody's. There were a lot! The U.S. Fish & Wildlife were very helpful to Eric and I. They gave us many educational materials for free so we could give them to a fourth grade class we had been helping out. We were attracted to the Critter Alley Rehabilitation Center because they had a screech owl and Hawk at their table. The next day they had a Long Eared Owl and a Great Horned Owl at there table up close and personal. I love it but also feel saddened by how many animals become injured by cars or carelessness or just lack of education. One story they told us were about a Starling some people brought to them as a baby Bald Eagle, They knew it was a Bald Eagle because of its yellow beak…hmmmmm.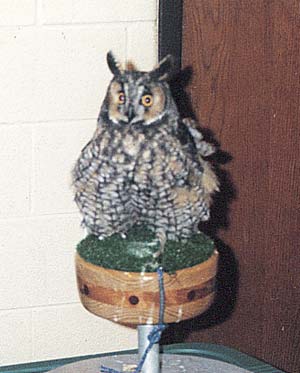 Then we came toEagle Optics table and looked through the binoculars and scopes and answered questions people had about birding and what binoculars are good for what kind of birding etc. Eric and I answered questions because the Eagle Optic Representative was a statue Or at least we thought he was until he blinked. I went to the documentary on Grebes later that day And had the guy in front of me say, "Hey…did you see that mannequin behind the binoculars."
Anyway the documentary on grebes was outdated but very educational and fun. The "class" was called "Meet the Grebes", needless to say I never did meet Mr. & Mrs. Grebe but seen some very cool birds.
Sunday we had a Guided Walk to Bluebird Habitat with a cool older man that was like somebody's Grandpa that would always tell stories and slip money to you. He showed us some bluebirds and some eggs in the boxes. He told us how to get rid of blowfly larvae and how to get rid of the evil one (House Sparrow).
Eric and I also went to a seminar on Goshawks in Danger (Dorothy McCleer) from Whitefish Point Observatory in the U.P. of Michigan. It was a great insight into all the work that goes into research and banding these allusive birds of prey! Oh… and Dorothy can imitate hawks and owls like no other, She sounded just like them!
I had a great time at this Bluebird Festival in Jackson Michigan and would recommend it as a great educational resource.
Back to Ravensday Ezine

Birding
Hiking/Backpacking
Devotional
Evolution Debate
Mammal of the month