VIETNAM REAL ESTATE

» Welcome to Ho Chi Minh City (Otherwise Known as Sài Gòn)
» Things to See in Ho Chi Minh City (A-Z): Cholon
» Things to Buy: Vietnamese Modern Art
» Things to Eat in Ho Chi Minh City: Restaurant Guide
» Places to Party in Ho Chi Minh City: Bars and Clubs
» Places to Stay in Ho Chi Minh City: Saigon Hotels
» Getting There: Ho Chi Minh City's Tan Son Nhat International Airport
» Further Afield: Mui Ne
» Even Further Afield: Phu Quoc Island
» Buying Real Estate in Vietnam?
» Archives (2010)
» Archives (2009)
» Archives (2008)
» Archives (2007)
» Diamond Plaza (Ho Chi Minh City)
» Location, Location, Location
» Modern Architecture
» Obnoxious Landlords
» Thủ Thięm Development Plan (Ho Chi Minh City)

---
» Learning Basic Travel Vietnamese
---
---
Oxley Tower, a New Development in Singapore

I GOT AN EMAIL FROM A GENTLEMAN CALLED WILLIAM CHOO THE OTHER DAY REGARDING A NEW DEVELOPMENT IN SINGAPORE, THE OXLEY TOWER. While not strictly Vietnam related, I thought it was still relevant to this blog, as it kind of illustrated, once again, that Asia is where it is at when it comes to high rise towers. Over in Tokyo, where I used to live, looms the Sky Tree. Singapore has its share of great towers too. "Conveniently located within walking distance of Tanjong Pagar and Raffles Place MRTs," Choo's email read, "Oxley Tower is a dream come true for professionals seeking a cosmopolitan lifestyle right in the heart of the CBD. The stunning 32-storey office/shopping commercial development consists of a 3-storey podium, 29 Storey Tower and three Basement Car Parks. Business owners can have quick access to their offices, supplies, vendors, partners; as well as F&B, entertainment joints and top-notch recreational haunts such as Clarke Quay and Marina Bay Sands. One can also commute conveniently via major expressways like the CTE, KPE & ECP, which are just round the bend.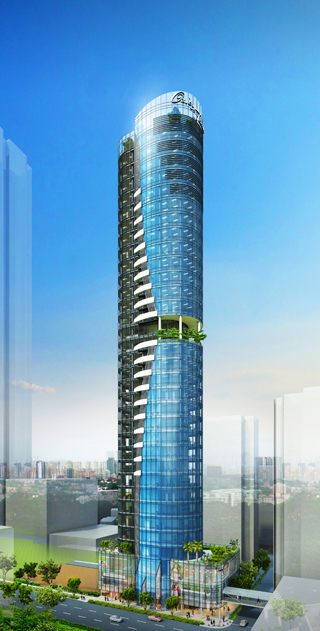 "The project, being right smack in the middle of the financial hub, promises high potential with solid capital returns. Whether you're looking at operating an enterprise or investment opportunities, this project is one that will surely tick your boxes.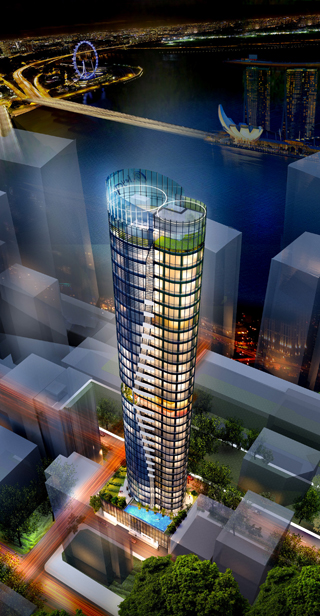 "Posh FREEHOLD retail/office space @ the heart of CBD, Robinson Road with:

8 cafes spanning 398 - 807sq ft
3 restaurants spanning 3,024 - 7,384 sq ft (1 unit per level)
121 shops spanning 118 – 409 sq ft
1 gym / spa centre spanning 7,266 sq ft (with swimming pool)
104 offices spanning 947 – 1,346 sq ft
Foreigners Eligible
Good Human Traffic with Excellent Glass Frontage
High Capital & Rental Potential
5 Mins to Tanjong Pagar MRT
Near Town Area & Marina Bay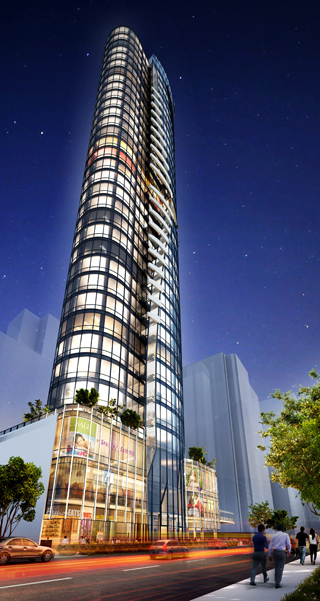 "Call 9721 8288 (Singapore) NOW to reserve a choice unit prior to VVIP Preview!"
Another Project Rising from the Mad Streets of Sài Gòn (The EverRich II)

IT HAS BEEN A LONG TIME SINCE I WALKED THE MAD STREETS OF SÀI GÒN, AND I MIGHT NOT BE BACK FOR A LITTLE WHILE... NOT UNTIL NEXT YEAR AT LEAST. I run the risk of not knowing what it looks like when I finally get back, for this city is changing fast. At least I have plenty of photos from my last trip (in November/December 2010) to go look at and go through, and post on this site. As in other big cities, dynamic living cities, it is amazing how a stroll in a random direction in Sài Gòn will turn up amazing sights and realisations, not all of them apparent until later research or reflection gives you that "Aha!" moment. In the middle of 2010 I went for a walk down the street from my hotel and found a little grave on the side of the road with a simple plaque which read: "Thích Quảng Đức". Nothing ostentatious, many tourists wouldn't even notice it, just more Vietnamese gibberish, but I took a photo of it and later Googled the name. I didn't know it at the time, but it turned out I had been standing on top of holy ground... this was the place where the Burning Monk set himself alight, back in the cauldron of the 1960s, in the lead up to the Vietnam War. It was an event I remembered from the Modern History lessons at high school. I thought to myself: They ought to put up a sign or something, to let people know what happened here. I suppose there was a sign in the form of a plaque on the grave, but it doesn't mean much to the average visitor. When I came back a few months later, however, there was a brand spanking new monument to Thích Quảng Đức open on the opposite side of the street. It must have gone up in the twinkling of an eye.

Things go up in the twinkling of an eye... that is the dynamic at work in Ho Chi Minh City. Last November/December, after visiting the new Thích Quảng Đức memorial, I carried on walking up the street, made a left where the road got lost in a chaotic roundabout in the works, passed a whole bunch of bridal outfits and florists, and places where the army and police go to buy their threads. I was looking for the Sài Gòn Racetrack; I never found it. Instead, right at the end of that street, which I believe is called 3 Thang 2 Street, I found a shopping mall and a billboard. I didn't know it at the time, but the billboard was advertising a new mega building project. It's called the EverRich II development, and it is down in District 7.

Naff names are dime a dozen when it comes to Asian urban developments (hell, I fled Japan partly to escape this kind of crap!); overlook the name, however, and EverRich II promises to be an exciting development. Even more exciting than the EverRich I! Architecturally, EverRich II is envisaged as a looped wave or Mobius strip (some might say it looks like rollercoaster.) Inside the loop, a green courtyard is supposed to evoke a tropical rainforest. When completed it will comprise 41 storeys and 4500 high-end condos. Inside, there will be everything from a school to a basketball court and a supermarket. See this SkyscraperPage forum for pictures and comments. Construction should be completed by 2014.
---