TAN SON NHAT AIRPORT, SAIGON

» Welcome to Ho Chi Minh City (Otherwise Known as Saigon)
» Things to See in Ho Chi Minh City (A-Z): Ben Thanh Market
» Things to Buy: Vietnamese Modern Art
» Things to Eat in Ho Chi Minh City: Restaurant Guide
» Places to Party in Ho Chi Minh City: Bars and Clubs
» Places to Stay in Ho Chi Minh City: Saigon Hotels
» Getting Around: Catch a Bus
» Getting There: Ho Chi Minh City's Tan Son Nhat International Airport
» Saigon Railway Station
» Further Afield: Mui Ne
» Even Further Afield: Phu Quoc Island
» Breaking Free: Cambodia
» Buying Real Estate in Vietnam?
» Learning Basic Travel Vietnamese
» Media in Vietnam







---
---
Airport Bus - Arrivals - ATMs - Buy Illicit Ivory - Fly to Cam Ranh Airport, Nha Trang - Making Local Calls (From In Transit) - Sleep In Beijing Airport -
BY THE TIME YOU READ THIS SAIGON'S TAN SON NHAT AIRPORT WILL ALREADY BE ON ITS WAY TO BECOMING A STOCK STANDARD INTERNATIONAL AIRPORT, THE KIND OF PLACE THAT MAKES YOU FEEL YOU HAVEN'T REALLY GONE ANYWHERE AT ALL WHEN YOU ARRIVE THERE, AS PAUL VIRILIO MIGHT HAVE PUT IT. Nonetheless, plenty of character still remains, plenty of local personality. Not inside the terminal interestingly enough -- but keep your eye on the runways. As with other parts of the world such as Tripoli in Lebanon, the history here can be read in the bulletholes. It might be a minor player on the south east Asian stage these days but there was a time, in the 1960s, when Tan Son Nhat airport was the third busiest airport in the world, and the fate of freedom hung on every troop transport that landed here. This was during the American war with Vietnam, and plenty of reminders remain from this moment in struggle. As a matter of fact, the airport was built during the war, as can be seen in the faded 1960s tropicalismo style of the tarmac. The exterior fittings -- yellowed fortresses housing the Vietnamese air force helicopters and the palm trees and the like, have been steadily rotting for more than 30 years. Terminal facilities used to be basic as well, as I well remember on my first visit in 1995. For many years the airport lacked air conditioning, a PA system, and computerized information screens of any kind. Those days are over in 1997, on my trip codenamed Summer Love Blooms in the Cruel Heart of Winter, I was stunned to find a totally new and modern terminal in operation.
Ho Chi Minh City International Airport, past and present -- juxtaposting the past and the reality now is a theme of this webpage. The international departure terminal is slightly more modern, with air conditioning in the waiting area and a television screen that displays information on departing flights. Often, it is impossible to comprehend the announcement of your departing flight over the PA system. Keep an eye on the television screen. If your flight number is flashing, this means that your flight is boarding. Although there is a small souvenir shop and newsstand in the waiting area, do not expect to pick up a copy of the International Herald Tribune or Newsweek. This area was not designed with convenience in mind. If you need anything for your flight, make sure you bring it to the airport with you.
There are no telephones available inside the Arrival hall. Also, it is best to use the restrooms inside, as those located outside are unclean and often closed.
AIRPORT BUS: CHEAP AND EASY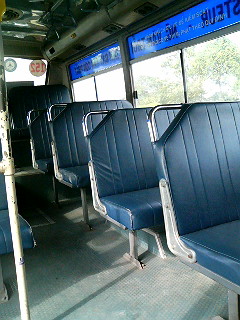 Few visitors seem to take advantage of the #152 bus service which connects Saigon Airport with the city, and this is a shame because the bus is cheap and easy to ride and possibly even less stressful than dealing with a Vietnamese cabbie. You will probably have a better chance ending up at the right place riding the bus than you would if you trusted your fate in an unfamiliar city, with some scoundrel of a taxi driver. The bus driver for example won't give you any nonsense about your hotel being closed for repair, or try to pimp you on to his girls. The bus is clean and not so crowded and follows a set route dropping you off at strategic points around the city. If you get into an accident I reckon the #152 bus would also be a lot safer than a taxi or the back of some guy's motorbike. And did I mention it is cheap -- ridiculously cheap in fact, even by Vietnamese standards. For the princely sum of 3000 Dong (that's $0.18 American, or 1.04 Norwegian Kronur) you can get downtown, and then just leg it to your hotel from there. That's what I did the last time I arrived in Ho Chi Minh City, in March 2007. For the first part of the trip I only had a couple of young Japanese travellers for company. You can imagine their gasps of "Sugoi!" the first time they espied the gnarling and chaotic Saigon traffic. Scary and amazing stuff indeed. We were riding right above it though, ploughing through it, sitting pretty pretty close to the top of the traffic food chain in our old and battered bus. No one was going to mess with us.
To find the bus: exit the airport, sidestep all the milling cabbies trying to shepherd you into their vehicles, and scoot past the aircon tourist buses picking up and depositing their passengers. Look for a battered city bus with the number #152 on it. Pay your 18 cents or single Norwegian Kronur (if you are lucky they might even forget to charge you.) It's that easy.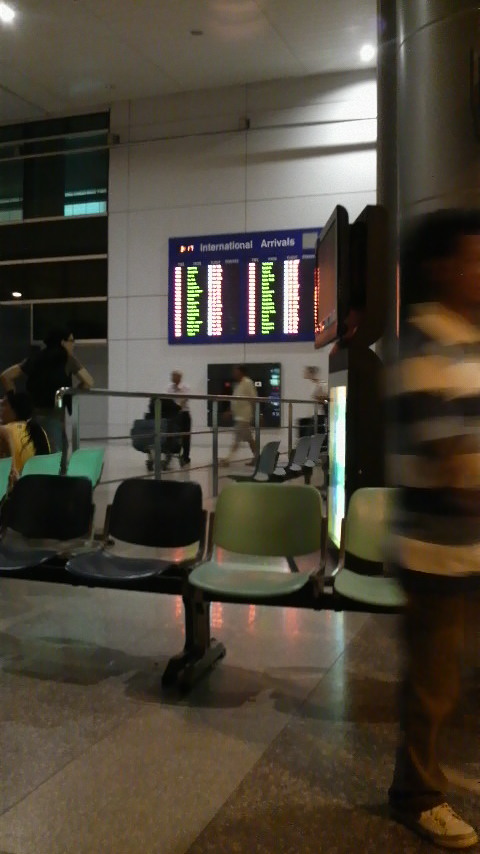 ATMs: GET YOUR MILLIONS BEFORE YOU LEAVE
Dealing the Vietnamese money can be tricky for newcomers. The denominations are ridiculously large. Mikeybics wrote on his travel blog Uncle Ho & Harry Redknapp: "I flew Tiger Air from Singapore to Ho Chi Minh (Saigon) and I did not have a clue what the currency was and where I was going when I arrived. At the airport ATM I withdrew 5,000 Dong as it seemed like the average amount on the withdrawal options but later found out that it was equivalent to about 20p. I finally figured out the bus to the city centre (a bargain for 3,000d or 13p) and withdrew a more sensible 4,000,000d..."

HCM City-Tokyo: three hours late and no in-flight entertainment, and same story on the way back. For some reason though, domestic flights in Vietnam had great, new planes and TVs in the back of every seat. Why they use these for short, one-hour hops rather than intercontinental flights is beyond me. Maybe to make up for how often they are running late.

DEPARTURES: GET YOUR MILLIONS BEFORE YOU LEAVE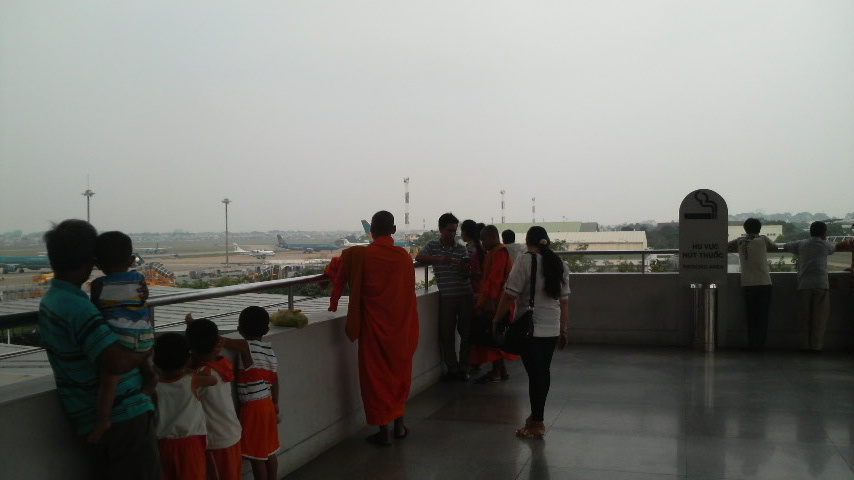 Silly me. As the flight is codeshared with Qantas you have to ask why Qantas dont put some effort into getting simple things right. They overcharge and make no contribution at all. This was my second round trip on VN Air to HCMC & I like the direct flight rather than spending extra time flying to places I don't want to go. I hope this airline get their act together soon, as I have plenty more flights coming up & it's knocking me about a bit.
v i e t n a m + a i r l i n e s
MY EXPERIENCE FLRING WITH VIETNAM AIRLINES -- one of the world's great cheapies for budget travellers.
It was definitely a long and arduous trip back to Japan. Vietnam Airlines must have one one of the most boring entertainment programs in the world. The only movie they played was an old black-and-white film about some fishermen living in a small village. You could listen to it in English but all the characters' voices were done by the same person -- it sounded like an Australian man. So it sounded like listening to one guy reading a whole movie script -- rather tedious. When the movie ended, they started it again, so I must have seen it about three or four times. I still couldn't understand it though because of the illogical plot developments, strange and unexplained twists, etc. Maybe you have to be Vietnamese to understand. The 9-hour wait in Vietnam nearly killed us. The one redeeming feature was we found a souvenir shop selling very interesting things for very cheap prices. For example, there was a lot of art work with the shiny silver insides of oyster shells worked into the picture -- and often selling for just a couple of dollars. I saw a couple of elephant tusks which had lots of little Buddhas, temples and of course elephants carved into the surface -- and they cost something like 20 American dollars a tusk, which seems incredible. But you can imagine what would happen if I rocked up to the airport in Japan or Australia with an elephant tusk in my suitcase -- I'd be arrested! Another good thing which happened was that for some reason we ended up sitting in the first class section on the flight from Vietnam to Japan. So I could stretch out, put my feet up, and enjoy the first-class life. It seems to be quiter in the first class section (because it is in front of the engines?) The plane doesn't seem to be rock around as much during turbulence in the first class section as well, which might be a reason some people shell out so much money to sit here.
Thanks to this site and helpful travellers, I am sucking down free beers, cruising the net and filled to the brim with food. I am gonna have a shower later on and some massage chair. Lucky for me, I happened to run into my fiancee who was meant to be on an earlier flight that got delayed and he is paying for a night in the terminal hotel after midnight! Sweet.

WHEN I LIVED IN SYDNEY ONE OF MY FAVOURITE MEALS WAS CHICKEN LAKSA. It was right up there with Oporto Portuguese chicken as one of my favourite lunchtime scoffs. Back in those days the Malaysian/Singaporean/Chinese takeout joints in the city served their chicken laksa in tall round plastic containers with the thin thin noodles at the bottom, the chicken and tofu in the middle, and the milky chilli red sauce lingering boiling at the top. When you open the lid a puff of steam erupts hinting of the spicy pleasures within. Strangely, the soup never seems to cool down no matter how long it has been opened and exposed to the air. You burn your mouth off on all those lumps of chicken and the noodles and the everpresent red spicy globules circulating endlessly in the broth. Because I am me and generally clumsy with noodles, I usually splash a spot or two on to my clothes. It is generally a chore getting to the end of it because the spiciest materials tend to gravitate to the bottom of the tub. But no workaday lunchtime in innercity Sydney would be complete without a chicken laksa hit. Now I live in Japan and chicken laksa is as easily obtainable as authentic Bondi style Portuguese chicken. Consequently, when I stopped for an afternoon in transit at Ho Chi Minh International Airport today and headed upstairs to the bar and restaurant area, I was pleased to see they had a Singaporean diner. (Along with Japanese restaurants, Singaporean hawker food is fast becoming an airport cliche.) Out of the numerous items on the menu, I had to choose chicken laksa...
(Added 17 December 2009.)
---
---
---