SUVARNABHUMI AIRPORT CERTAINLY HAD ITS SHARE OF TEETHING PROBLEMS WHEN IT OPENED IN 2006, BUT IF RECENT REPORTS ARE ANYTHING TO GO BY, MOST PASSENGERS ARE AMAZED BY WHAT THEY SEE, ONCE THEY GET OFF THE PLANE IN BANGKOK. The airport is coming together piece by piece, just as the once derided transportation network of greater Bangkok is slowly, gradually coming together, congealing as something worldclass, and proving in the process that Thai's can actually get stuff done. I was one of the doubters, but I am slowly coming around, and tipping my hat, in salute. When I drop into Bangkok next month (August 2008) on my first visit to the Kingdom in exactly six years, I expect to be astounded by the changes wrought down there. Even as we speak, the Pink Line (or is that Red Line?) of the overground Underground is smashing its way through the suburbs of Bangkok, seeking to link up with Suvarnabhumi, located about 25 kilometers east of the city center at Nong Ngu Hao ("Cobra Swamp"). This week the airport passed another milestone, when Ericsson successfully installed a 3G network covering the entire facility. As Introduce Today reported: "Ericsson has successfully completed the turnkey project of designing and integrating a multi-operator In-Building Solution (IBS) at the Suvarnabhumi Airport, Thailand's new international airport. The Ericsson IBS solution enables commuters and staff members of the airport, poised to be a major transportation hub in South East Asia, to enjoy advanced communications with seamless and high-quality coverage, as well as international roaming services.

"The IBS system incorporates six different technologies, including WCDMA, and GSM. This solution will also be the foundation for the airport's in-building communications network to migrate smoothly to 3G in the future.

"Ericsson was awarded the contract for the IBS solution for the new airport by the country's top five mobile operators -- Advanced Info Service (AIS), DTAC, True Move, Hutchison CAT Wireless and Thai Mobile.

"As the prime integrator, Ericsson was commissioned to provide a comprehensive range of services, including program management, network design, installation, integration and testing for the combined wireless application solutions that will serve the five operators' customers..."

medical trial
kagoshima


porn japan
tokyo


lock up
tokyo


lesbian japan
niigata/tokyo
t e e t h i n g + p r o b l e m s
ALL RIGHT, HERE ARE THE COMPLAINTS: FIRST AND FOREMOST COMING FROM BANGKOK BOB, WHO WROTE ON HIS BLOG: "Following hot on the heels of innovative new Asian airports such as Hong Kong and Kuala Lumpur, this is a futuristic, state of the art glass and steel structure is of German design.
Rather strangely, this new airport boasts the "tallest control tower in the world" at 132 metres, and there was me thinking the whole idea was not to have any tall buildings to interfere with flight paths, just goes to show how much I know!
1st September 2006:- Thai Airways announce that they will move, and be ready to operate from 28th September, the day of the official opening.
Ever since Suvarnamhumi opened, there have been many vocal criticisms, Until February, I had only used the airport once, and found it perfectly acceptable, getting through in about 18 minutes, I wondered what all the fuss was about.
If I was going to design an airport for a tropical country, the last thing I would make it resemble would be a large glass greenhouse.

Now it seems that some of the real problems are only just coming to light:-
Crumbling runways and taxi ways
One runway closed
Almost 50% of the lighting faulty
Poor facilities, both catering and lack of toilets
Nowhere near large enough, almost at full capacity within weeks!
Poor baggage handling leading to long incoming delays.
February sees the safety certificate withdrawn!
A reader reports a 1 hour 20 minute flight took 1 hour and 45 minutes to begin disembarkation!
Severe congestion when checking in to domestic flights.
Maximum capacity almost reached within months of opening.
Domestic & International all handled in the same terminal building.
CTX baggage scanners, dozens were bought at over double the "one off" advertised price.
Heralded as a great achievement, 2007 has seen it turned into a national disgrace.
Don Muang is being re-opened to cope with low budget airlines and some freight, although this will only add to the confusion in my opinion, as Thai announced that they are re-branding all domestic flights "Nok Air", their low budget arm - so what happens if you want to fly international to Chiang Mai or Phuket, how do you get to Don Muang, let alone in time for the connection.
It certainly doesn't give the impression of a brand new airport, and when you think about the local competition (Hong Kong, Singapore, Kuala Lumpur etc.) it fails miserably in all areas."
Now according to the official masterplan: Suvarnabhumi is planned to operate as many as 76 flights per hour on two parallel runways, when it reaches that aforementioned peak capacity, in the whatsoever imagined future. Those two runways, by the way, are 60m wide and 4000m and 3700m long, respectively. The airport boasts 51 aircraft stands and 120 parking bays (51 of them with contact gates and 69 with remote gates) for wide-bodied aircraft. Five of these bays are capable of accommodating the Airbus A380, the future monster of the air. In the initial phase of construction, it will be capable of handling 45 million passengers and 3 million tonnes of cargo per year. Above the future underground rail link station and in front of the passenger terminal building is a 600-room hotel operated by Accor Group under the Novotel brand. Between the airport hotel and the terminal building are the two 5-storey car parks with a combined capacity of 5,000 cars.
Long-term plans for four runways flanking two main terminals and two satellite buildings with a combined capacity capable of handling up to 100 million passengers and 6.4 million tonnes of cargo a year are on the drawing board. The second phase of airport expansion involving the construction of a satellite building south of the main terminal is expected to begin 3 to 5 years after the completion of the first main terminal.
The Airport Airports Authority of Thailand (AoT) announced on July 21 2006 that a separate terminal for low-cost airlines will be built at the airport at a cost of 600 million baht (15.8 million dollars). The budget terminal will be located near Concourse A of the main terminal. It is capable of handling 15 million passengers per year. Its operating concept will be modeled after the LCC terminals of Kuala Lumpur International Airport and Singapore Changi Airport.
Speaking a month before the official opening, an enthusiastic BBC reporter gushed: "From a distance it shimmers in the heat, a series of huge steel-and-glass hoops and sweeping triangles of fabric glinting with the sun.
"Up close, the sheer size of the main airport terminal - the world's biggest single terminal building - takes your breath away.
"Designed by the renowned architect Helmut Jahn, with concessions to indigenous Thai motifs that are hard to spot in the uncompromisingly modern design, this is building on a monumental scale, building that is meant to impress.
"But will it work? Will it be as good to use as it is to look at?"
The thing to keep in mind about the evolving Suvarnabhumi project, especially if you are irritated by the official opening being continually delayed or if you can't find a taxi at the taxi stand when you arrive, or if your ticket voucher says you will be staying at a hotel at Suvarnabhumi but instead you find your flight landing at the old Don Muang airport... the thing to keep in mind amidst all this Thai-style chaos is that Suvarnabhumi is more than just an airport. It is more like a new city being hacked out of the swamps, a new center of commerce and influence like Ayuthaya and the other great cities of the past. So what if it goes over budget or over deadline? -- this is a big project!
Speaking at the 2006 Owen G. Kenan Conference on Development Around Suvarnabhumi Airport, Deputy Minister of Interior, Somchai Sunthornwat said that in addition to being a tourism and logistics transit point for Southeast Asia, the Suvarnabhumi aerotropolis would become a business and investment hub.
"Our vision is to create a 'water-city' or 'Venice-of-the-East'," said Somchai. (See the picture above.) "This concept will feature a water front community with clean, energy-saving residential areas. Zones within the aerotropolis will be targeted for industrial promotion, including an area allocated to R&D and agro-processing."
The first phase of the aerotropolis is expected to be the establishment of a new Suvarnabhumi Province or 'Suvarnabhumi Mahanakorn' initially governed by a committee to be chaired by Thailand's Prime Minister Thaksin Shinawatra. Ladkrabang and Pravet districts of Bangkok, and Bangpli and Bangsaothong districts of Samutprakan Province would become parts of the new province. In the second phase, the province would be transformed into a special administrative zone run by an elected governor and represented at the national level by a full complement of MPs and senators.
According to Dr. John Kasarda, professor of Management and director of the University of North Carolina's Frank Hawkins Kenan Institute of Private Enterprise, the creation of a new province will help overcome divisions of authority and jurisdictional conflicts, which tend to result in uncoordinated and haphazard cluster development.
"The first step [for Suvarnabhumi] is to link multimodel airport transportation, land use and commercial development, which will lead to an economically efficient, aesthetically pleasing and environmentally sustainable aerotropolis," said Kasarda, whose research on airport development around the world led him to coin the term aerotropolis.
"It should be remembered that major airports are both a country's calling card and handshake—it's the first thing people see when they enter a country and it's the last thing they see when they leave," Kasarda said...

medical trial
kagoshima


porn japan
tokyo


lock up
tokyo


lesbian japan
niigata/tokyo
o r y c h e q u e r e d h i s t o r y c h e q u e r e d h i s t o r y c h e q
TO SAY THAT BANGKOK SUVARNABHUMI AIRPORT HAS HAD A CHEQUERED HISTORY IS AN UNDERSTATEMENT. Everything has been thrown in the way of the construction of this airport -- the boggy, swampy terrain, old style Asian corruption, and the swampy terrains of Thai politics. Deadline after deadline has been missed; military coups have delayed official openings, and there have been allegations of structural problems at Suvarnabhumi. Back in 2004, the Thai Pro website wrote: "Plagued by allegations of corruption and mismanagement throughout its history, the new $3.7 billion Suvarnahumbi airport of Thailand's is still unfinished and now has the Thai Kingdom's flamboyant PM Thaksin Shinawatra cracking the whip to get the Suvarnahumbi airport project completed.
"The long-delayed second international airport in Bangkok, which the Thai government last week conceded might not be finished in time for its planned September 2005 opening, has been bogged down since the year 1960 by political wrangling, corruption allegations and problems with the marshy site where the gigantic new airport is being build...
"It will also be the only airport in the country capable of handling the latest 555-seater A380 Airbus, and could potentially accommodate more than 100 million passengers by year once the planned fourth runway will be completed.
"But Bangkok's new airport, often cited as a prime example of poor economic planning and management of large infrastructure projects in the kingdom of Thailand, has already passed through two initial deadlines, the first in 1990 and the second in 2000. Construction only began in January 2002 and that year the International Air Transport Association ominously warned that while it calculated all new airports are 90% construction and 10% politics, here in Thailand, the Suvarnahumbi airport is 99% and only 1% construction.
"Since then allegations of mismanagement have only intensified, and Prime Minister Thaksin Shinawatra has now threatened state bans on the contractors if the new Bangkok airport is not finished in time for its planed September 2005 opening."
The planned September 2005 opening didn't materialize, and Shinawatra's reign is ancient history. Nonetheless, Suvarnabhumi does seem to be finally up and running... (toutou, as the Japanese would say.) Or then again, maybe it is not up and running. There do appear to be flights operating out of Suvarnabhumi as I write (in late September 2006), and as the airport continues to evolve, this website will endeavour to keep you up to date with developments.

medical trial
kagoshima


porn japan
tokyo


lock up
tokyo


lesbian japan
niigata/tokyo
ส น า ม บิ น >ส น า ม บิ น >ส น า ม บิ น >ส น า ม บิ น
DESPITE THE CONTINUING OPERATIONAL CHAOS AT BANGKOK'S NEW INTERNATIONAL AIRPORT, ONE THING CAN BE SAID -- it does promise to offer some pretty sensational services, when all the kinks are eventually sorted out. How do you like the idea of literally kilometers of shops, gourmet restaurants, a 10-pin bowling alley and even a Thai-style spa? Suvarnabhumi has all this and more. (The idea of wanting to indulge in a game of 10-pin between flights seems strange to me, but I guess it is a novelty that not even Changi Airport can boast! The spa makes more sense though, and it might compete with Iceland's Blue Lagoon for its ability to revive wearied intercontinental air travellers.)
Much like Changi, Suvarnabhumi Airport has been designed as a self-contained city, with all the leisures and pleasures that only a Thai city can provide. Hence the spa and massage facilities. There will also be comfortable day rooms and a four-star hotel, along with a balanced array of shops, restaurants, entertainment, and recreational areas, including a movie theatre and fitness centre.
As the BBC reported regarding Suvarnabhumi's main terminal: "The spectacular building gave a tremendous feeling of light and airiness, although it might seem a little cold or intimidating for those used to the quieter and more intimate atmosphere at Bangkok's main rival airport in Singapore.
"A series of large-scale works of art have been commissioned to decorate the new building, ranging from impressive murals in the baggage-collection hall to some slightly garish reproductions of Thai mythical figures.
"After checking in, passengers will be presented with kilometre-long corridors of duty-free shops, although critics say not enough space has been given to retailers, forcing King Power, the company controversially awarded a monopoly over duty-free outlets, to charge much higher prices. (Eds. note: It is the same situation as that which existed at the old Bangkok airport -- a monopoly abusing its powers to rip off passengers and bump up prices. But anyway, let's not be too negative, shall we!)
"(Nonetheless), facilities should be much better than at the old airport, including a spa and a bowling alley.
"Transport to the new airport is another matter."
A recent visitor to the new airport, Thai744, wrote: "Two weeks ago I had to head to Chiang Mai in Northern Thailand for business. Being a regular flyer on Thai, I decided to try Nok Air again as I hadn't flown them for over 2 years.
"I made the booking easily on the internet, and the total fare was about $40USD one-way between the two cities.
"My thoughts on the new airport in BKK were made in another trip report (BKK-REP), so I won't go into my dislike for the place again in this report. However, I have included some photos of the airport and the gate lounge area. (Note the ridiculous seating arrangements in one of the gate lounge shots where they have placed 2 rows of seats facing each other with about 4 inches of room between the two rows! Madness!).
"The A-concourse gates are for domestic flights. I did find a nice food-court area with a lovely outdoor seating area which is fine for smokers to use. (But no free WIFI!)"

+ - + - + - + - + - +
This comes from the Airport Technology site concerning the passenger services and facilities at Bangkok's new Suvarnabhumi Airport:
"Seven floors and a basement will give the terminal a total floor area of over 563,000m², (six million ft²) making it the largest in the world. An innovative roof trellis (one of the largest in the world) designed to shade the building against intense tropical sun and reduce the cost of air conditioning, will also be the largest of its kind.
"There will be 360 check-in counters on ten check-in islands, all with connected baggage belts, and another 100 check-in counters not connected to the baggage belt system.
"The domestic and international halls are clearly separated with the second floor as a dedicated arrival hall and the fourth floor as a departure hall..."
+ - + - + - + - + - +
According to Thai Air: "To facilitate passengers, the newest equipment and state-of-the-art technology will introduced to enable them to opt for self-service, automated check-in at a kiosk through the Internet, by Wireless, or by SMS-Short Message Service. In addition, there will be a designed Premium Service area with the ambience of a 5-star hotel lobby to serve first class and business class in the passenger acceptance area before the are escorted through a special immigration fast track channel to the lounge to relax before boarding their flights.
"First and Business Class Lounges reflecting the most modern design with a Touch of Thai in the exquisite decor will be provided at prime locations along the concourse to accommodate our premium passengers as well as those of our Star Alliance partners and our customer airlines. Here, our guests will enjoy the privileges of our premium Royal Orchid Service in a luxurious, relaxing atmosphere while waiting for their flight departure.
"Processing passengers at the departure gate will be simplified while enhancing security through the use of automated Boarding Gate Readers for efficient document control and passenger convenience.
"Load Control and baggage handling will likewise be computerized to minimize expense, errors, and handling time while promoting the highest standards of security and safety for passengers, crew, and our aircraft.
"Passengers arriving at the airport will experience greater convenience from the moment they disembark from the aircraft. In particular, our first class passengers will be individually escorted from the aircraft through the FAST Track immigration channel to facilitate arrival formalities. At the baggage carousel, special porters will be assigned to retrieve the passenger baggage to ensure that it is ready and waiting for the passenger on his arrival.
"Furthermore, there are plans to provide a special arrival lounge for those premium passengers who need a place to prepare themselves before leaving the airport terminal to ensure readiness for their business activities and appointments.
"Finally, when passengers complete their Customer formalities in the arrival hall, they will be able to arrange comfortable, safe, convenient through our Limousine Services with limousines awaiting passengers at curbside to whisk them to their final destinations."
+ - + - + - + - + - +
Here are some passengers opinions of the new airport, lifted from Stickman's Guide to Bangkok, a highly readable and entertaining blog:
"I flew out of the new airport on Sunday evening and, while the building certainly looks magnificent on the outside, there are plenty of problems inside.
"Much has already been said about the lack of signs, and that is obvious. The few signs there are mostly do not face people walking along but face them sideways. So you have to actually be beside it to see it. Such an easy thing to remedy, and much talked about, but nothing done.
"The biggest problem I noticed is that no-one knows where to meet arriving passengers. There are three doors, A, B and C, but no way of knowing from which door passengers will emerge. The huge indicator boards give no clue, and the distance to cover between them is hundreds of metres.
"I tried to ask a girl at the information counter how to know from which door they would emerge, but her English was so poor she had no idea what I was asking. How is this possible?
"The food area was stiflingly hot, but maybe that was a temporary problem caused by crowds of sightseers.
"Through immigration, the floor is dangerously slippery (warning signs are up), and although the Thai business class lounge is enormous and looks wonderful, premium passengers were searching for seats. The reason, apparently, is that two further lounges are planned but have not been built yet.
"In what the authorities proudly claim is the world's longest passenger terminal, there are no moving walkways to the departure gates.
"Others have complained about the lack of toilets, and I would echo that.
"One positive. The rule that taxis could not pick up from the terminal has, Thai-style, been completely ignored, even to the extent that low-tech photocopied signs have been stuck to pillars directing passengers to them."
f o o d + d r i n k
THERE ARE ABOUT 50 DINING FACILITIES INSIDE SUVARNABHUMI AIRPORT, SOME HALF A DOZEN OF THEM PROPER KNOCK-UP RESTAURANTS. According to the official airport website: "With long quests and scarce seating, the fast food joints at the airport might not provide quicker and more convenient service than the proper restaurants.
"Departing passengers can have gastronomical pleasure from Kinramen located on the far left side of concourse D. With Japanese noodle dishes -- ramen, udon and soba (150-250 baht) -- as its highlight items, the restaurant also offers a wide variety of choices including rice with various toppings, several sushi selections as well as a kids' menu and desserts. Spare some room for refreshments, too -- Kinramen features an irresistable list of smoothies. Try ginger, raspberry or kiwi smoothie - they are very delicious.
"Run by the same management as Kinramen is Asian Corner which is situated just across the hallway. The place looks like an Asian buffet joint with selections from every cuisine of the region ranging from Thai som tum, Chinese dim sum and Vietnamese spring rolls to Japanese lunch boxes and Korean BBQ. Prices range from 80 to 180 baht. More like a bite-and-go eatery, you may expect less comfort seating here than at Kinramen.
"At the other end of the terminal lies Mango Tree, a Thai restaurant managed by Coca restaurant group. This is its sixth branch following Bangkok, London, Tokyo, Korea and Malaysia. Best-selling dishes include pad thai noodle, fried prawn with tamarind sauce and noodle soup with roast duck. While they tasted ordinarily good, their prices are extraordinarily high -- expect to pay 170 baht for a duck noodle dish."
Here is a more in depth review of some of the many food and drink outlets at Suvarnabhumi Airport:
Eat-Tion:

Here Comes the Cow dined recently on a short break in Bangkok, and guzzled the spicy sweet and sour noodles for 140 Baht, while her partner ate the beef noodles for 140 Baht (or maybe it was the other way around.) They then evidently took the Airport Express costing 150 Baht each to the Chit Lom BTS, ate a Samurai Pork Burger set at McThai, and enjoyed many other culinary pleasures in the City of Angels.
Starbucks Cafe:

There is a lot of complaining on this blog, I am sorry about that. There are a lot of complaints. I don't normally like to be so negative. But complaining is a form of understanding, as one Australian guy told me once. Some Koreans who recently passed through Suvarnabhumi recently wrote: "Do you know that the Starbucks at Bangkok's Suvarnabhumi Airport doesn't have internet?
"And i purposely spend 150baht for a drink... just to sit there.
"Padan muka lar, cause i naturally assume that every Starbucks *will* have internet.
"Apparently... not...
"Nor do the whole airport have it because they have this "Internet Lounge" which charges 300baht for ONE hour of internet *rolls eyes*.
"So i ended up waiting for more than 2 hours... doing nothing... but stoning.
"Then after i enter the immigration gates, i saw my favourite ice-cream shop there, and bought some ice-cream to kill the time. Also so i can continue waiting there.
"That's when i spotted this:
"(read full story here."
g e t t i n g + i n t o + t o w n
ONE OF THE MOST CONTROVERSIAL ASPECTS SURROUNDING SUVARNABHUMI AIRPORT -- and the one which contributed most to the opening and operational delays -- has been the transportation links to the city and other parts of Thailand. Blogger Bangkok Dazed wrote recently: "I started off the week on Monday night by going out to the current airport, Don Muang, to meet my friend Jeff, who was flying in from California. He said that the check-in process at San Francisco International was fast and easy, mainly because passengers have dramatically cut down on the amount of carry-on luggage they are bringing. After I greeted Jeff in the terminal we waited in line to take a metered taxi back into town. This convenient service, however, may not be offered at the new airport (Suvarnabhumi). I've read several reports about the taxi situation and it looks like passengers will have three options: they can take a shuttle bus to a taxi depot three kilometers away from the airport, ask a dispatcher to send them a taxi (parked at the same remote depot, making for yet another long wait), or splurge for an overpriced limo to take them to Bangkok."
Due to the concerns voiced by people like Bangkok Dazed, it does seem now that a taxi stand will be installed directly inside the airport. In fact, it will be on the second floor of the passenger terminal. Somchai Sawasdeepon, Airports of Thailand Plc (AOT) general manager, said the decision was in response to problems during the September 1 (2006) test flights when many travellers had difficulty catching taxis from the public bus terminal.
As Bangkok Dazed had pointed out, the AOT's previous plan was to only allow taxi drop-offs at the passenger terminal. Pick-up service was conducted at the public bus terminal, 2.5 kilometres from the main terminal. A shuttle runs between the bus and passenger terminals.
AOT officials came to the realisation that this system would be inconvenient for passengers arriving with heavy luggage. A stand will be established at the passenger terminal with at least 20 taxis available at all times. Somchai said officials would ensure that there are enough vehicles to serve passengers.
People will still be able to take a shuttle to the public bus terminal to catch a cab. Shuttles will be available every three to five minutes.
Thai taxis are usually cheap if you know how to bargain, and I always like getting a bit of local knowledge from the drivers. A typical taxi fare from the airport to downtown Bangkok should cost around 250Baht (plus expressway tolls and the 50B airport pick-up surcharge). If you want to book a taxi, telephone 1681. However, nothing beats a good fast train, especially when you consider the congestion of Bangkok roads. Word is there is eventually going to be a high-speed rail link with downtown Bangkok (something which never really existed at Don Muang -- the grubby suburban train station across the road from that airport didn't count in my opinion, and I have never had the guts to try it!) That all said, construction of the new city airport terminal and the 28.6km link is behind schedule (what a surprise!) and it will probably not be ready for a few years, at the very least. When it is finally operational, the airport express, informally known as the Pink Line and operated jointly with SRT's planned Red Line commuter service, will connect with the BTS Sukhumvit Line and MRT Blue Line at Phaya Thai and Phetchaburi stations respectively, offering airport-bound passengers a fast 15-minute limited stop journey from the city. And that sures beats sitting in a Bangkok traffic jam!
The Pink Line is smashing its way through Bangkok's tropical sprawl right as we speak (or write, in my case, or read, in your's); bridging the gap, between conception and reality, and demolishing neighborhoods which have stood in the humid Bangkok plains, for generations. To see photos of the monster construction project in progress, see Johnny Troop's site. As Bangkok Airport Online reports: "The Suvarnabhumi Airport Rail Link is under construction from Suvarnabhumi International Airport to the planned City Air Terminal in Makkasan area of Bangkok.
"Construction of the line started in 2005. The line is being built by a consortium of B Grimm, STECON and Siemens, and will be owned and operated by State Railway of Thailand (SRT). The estimated cost of the project is 25.9 billion baht.
"As of October 2006, the line is 44% complete and is expected to be ready for service in October 2008.
"The Airport Link line will be 28.6 km long and elevated for most of its length. Both non-stop Express services (known informally as the Pink Line) and Commuter services (the Red Line) will be operated. Siemens Desiro trainsets, capable of speeds of up to 160 km/h, will be used, with Express journeys taking 15 minutes and Commuter trips 27 minutes..."
It will be great to be able to catch a train downtown from the airport, but for the moment at least, that is just a Utopian pipe dream. For now you have to road it. Suvarnabhumi Airport is located 15km on the eastbound Bang Na-Trat Highway, about 25km from central Bangkok. There used to be six bus routes between Suvarnabhumi and the rest of Thailand; there now are 11. As Thai Transit Blogspot wrote: "The Public transport terminal (Bus terminal) at Suvarnabhumi Airport was created as a way of allowing direct bus service to the new airport without having the chaos out the front has happened at the old airport. As a result it is located a few kilometers away from the actual airport terminal building. However there is a 24 hour express bus service linking the Airport terminal with the Bus terminal. The trip only takes about 10 minutes. The express buses run every few minutes.
"The Bus terminal its self has clean toilets a few banks and a few Thai food outlets and a large 7 eleven store. There are also staffed bus ticket counters for both the intercity and metro buses that operate from the Suvarnabhumi Airport Bus Terminal. Taxis are also available here if needed.
"The Bus terminal offers intercity services to Nong Khai, Rayong, Pattaya, Bang Saen Beach, Rong Kluea Market, Chonburi, Chanthaburi, Trat and Mochit 2. However these buses are not frequent some only runs every 2 to 3 hours others every 20 to 30 minutes. Tickets for these buses are purchases from the intercity bus counter and onboard for the Mochit 2 bus.
"The Metro Buses that run from Suvarnabhumi Airport Bus terminal are as follows:
Public Bus
Group 1: Bangkok and Neighboring area to Suvarnabhumi Airport.
1. Number 549 SA. +Minburi.
2. Number 550 SA. +Happy Land.
3. Number 551 SA. +Victory Monument (Express Way).
4. Number 552 SA. +On Nuch BTS station (Sky Train).
5. Number 553 SA. +Samut Prakan.
6. Number 554 SA. +Bangkok International Airport (Express Way ).

---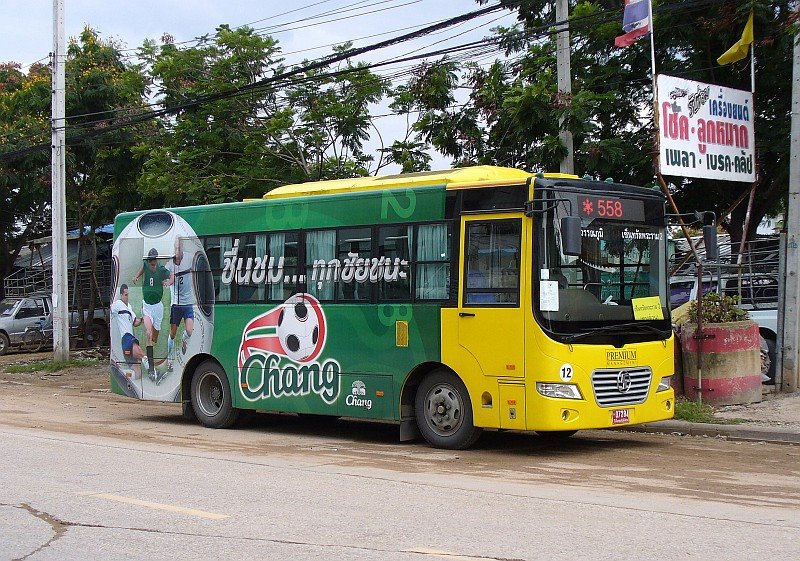 ---
7. Number 558. According to the Bangkok Airport Online site, bus number 558 connects Suvarnabhumi with Central Rama 2, stopping at "Central Park Hospital - Chalarat Hospital 1 - Ramkamhaeng 2 Junction - Srinakarin Junction - Bang Na - Soi Lasan - Rung Chareon Market - Suksawat Road - Lotus Bang Na - Bang Pakaeo - Bhuthabucha Junction - Bang Mod Hospital - Central Rama 2."
Says Thai Transit Blogspot, who snapped the above picture: "This bus is operated by Premium management a company that took over the operation from BMTA about 3 months ago. This bus is one of the smallest aircon buses in Bangkok. It is quite different from most other modern Chinese imports to Thailand in that its engine is at the front next to the driver."
8. Number 559.Suvarnabhumi-Future Park Rangsit.
All buses depart from Bus Terminal.
Group 2: Public bus services between Bangkok and Tourist Destination Spots (License granted by Department of Land Transportation).
All buses depart from Bus Terminal.
Group3: Public bus services between Suvarnabhumi Airport and three Thai provinces.
1. Number 389 SA. +Pattaya.
As Mike Moye reported on Thailand Q&A: "I just confirmed the schedule times of the mystery bus 389 from BKK to Pattaya.
"It is operated by http://www.transport.co.th/ (Thai) 02-1344-097,8 (English nit-noy)
"I could not get a connection to '021344097' but can connect to '021344098.
"I asked the schedule times:
"09.00
"13.00
"17.00
"19.30
"I wish this information was made more available on the www to foreigners. Currently the information I see about Subanabhumi transport does not show any schedule times for any transport options!
"Sorry I could not confirm if a reservation or booking is required or from which bus stand number because my skype-phone was breaking up..."
2. Number 390 SA. +Talad Rong Kluea.
3. Number 825 SA. +Nong Khai.
All buses depart from Bus Terminal.

And here is where all the public transport services at Suvarnabhumi Airport are located:

Ground level/1st floor Main Terminal Building (MTB).:
Shuttle bus (ordinary) - inner curb
Air Crew pick up - inner curb
ATTA cars/buses - inner curb
Private Bus/VIP - outer curb
Arrival 2nd floor Main Terminal Buildin (MTB).
Airport Express - inner curb
Shuttle bus (express) - inner curb
Airport Limousine - outer curb
Private vehicles - inner curb
Departure 4th floor Main Terminal Buildin (MTB).
Airport Express - inner curb
Shuttle bus (express) - inner curb
Limousine/private vehicles/VIP - inner curb
Air Crew - inner curb
Public Taxi - outer curb
ATTA cars/buses - outer curb

Going to Khao San Rd?: The AE-2 bus at the arrival level goes to Khao San Road directly, using the aforementioned highways. It takes some 40 to 60 minutes to reach Bangkok's Golden Mile, and costs 150 Baht which is somewhat cheaper than the taxis. Service time: 05.30-01.00 (Every about 30 minute - hour).
a i r p o r t + h o t e l s
HERE IS A BRIEF GUIDE TO SOME OF THE MAJOR HOTELS BUILT NEAR BANGKOK'S NEW SUVARNABHUMI INTERNATIONAL AIRPORT:
Novotel Suvarnabhumi Airport Hotel: Racha-Taeva, Bangpli , Samutprakarn 10540, Thailand. Phone: +66 2 131 1111. Fax: +66 2 131 1188.
The ultra-modern hotel is located just a three-minute walk from the airport's main terminal connected by a 200 metre, air-conditioned underground walkway. A direct rail link currently under construction will connect the hotel to existing transport systems, downtown Bangkok and its central business districts by early 2008.
The Novotel features 612 rooms in two square-shaped five-storey buildings, covering 10.5 hectares, with large open atrium areas in the centre of each structure. The two buildings are also joined by another massive glass atrium designed as the hotel lobby. With a lobby covering 2,800sqm five-stories in height, the Novotel Suvarnabhumi Airport Hotel boasts the largest hotel lobby in the world.
The unique design allows for greater environmental control and incorporates the outdoor atrium areas for swimming and recreation.
Novotel Suvarnabhumi Airport Hotel is aiming to establish itself as the airport's premium dining area with four restaurants and a bar. The Novotel brand's innovative all day dining outlet, The Square, serves a variety of popular Western and Asian dishes from an open show kitchen a la minute, showcasing world cuisine with monthly food promotions and specials. Authentic Thai cuisine is offered at Sala Thai Pavilion, while guests can enjoy a choice of either Cantonese cuisine at Gold Village Chinese Restaurant or Sushi and Teppanyaki at Kinsen Japanese Restaurant. The hotel's Atrium Terrace Lobby Lounge adds a perfect venue to unwind and relax.
Leisure facilities include a 25-metre swimming pool surrounded by tropical gardens, fitness centre, extensive spa facilities, beauty salon, shopping arcade, Dolfi Kid's Corner and babysitting service.
Novotel Suvarnabhumi Airport Hotel caters to Bangkok's growing meeting and event markets with more than 2,400sqm of space including a pillar-less ballroom for up to 800 people and 6 additional meeting rooms. It is also well positioned for delegates attending events at the nearby BITEC Convention and Exhibition Centre.
A side benefit of the opening of the new airport will be the close proximity of Pattaya, a famous Thai beach destination that has recently completely upgraded its image, attractions and tourism infrastructure. Pattaya will now be just over an hour's drive from the airport, and two Accor hotels – the Sofitel-managed Garden Cliff Resort & Spa and Mercure Pattaya – have opened in the past year to cater for the growth in domestic and international visitor numbers.
Opening rates for the hotel begin at Baht2380++ per night, valid till the airport officially opens on 28 September, when the rates will start from Baht3380++ per night. Packages including spa treatments and added extras will also be available.
The Novotel Suvarnabhumi recently (October 19 2006) began offering a "Deluxe Fresh Up Stay" for 2500 Baht for 4 hours. For travellers looking for day rooms, this might make good value.
Bookings for the new Novotel Suvarnabhumi Airport Hotel and other Accor hotels in Thailand can be made via www.accorhotels.com/asia , via travel agents or Accor Reservations.
The Miracle Grand Hotel:
A total of THB300 million (US$7.9 million) has been spent on this facility comprising day-room hotel, shops, snack bars, lounges and a beauty salon at the new airport. The day-room hotel will serve as a welcomed relief for travellers with long layovers. The "Miracle by Louis' Tavern" will have 80 rooms open 24 hours, located in the airport terminal, which passengers can use to rest and refresh for 1000 Baht (US$26) for six hours. There are reports from travellers however that this rate has risen dramatically -- it is now 2000 Baht for just four hours. As with many things in Thailand, the best thing to do is check the prices when you are on the ground, and then choose the cheapest or best option.
f a r e w e l l + f r i e n d
DON MUANG AIRPORT IS FREQUENTLY WRITTEN OFF AS AN OLD DINOASAUR AND A COMPLETELY ROTTEN FACILITY WHICH DESERVES TO DIE LIKE YESTERDAY, BUT TO MY MIND IT DID HAVE A KIND OF CHAOTIC CHARM COMPLETELY IN KEEPING WITH ITS SURROUNDINGS. It was (and still is, for the passengers using it) the kind of airport which was not afraid to let you know, upon disembarkation, that you were no longer in Kansas anymore. "Welcome to the Exotic East, in all of its intensity -- and are you looking for some gems or maybe a massage? I know a good place!" -- that was the old Don Muang experience of the 1970s/1980s/1990s. Getting ripped off by the taxi drivers was part of the fun, and a valuable learning experience. (Changi was and still is exotic as well, but in a different way -- manicured British Imperial tropicalism vs the rampant anything goes ethos of Thailand, the country that was never colonized by Europeans.) Don Muang Airport was in fact the first overseas place I had ever visited, during my first trip out of Australia in 1993, and so it has carved out a special place in my heart. As I wrote in my diary at the time: "I boarded my Qantas flight to Bangkok, me getting the window seat for the first leg. I saw Mum and Dad waving me off from the plane; then we took off and travel event of my life to date began. We flew northwest over Mudgee and the Queensland border by nightfall; by a thunderstorm over Darwin and the Timor Sea; over the coast of Sumatra where I saw some lights on the ground (my first real overseas experience!); and then up the Bay of Siam towards Bangkok. The trip seemed faster and easier than I thought it would be, so I can see nothing wrong with frequent o/s trips (to Asia at least) in the future.
"At Don Muang Airport we met an English and an Irish backpacker who had just been to Australia, and got a taxi with them into the city. The taxi ride was an exciting introduction to asia: after haggling with the driver for ages about the fare, he angrily drove off us at like 120km/hr, swerving through the traffic and avoiding all the pickup trucks packed with families and revellers. Anyway, we found a dingy youth hostel (on Khao San Rd no less!) for $2 a night, and I went to bed still finding it hard to believe that I was on another continent."
Ah, sweet memories -- nothing will ever be as exotic as that first night in Bangkok, because I was a travel virgin, and the first time is always the most intense. Equally sentimental about Don Muang and its charms is Bangkok Dazed, a foreign bookshop owner in the city, who wrote on his blog: "Late morning flight back to Bangkok from Yangon today. I wander through the terminal and realize that this will be my last time at Don Muang International Airport, which will shut down when Bangkok's new Suvarnabhumi Airport opens on the 28th of this month. I'll miss the cramped and chaotic confines of Don Muang. It's a funky old facility (and what other airport in the world has a golf course tucked in between its runways!) but it's easy to get to from Central Bangkok and in the 15 years that I've been a passenger there I've never suffered any missing luggage or other unpleasant incidents. Goodbye old buddy!
"Meanwhile, here in the Big Mango, it's raining again. Wet streets and Bangkok's usual cocktail of polluted air, fresh fruit, and vendors grilling skewers of satay greeted me when I stepped off the airport bus..."
On his almost incomprehensible Singlish language blog, the wandering stray cat posted this tribute to the old Dom: "Don Muang holds plenty of memories =)
"announcements over e (the?) airport PA system in a languid rather than business-like tone beginning with karunaa or a long drawn-out prod3 saab4 (attention please....)
"transit area & inclined walkway connecting it to e aerobridge, where e 6 of us kids once dashed through when we were super late for our TG flight....doors were shut & e plane started to move off once we tumbled in, & we were still hunting for our seats & stowing our hand luggage as e plane began take-off =P"
How about you, fellow traveller? Do you have any fond (or not so fond) memories of the old Don Muang Airport which you would like to share? Send an email to me Rob Sullivan at coderot@gmail.com, and I will post your comments and stories and complaints on this site!
---

UNCLONED WORLD
Contact us by email: bunyarra@hotmail.com
phone: (090) 6039-9341 (JAPAN)