PICKLEBALL STUFF - GOOD STUFF!
Pickleball Stuff - your web site for pickleball information and news. It's THE place to buy all your pickleball equipment and supplies. The owners of the Pickleball Stuff company have played pickleball for over 30 years. We are competitors and experienced referees for both indoor and outdoor pickleball. We carry quality, USAPA approved equipment and have been suppliers for the sport of pickleball since 1999. Let us help you with your selections. Check out our low prices. Find places to play, see upcoming tournament listings and look up tournament results via our links to USAPA. We have links to pickleball clubs across the US. Buy Pickleball Stuff and join the fun!



YEAR END SPECIAL SALE ON PADDLES
15% OFF ON SELECT MODELS WHILE SUPPLIES LAST.
CALL OR EMAIL US FOR DETAILS.

To view our selection of paddles made by Pickle-Ball, Inc., Pro-Lite Sports, Onix Sports and Paddletek plus details on all our items, see our Product list!
BUY YOUR STUFF
* * *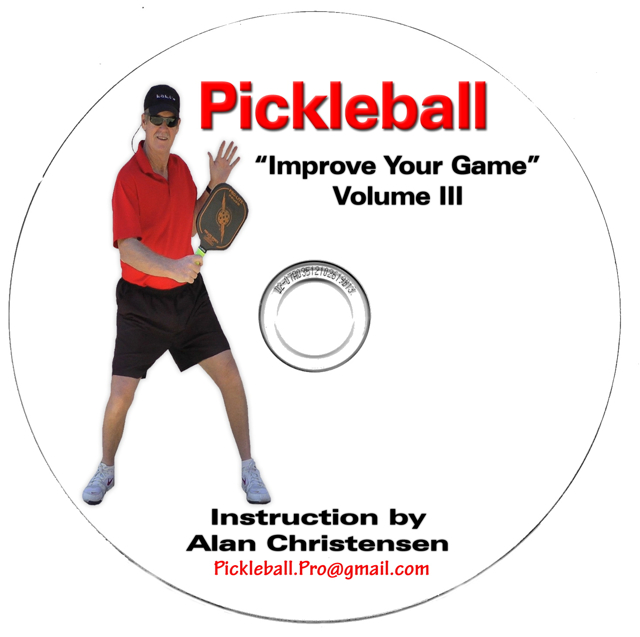 ALAN CHRISTENSEN'S NEWEST INSTRUCTIONAL DVD! - The long awaited Volume 3 in Alan Christensen's "Improve Your Game" instructional series. The newest edition covers a large amount of new material, and also introduces some new concepts that will help players improve some of the techniques learned in the earlier volumes. Players at all levels will get benefit from this latest addition to the series. Some of the highlights include 38 video segments: Live examples using slow motion freeze frame and annotation; Notes for each major segment intended to add detail and clarity; Basics; Serves and serve returns; Vollying, Dinking; Lobs, Mental side of the game; Using a ball machine. This DVD includes a full 120 minutes of valuable instruction. AVAILABLE NOW for $17.00.


WE OFFER THE BEST PRICES
ON PICKLEBALL STUFF!
SEE PRICES FOR 2016
ORDERS SHIPPED NEXT DAY!
* * *
USAPA NATIONAL TOURNAMENT CELEBRATES ITS 2016 CHAMPIONS
The 2016 USAPA Nationals VIII featured almost 900 players at their annual event November 5-14, 2016 in Casa Grande, Arizona. The growth of pickleball has resulted in the development of bigger and better venues. Players enjoyed the Palm Creek Golf & RV Resort's 32 permanent courts. Every year brings more talent to this tournament and the competition gets tougher. Congratulations to all the participants. Above L-R, winners of the Women's 70+ Singles event: Rosi Pietromonaco, FL (Bronze); Barbara Wintroub, CA (Gold); Fran Myer, WA (Silver). For a complete list of all the winners, go to the Pickleball Tournaments website here.

MAN BUILDS COURT IN MIDDLE OF NOWHERE!
Jim Ward grew up in Seattle. Now he lives somewhere in Southern California 37 miles outside the town of Julian. Bringing the game of pickleball to this part of the country seemed only natural. If you're ever driving in these parts - it might mean you're lost....... or you might just be looking for a game of pickleball. Check it out!




Click here to see other photos


LINK TO OTHER PICKLEBALL WEBSITES!
Pickleball clubs are forming all over the US and Canada. View some of their websites and find out what's new in the world of pickleball.Click Here.


UPCOMING TOURNAMENTS


TOMMY WONG MEMORIAL TOURNAMENT
Surprise, Arizona
January 4 - January 8, 2017


EAST NAPLES WINTER CLASSIC
Naples, Florida
January 27 - January 29, 2017


USAPA WEST REGIONAL TOURNAMENT
St. George, Utah
April 20 - April 22, 2017


You will find many tournaments around the country scheduled for 2017. Check back often for new listings.
Click Here for Complete List on USAPA.org



PICKLEBALL TIP
THE DINK SHOT

One of the most underrated shots in pickleball is the dink shot. In fact many players don't even pay attention to it. However, almost all the top players have the dink shot as part of their game and are very good at it. We can all learn, practice and improve our dink shots. When practicing, dink or strike the ball nice and soft. You want the ball to just clear the net. Don't try to put too much spin or get too cute with it as that will make it more difficult to make a good dink shot. Don't get discouraged if your shots are hitting into the net or seem to go too high. Like the rest of your game it will take time and practice but you can do it! Remember that having a good dink game will make you a better player!


See previous tips
ACTION SHOTS FROM THE USAPA 2011 NATIONAL TOURNAMENT PROGRAM
See if you can spot your favorite player in this collage created for the USAPA 2011 National Tournament Program. Click Here to View. Use your BACK button to return to this page

THE OFFICIAL PICKLEBALL HANDBOOK - 2ND EDITION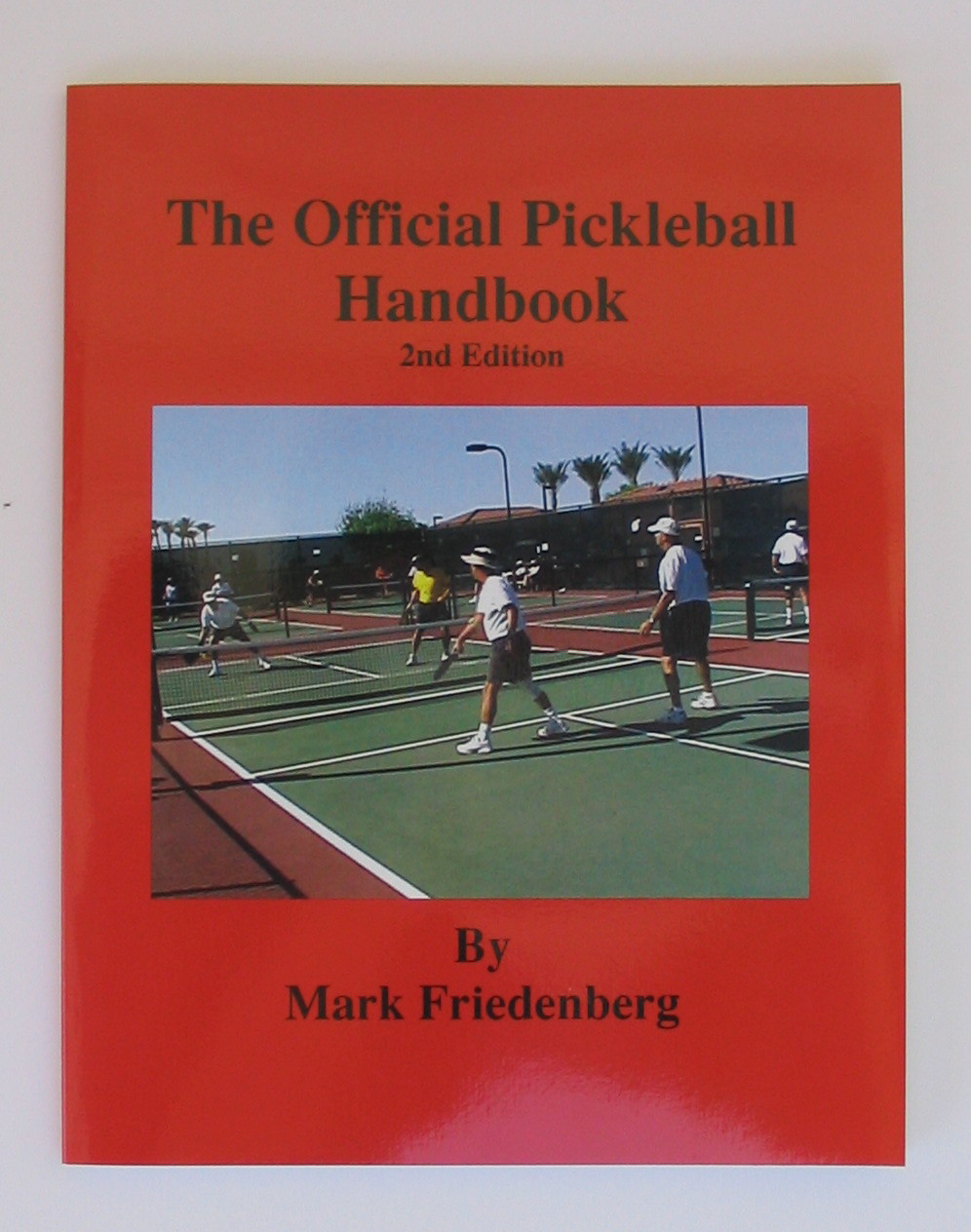 This is the best resource book about the game of pickleball. Now in its 2nd Edition, it's a "MUST HAVE" for anyone who plays this game. Read all about author Mark Friedenberg here.
BLOG OF INSPIRING PICKLEBALL STORIES
R ead our blog of inspiring pickleball stories. If you've ever been discouraged by a medical set-back, injury or personal hardship, these players' stories will help give you the incentive to keep on trying and to work your way out of it. Let us hear your stories as well. Click here for our BLOG or read inspiring stories from our PLAYER OF THE MONTH ARCHIVES

CHECK OUT SOME OF THIS STUFF

BUILDING YOUR COURT


Wayne & Nancy Muggli's court, Montana. Asphalt surface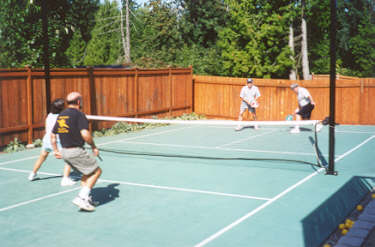 Dan Gabanek's court, Washington.
Concrete surface.
Click Here for court building tips.

2009 USAPA NATIONAL TOURNAMENT JUNIOR WINNERS

USAPA National Tournament Winners in the Juniors Mixed Doubles event - L-R Jaimi Foster and Mitch Foster (Silver Medalists); Trevor Zbinden and Courtney Morrison (Gold Medalists); Rylee Mendez and Drew Gates (Bronze Medalists). These young players really showed what youth can do out on the pickleball courts. Congratulations on your wins!

---

VISIT OUR PHOTO PAGE