Dakota San Juan Paloma HOF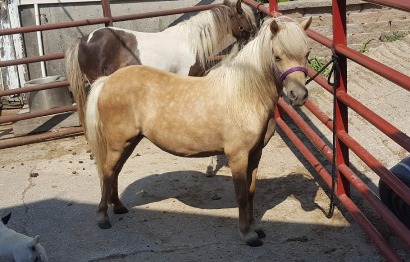 Dakota San Juan Paloma HOF

(Bristol San Juan HOF - Establo Indiana)


Sandy is a 2008 AMHR and ASPC mare that has produced multi-National Grand Champion Western Country 34-36" driving horse
Priceless Miracles Bad Boy Brody
Priceless Miracles Love Her Madly
plus many more.
She is a wonderful addition to our broodmare band.
Sandy has a Beau colt named Dune now
and is confirmed to Hypnotic for a 2023 foal.


S Bar P's Keeper of the Stars HOF
S Bar P's Keeper of the Stars HOF

(Scott Creeks Mystical Star Power HOF - Knutson Sevens Hoofbeat Muffin HOF)


Keeper is an AMHR 36" show mare that has completed her HOF in Halter. She will bring class and conformation to our broodmare band. Keeper delivered a filly in 2015 (Stardom), 2016 (Desire), 2017 (Hot Schockolate), 2018(Sparkle),2020(Mindy)2022(need to name this filly!)and then colts in 2019 (Finn) and 2021 (Diesel). Talk about a good broodmare! Keeper is vet checked to Beau for 2023.

S Bar P's Radiant Ruby HOF
S Bar P's Radiant Ruby HOF

(Van-Lo's Van-Go Overo Dancer - Blk. Beauty Flash)


Ruby is a 2000 AMHR 36" silver bay mare.
Pretty headed, correct mare that has out produced herself time and time again.
We can't find a stallion that she doesn't cross well with!
Ruby has sent 5 sons to center ring at AMHR Nationals
so far
My T, Sox, Shamrock, Earl, Rocky
~ Trifecta and Tripp could be next.
She is our GrandDam.
Ruby is Open for 2023.


Lady Buckeroo of Classic View HOF
Lady Buckeroo of Classic View HOF

(Silver Meadows Phantom Storm HOF - Classic View Cassiopeia)


"Stormy" is a AMHA/AMHR 34" daughter of Multiple AMHR National
and Multiple AMHA World Champion driving horse
Silver Meadows Phantom Storm.
This is the mom to Trouble, Lady, Classy, Hazel,
Phantasy, Mysty, Derby Girl,
Shockolate Swirl, Cassidy and America!
Stormy is Open for 2023.




S Bar P's Lady Ice Storm HOF
S Bar P's Lady Ice Storm HOF

(Blue Ice MTP Hypnotic HOF - Lady Buckeroo of Classic View HOF)


"Lady" is an AMHA/AMHR bay pinto.
Her dam is bred to be a driving horse
being out of the multiple World and Nationally
acclaimed driving champion Silver Meadows Phantom Storm
and her sire is our Hypnotic.
She has passed her great movement on to her offspring.
Lady showed a lot of heart as a young 3 year old driving horse
then she was driven by a youth in 2018
where she has earned her Silver HOF
in Country Pleasure Driving Under.
Lady is Vet checked in foal to Hypnotic for 2023.

S Bar P's Iced Mocha HOF
S Bar P's Iced Mocha HOF

(Blue Ice MTP Hypnotic HOF - Latayas Ice Queen)


"Mocha" is a blue eyed, buckskin Overo pinto mare
that carries the frame gene like her mother.
Mocha drove in 2016, earning her HOF
in Country Western Driving in her first year out.
She is hard to miss with all the white,
with her big sweeping movement, and low flat neck
all perfect for western.
She has earned her Silver HOF in Country Western Pleasure Driving Over.
Mocha has taken some time off from showing to be a mom.
She has produced two fillies - Maybelline and Queen of Hearts
and a Solid black blue eyed colt by Beau!
She is Vet Checked in foal to Beau for 2023.

JSW Prime Times Uptown Melody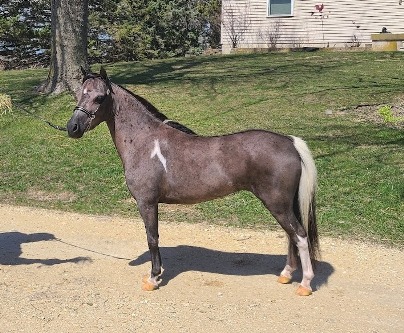 JSW Prime Times Uptown Melody

(Rayvik Prime Time - JSW Zorros Justa Promise)


Melody is AMHA and AMHR and new to our program.
She is a daughter of Prime Time and is a granddaughter to Little Kings LF Buckeroo Zorro.
And she can trot!
Love her personality - very kind and willing.
She is Vet Checked in foal to Hypnotic for 2023.

JSW Epics Gracefull Beauty
JSW Epics Gracefull Beauty

(Fallen Ash Farms Epic Eagle - JSW Redis Beauty and Grace)


Grace is also new to our program.
She came with AMHA papers, we have Hardshipped into AMHR.
Her sire is Fallen Ash Farms Epic Eagle.
Add First Knights Redi or Not, Fallen Ash Farms Eagle Scout and our favorite Perfectas Beau Coup Wardance
Grace is full of great show pedigree.
And she can trot, too!
Grace is Vet Checked in foal to Hypnotic for 2023.