WAG OF A TAIL
BANDANAS-PET BASKETS-TREAT GIFTS
AND MUCH, MUCH MORE!
WAG OF A TAIL UPCOMING SCHEDULE EVENTS
MAKE YOUR PET FEEL SPECIAL BY PURCHASING A HANDMADE BANDANA OR COLLAR COVER IN SEVERAL DESIGN FABRICS, SUCH AS DOGS, CATS, SPORTS (WHO KNOWS MAYBE EVEN YOUR FAVORITE TEAM). ALSO PATRIOTIC, MOTORCYCLES, FIRE, POLICE, PARAMEDIC, 911, HAWAIIAN, TOO. MANY TO MENTION. THESE COME IN A LARGE ASSORTMENT OF SIZES. EVEN SMALL ENOUGH FOR YOUR FERRET. YES, WE ALSO HAVE HOLIDAY BANDANAS.
HI, I AM ROCCO AND I AM GOING TO A HAWAIIAN LUAU. I AM WEARING MY LUAU BANDANA THAT MY GRANDMA MADE JUST FOR ME, SO I SHOULD FIT RIGHT IN. (HOPE I DON'T OVER INDULGE.)
ROCCO IS WEARING OVER THE COLLAR TYPE (JUST SLIP OVER THE COLLAR)
ALSO AVAILABLE ARE THE TRADITIONAL TRIANGLE TYPE, WHICH YOU TIE AROUND THE NECK
PRICES START AT $3.00 AND UP, DEPENDING ON SIZE
HELLO! I AM HARLEY. I MAY LOOK LIKE A BOXER BUT I AM A VERY FEMININE FEMALE AS YOU CAN SEE. I AM WEARING A COLLAR COVER TRIMMED WITH A BOW AND FLOWERS. I AM THE MAID OF HONOR, IF YOU DIDN'T GUESS THAT ALREADY. (I KNOW I WILL STEAL THE SHOW.)
HI IT'S ME, ROCCO, AGAIN. THIS TIME I AM WEARING A HAND KNITTED SCARF TO HELP KEEP ME WARM. ( I WISH I KNEW WHERE THE REST OF THE OUTFIT IS.)
KNITTED SCARVES
THIS IS JUST A SMALL SAMPLE OF OUR HAND KNITTED SCARVES FOR YOUR PETS,
(GREAT FOR THE KIDS TOO). THESE ARE ALL MADE FROM DIFFERENT TOP QUALITY YARNS AND YARN WEIGHTS.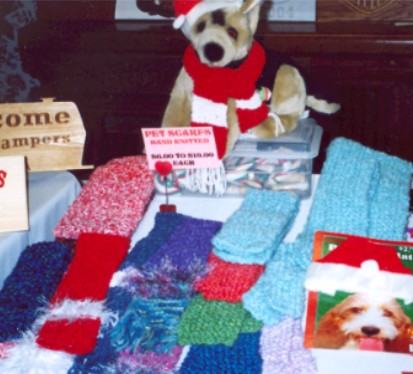 THESE CAN BE ORDERED BY COLOR OF CHOICE AND YARN PREFERENCE.
SIZE DEPENDING ON PETS SIZE, BOTH NECK AND HEIGHT.
ROCCO IS JUST LOOKING SO HANDSOME IN HIS HAND KNITTED HAT WITH EAR FLAPS AND ATTACHED SCARF. HE IS ALREADY TO GO OUT FOR HIS BRISK WINTER WALK. HE ALSO HAS THE MATCHING SWEATER (NOT SHOWN), TO GO WITH HIS STYLISH HAT.
HAND KNITTED HATS WITH ATTACHED SCARF
START AT $19.00
********
HAND KNITTED HATS WITH TIES UNDER THE CHIN
START AT $9.00
PRICES VARY DEPENDING ON SIZE AND YARN USED
*********
HAND KNITTED OR CROCHET SWEATERS & JACKETS
HAND KNITTED SWEATERS & JACKETS ARE MADE OF TOP QUALITY YARNS OF
DIFFERENT WEIGHTS. THERE IS A VARIETY OF STYLES AND COLORS. THE YARNS VARY
IN WEIGHT.
PULL OVER SWEATERS
TURTLE NECK & MOCK TURTLE NECK
PRICES START AT $25.00
*********
JACKETS (BLANKETS)
THESE JACKETS HAVE STRAPS TO HOLD THEM ON WITH VELCRO OR BUTTONS, OR
BOTH, FASTENERS.
THESE ALSO COME IN DIFFERENT STYLES, SIZES, COLORS AND YARNS.
PRICES START AT $25.00
*********
SWEATER SETS
SWEATER OR JACKET WITH MATCHING HAT
OR
SWEATER OR JACKET WITH MATCHING SCARF
PRICES START AT $35.00
*********
SPECIAL ORDERS ARE WELCOMED
CONTACT HELEN ROBBINS
978-667-4028
EMAIL: WAGOFATAIL@AOL.COM
                                 website designed by mercollage@verizon.net 2006