SPECIALTY SWEATERS
THESE ARE ALL HAND KNITTED PULLOVER STYLE, EITHER MOCK TURTLENECK OR
TURTLE NECK. THEY HAVE AN EMBROIDERED TEAM PATCH ON THEM.
BOSTON RED SOX-----------------------RED WITH ROYAL BLUE TRIM
BOSTON CELTICS----------------------------GREEN WITH WHITE TRIM
BOSTON BRUINS -------------------------BLACK WITH YELLOW TRIM
NEW ENGLAND PATRIOTS -------ROYAL BLUE WITH RED TRIM
NEW YORK YANKEES--------------NAVY BLUE WITH WHITE TRIM
HARLEY DAVIDSON-------------------BLACK WITH ORANGE TRIM
PRICES START AT $29.00
SPECIAL ORDERS ARE WELCOME
DOG GOURMET AND SPECIAL TREATS
WE CARRY A LARGE VARIETY OF GOURMET AND SPECIALTY TREATS IN MANY FLAVORS AND
SHAPES INCLUDING HOLIDAY ONES.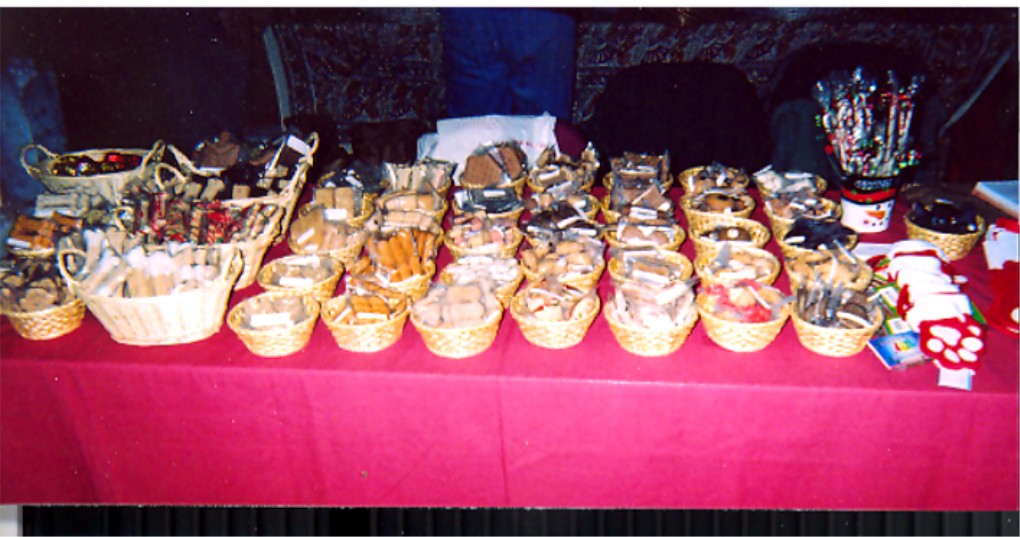 OUR OWN SPECIALTIES CONSISTS OF THESE DECORATED AND DIPPED BONES. THEY HAVE BEEN
DECORATED OR DIPPED IN ARTIFICIAL CHOCOLATE, PEANUT BUTTER, CAROB OR YOGURT.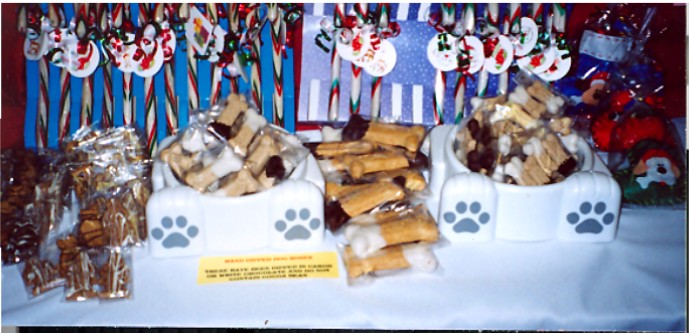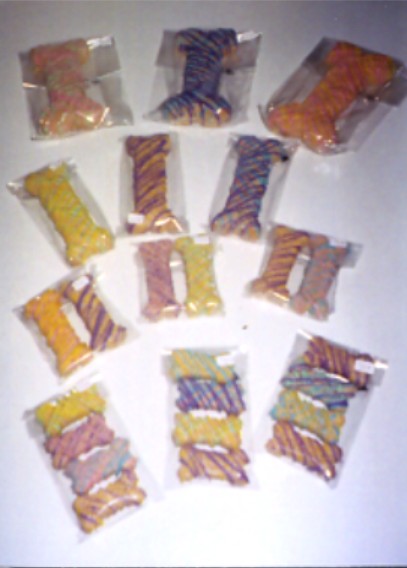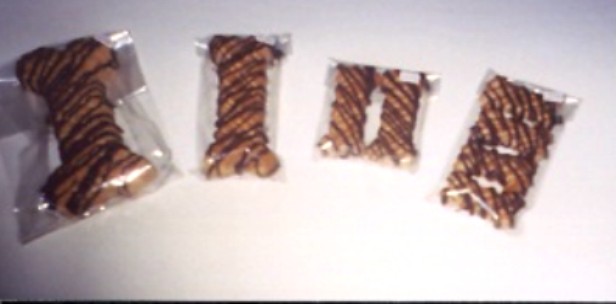 PRICES FOR DECORATIVE BONES
SMALL......APPROX 2 INCHES......4 PER PACKAGE............$1.00
MEDIUM......APPROX 3 INCHES.........2 PER PACKAGE......$1.00
LARGE.....APPROX 4 1/4 INCHES........1 PER PACKAGE......$1.25
X-LARGE.........APPROX 5 1/4............1 PER PACKAGE........$1.50
TREATS DECORATED WITH HOLIDAY COLORS ARE THE SAME PRICES AS ABOVE.
TREAT BASKETS AND GIFTS FOR THAT SPECIAL PET
WE MAKE MANY DIFFERENT SIZES AND TYPES OF BASKETS AND GIFTS FILLED WITH TREATS
AND TOYS FOR THAT SPECIAL PET. WHATEVER THE OCCASION...A BIRTHDAY, A WELCOME
BASKET FOR A NEW PUPPY OR KITTY, GRADUATION FROM DOG TRAINING SCHOOL OR A
HOLIDAY BASKET OR GIFT.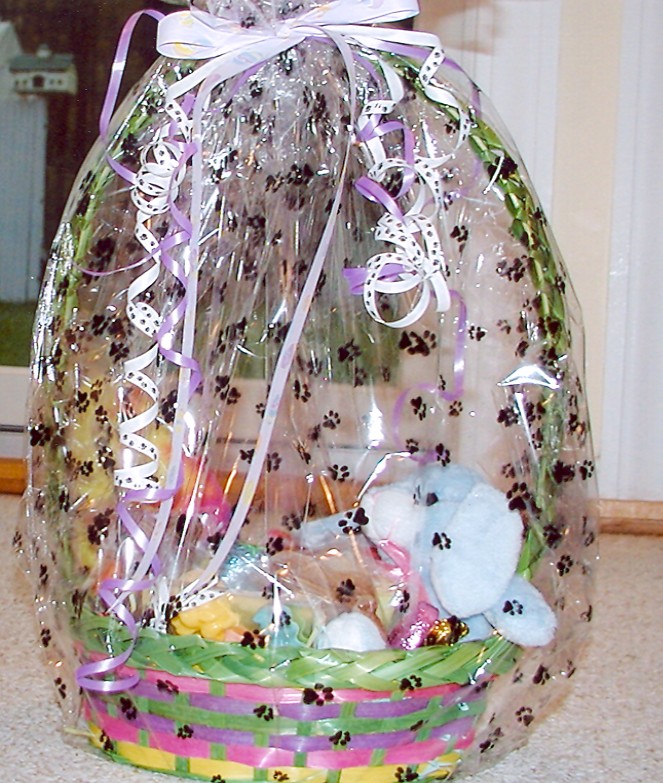 (BASKET PRICES VARY DEPENDING ON SIZE AND CONTENTS)
THIS ONE SHOWN IS A LARGE EASTER BASKET WHICH IS FILLED WITH MANY GOURMET TREATS,
HANDMADE TOYS INCLUDING A STUFFED BUNNY WITH A SQUEAKER AND EVEN CHOCOLATE
(ARTIFICIAL OF COURSE) BUNNIES. AS YOU CAN SEE ROCCO DOESN'T KNOW WHERE TO BEGIN.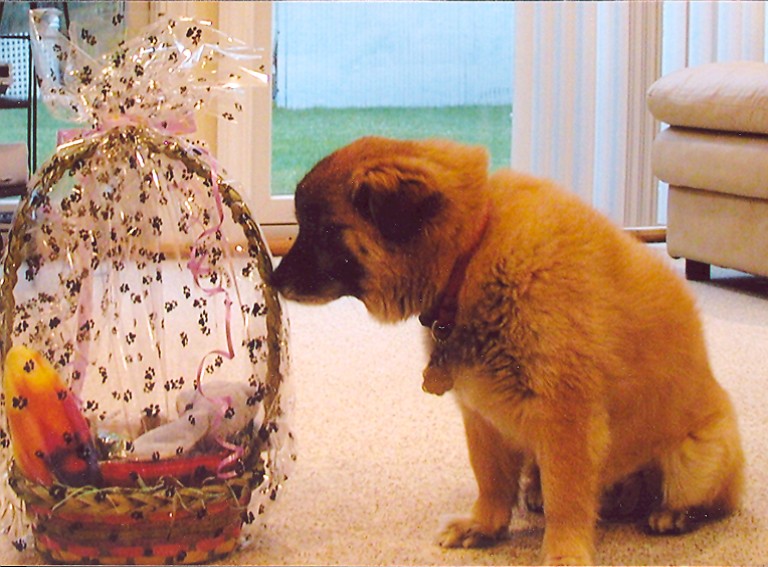 TWREATS FOR THOSE TWEETIE BIRDS
THESE BIRD TWREATS ARE GREAT FOR HANGING AROUND THE YARD ON THE TREES OR
PLANT HANGERS, ETC....THEY ARE WOODEN DECORATED SPOONS THAT
HANG BY A HOOK AND LEATHER LOOP....THEY HAVE HEAPS OF PEANUT BUTTER, NUTS
AND PREMIUM QUALITY SEED. A MIX THAT WE COMBINE SEVERAL DIFFERENT SEEDS TO
MAKE THIS SPECIAL TWREAT A FUN ITEM. THE SQUIRRELS LOVE THEM TOO.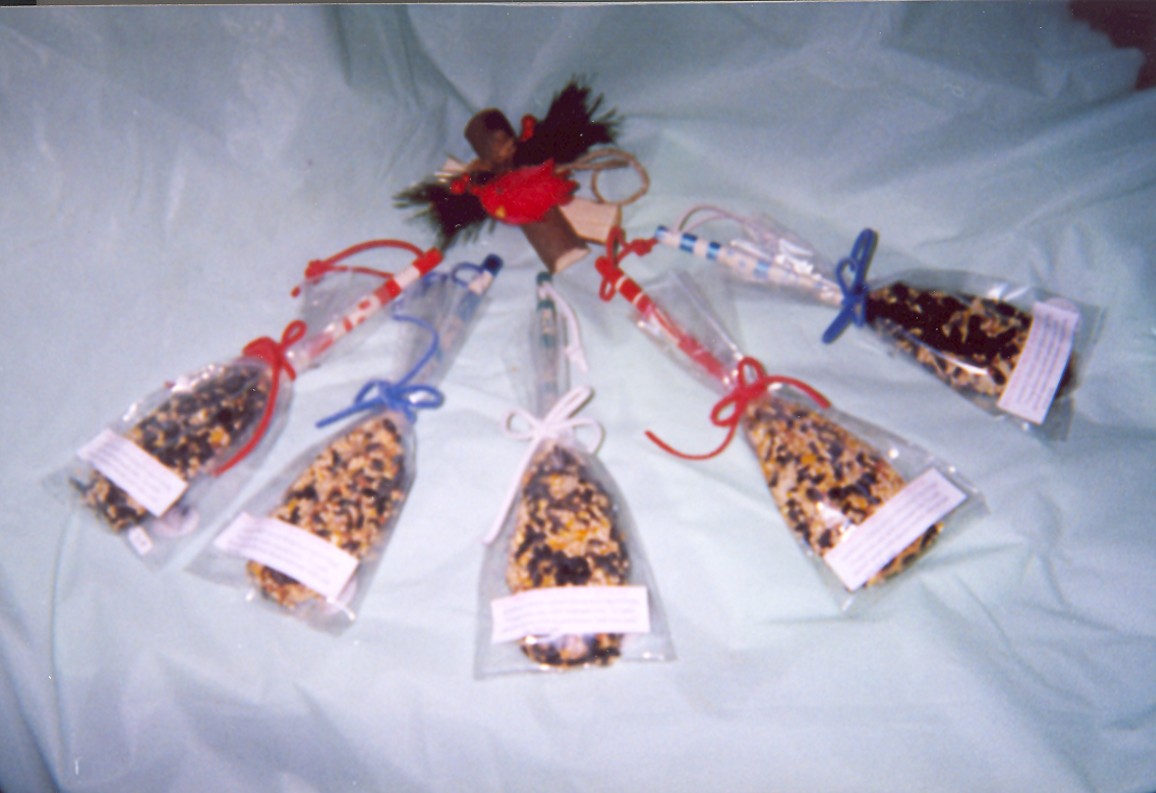 $5.00 EACH
(AVAILABLE FALL AND WINTER)
**********
BIRD TWREAT RECIPE IN A JAR
EVERYTHING NEEDED TO MAKE TWREAT BARS ARE INCLUDED EXCEPT FOR THE
ADDITION OF PEANUT BUTTER AND WATER. YOU BAKE THEM, CUT THEM INTO BARS
AND PUT IN A WIRE SUET HANGER. THE BIRDS LOVE THEM AND THE KIDS CAN HELP
MAKE THESE FOR A FAMILY FUN ACTIVITY.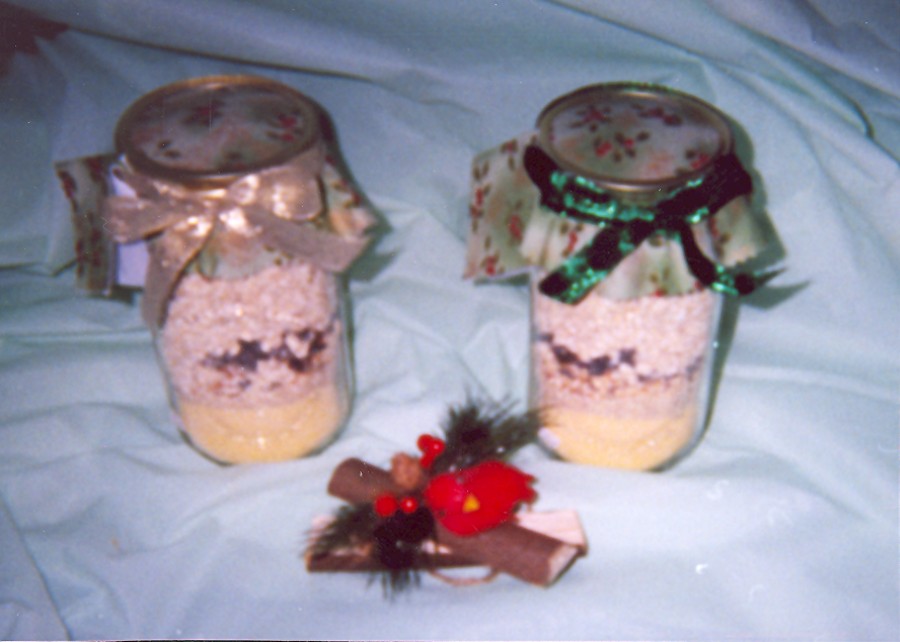 SUNFLOWER OATS BIRD TWREATS OR WILD BIRD TWREATS RECIPE IN A JAR
$5.50 EACH
(AVAILABLE FALL AND WINTER)