9th Infantry Division 5th of the 60th

Mechanized

Company A

Binh Phouc, Vietnam: 1967
---
---
Sign my Guestbook
View my Guestbook
The patch is a link another page
You have reached the Home page of ---- Walter J. Thone
I served in the Delta in Vietnam from May till October 1967, I was a PFC in 1st Platoon 1st Squad
My base Camp was Binh Phouc, I was Drafted in November of 1966



This is me at 25 AND here I am now 25 years latter

Look what they did to me Mom

---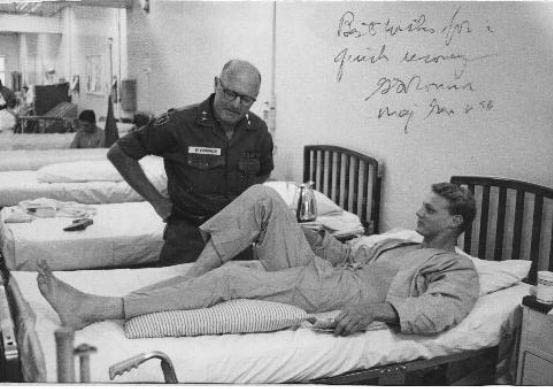 November 1967
Saigon Hospital, I took one in the leg Oct 13 1967 from a command detonated claymore in Oct 1967 I turned 20, Didn't think I would make it
A visit from the General to award me a Purple Heart
Documentation for the award PurpleHeart
---
Thats me manning the 50 Cal. in the motor pool on top of track A-16
in the background is the Aid station and the company ambulance
Behind the tree line is the village of Binh Phouc. The basecamp is now a Soccer field
---
9th Infantry 5/60 Reunion Reunion/
Frank J.Gubala's 9th Infantry Website Franks Pages /
Frank J.Gubala's 9th Infantry Website about Men who served in the 9th Franks Pages /
Frank J.Gubala's 9th Infantry More pages Franks Pages /
Mobile Riverine Force Association http://Mobile Riverine Force
Doc Melson's Pages Docs Pages /
Doc Melson's Favorite saying
from one high mileage human..... Life is not a journey to the grave with the intention of arriving safely in a pretty and well preserved body . But rather you should skid in broadside, thoroughly used up, totally worn out, and loudly proclaiming..................
WOW!!!!!...WHAT A RIDE
---
5/60 Company A Roster
James Naulty, Company A 5/60 9th Infantry April 1967 to Sept.67
Earl Massey, 2nd Lt. Company A 5/60 9th Infantry 1967 - 1968
Sam Pizzo, Company Clerk Company A 5/60 9th Infantry Dec 1966- 1967
Earl at his retirement
After 32 years of active and reserve time he retired from active duty
30 Sep 96.
Platoon leader 1st Platoon, A Co, 5th, 60 Mech 1967
and member of Bde Staff during Aug 67-Aug 68. I also served a second tour
on Advisor Team 56 (Can Tho) as the S-2, Jul 70-Jul 71.
---
3/60 Company Roster
John Mesa, Feb - Aug 67, 11B40 2nd squad 3rd platoon.
Call sign was Patron Yankee Charlie 2 - 3
---
---
9th Infantry Division 5th of the60th is a member of the
Want to join the ring? Get infoVisit other sites in the ring now!
---
---
---
---

Be safer on the internet Download free firewall
Zonealarm
---
Do away with spam.
Report them to their Internet provider by using these websites to trace their origin
http://http://www.spamcop.net/

And now the government is involved too

In order to properly report them you must include

the Full Header of the email when you forward it

In most cases they will have an abuse email to accept your complaint