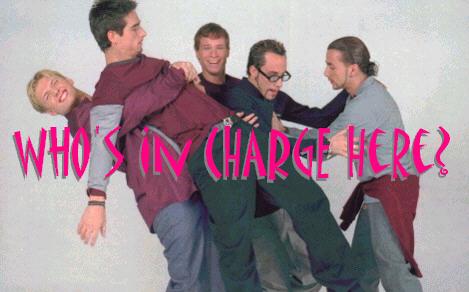 Hello hello hello...well, this is me, in a nutshell (and what a pretty colored nutshell, hey?). Hopefully this answers all those burning questions you ask yourself on a regualr basis about me...ha!

The Basics... My name is Chris, but I'll also go by Chrissy. As of writing this (May 6, 2002), I'm a 22 year old college grad looking into becoming a high school English teacher. Why? Because I truly believe there is no greater job. OK, you got me, except Muppeteer or professional collager. Anyway, I currently live in a lovely suburb in southeastern Michigan, back with the 'rents. Eh, you make do. On top of many great friends I have the best boyfriend on planet Earth whom I love terrifically (and who doesn't know I write fan fic so sshhh...)

The Fun Stuff... I fall in TV love very easily and if you don't consciously know what TV love is you subconsciously do because you're a Backstreet fan. I have many imaginary boyfriends and husbands, but this is only because I want to keep my options open. I don't have just one favorite or just one best friend because life is too short for limits. I have gone skydiving before - just once. I broke my femur (and yes, a femur fracture is scientifically proven to be the most painful bone you can break for good reason). I love anything artsy and creative, be it writing, art or craft stuff. I have a serious obsession with Disney World and go through frequent withdrawal. I also love the East Coast, especially whale watching. If you take me out to dinner for seafood I will love you forever. I love email. My perfect male specimen right now is Christian Bale. I have a serious weakness for Long Island Iced Teas, and actually any tea - southern sweet tea is the best. There are only three shows I watch religiously on television: Will and Grace, Friends, and the best of all, Trading Spaces.

The Backstreet Basics...
How long have I been a fan?: More than four years.
Interesting story behind it?: Um, define interesting? I don't know, Dannie and another friend of ours were hard core fans from the ALAYLM video on. I was intrigued by the "one that just winked" and when I saw Everybody, that was it for me.
Have I met them?: No.
Closest?: Saw them across a deserted basketball court - all five, little security, no other fans. Kevin and Nick watched us. No more can I say.
Am I a psycho fan?: At one point I would have said yes, but now I can honestly say no. I do love them, but not frighteningly so.
How many shows have I seen?: Uh...*counts* Four plus Johnny No-Name.
Who is my favorite?: I dearly love Howard - first, last and always - but I go through periodic AJ phases and lately have seriously had the hots for Kevin. I enjoy Brian but he's Dannie's favorite (followed by Aje and Kev), although not as much since he got married. His spark is gone. I have never liked Nick best but I like him much more now than I used to, and strangely I think we have a lot in common. It's partially a looks thing but a lot about the personalities that they each seem to posess, good points and flaws.
My favorite songs?: First and foremost is How Did I Fall..., because it is beautiful, beautiful, beautiful. I want to point all boyband bashers there, like, lickedy-split...and you know if I just said lickedy-split I mean it. Brian and Howard's voices together make me want to cry, if the lyrics themselves didn't already break my heart with simple truth. Damn but that's a great song. Close seconds are Shape Of My Heart (I know we've all heard it a million times but the lyrics and harmonies, I think, are more mature than most of their stuff and I feel it, somehow), More Than That (for the same reasons as SOMH), and Get Another Boyfriend (because it just rocks, plus that's Dannie's song - "See, Dannie? 'Get another boyfriend' - even Brian thinks so!") I'm also a huuuuuuge fan of If You Stay, because it's awesome, not to mention Brian is sounding so "the sexy" ("whoa, got a little breath of" Chris Kattan/"Antonio Banderas" there). But I must say that Tell Me That I'm Dreaming is the song I'd insist they sing to me if I met them, case closed.