THE Maleeva Site!
---

Having followed Maggie's progress on the WTA Tour over the past twelve years it is with a tinge of saddness that I received news of her retirement. Although I'm happy for her, that she'll now be able to enjoy her life with her husband Lubomir, away from the media spotlight, I must confess I'm not looking forward to the idea of tennis without Maggie.
Since I established this website in october 1996, Maggie has been an almost ever present on the WTA Tour. The only time she wasn't on the circuit was when she was recovering from her shoulder injury. Her comeback from from that injury was remarkable and shows what strength of character Maggie has. Her triumph at the Moscow Open (see photo below) was a fitting payback for a player who had to endure some much. She has been a great player, both on the WTA Tour and for Bulgaria in the Fed Cup and Olympics.
Her retirement from tennis brings to an end a twenty six year association between the WTA Tour and the Maleeva family. Maggie's mother, Yulia (an excellent player herself) first helped Maggie's elder sisters Manuela, then Katerina to establish themselves on the tour, before Maggie's arrival on the circuit in April 1989.
Following Maggie's career these past twelve years has been a big part of my life, living every shot, every triumph and every disappointment. And of course, Maggie and her family have not just inspired me, but many thousands of people across the globe, as well their countrymen in Bulgaria. And I'm sure the Maleeva's will continue to inspire people for years to come, thanks to their tennis club in Sofia and the many charitable and environmental foundations Maggie sponsors.
I think Eurosport commentator David Mercer summed up Maggie's and the Maleeva's significance to tennis, to Bulgarian tennis and to Bulgaria in general when he said "the Maleeva's gave hope to their country, during the days of communist rule, when there wasn't much to go around. Maggie has been a credit to herself, her family, Bulgaria and to tennis. She will be missed."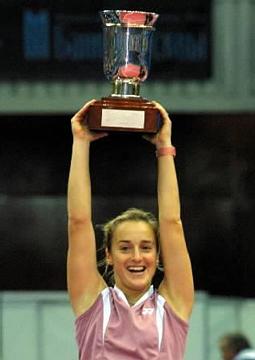 I hope the rest of your life will be as successful as your tennis career, good luck Maggie!



Finally I'd just like to thank the people, many of them now my dear friends, who have helped the Maleeva online community thrive:

Antonia Halatcheva, Zahari Balkandjiev, Peter Tsvetkov, Emil Nikolov, Sascha Zhivkov, Alexander Tchartazanov,
Richard Bahl, Brad Moyer, Christophe Lepigeon, Gary Wibbles, Giles Iffen, Darren Cowlam, Geoff Gardner,
Robyn Lakeman, Mark Charron, Yas Kakita, Julian Byatt, Shane Olson, Gino Perissutti, Doug Schenk, Mindy and Prip.


---

Sascha recently sent Maggie a letter which she kindly replied to. The following are the questions Sascha posed Maggie and her responses:

Q: In 2004 you lost many matches being up a break in the 3d. How did that come?
A: I guess that was the best I could do at the time. Hopefully I can do better next time. There is an explanation for everything, but have to still figure out the right one :)

Q: Which kind of players do you prefer to face? You have a funny head to head against Lindsay, Venus, Chanda, Mary or Conchita. Why?
A: Well things have really changed over the years. I can tell you which one is the hardest to face and this is myself. I use to think that I play very well against someone who really challenges me and I have a lot of respect and even some fear. Than I think I was more spontaneous and really wanted to show that I can play with the best. That is why I have good results against some great players. The last few years I also wanted to play the same kind of game against players "I am supposed to beat" and to really make this a challenge for myself. And I think I have succeeded to certain extent. But as I said for me it was very important to concentrate on what my game is and not think too much of my opponent.

Q: In 2002 you had a great season in doubles too. Why don't you play more and which partners did you enjoy playing with the most? Also anyone who you would like to play with?
A: I do not play much anymore because I want to concentrate on my singles and doubles sometimes is extra energy that I am not willing to give away. I like to rest sometimes and do other things and it is tough to play everyday. I enjoyed mostly playing with Liezel Huber, because I thing our games really compliment each other. I would like to play mixed with McEnroe :)

Q: How does a typical practice day look like?
A: If it is preparation time it is tough. A lot of fitness (which includes work on speed, power, endurance, explosive endurance, coordination) maybe twice a day plus tennis. In between tournaments I play mostly tennis between 1 and 3 hours a day and do some weights or running. I eat at the same time, don't go to bed late, have a massage sometimes and if I am home try to see my friends as often as I can.

Q: After you came back you fell so short of reaching the Top 10 again twice. How much did it hurt not to do so? Are you unhappy because injuries destroyed your career (promising career) which you'd have had in the end of the 90's and do you miss the times when you were a big star?
A: To tell you the truth it did not hurt at all. To me it would have been just another headline for a day. I was pretty happy with what I was doing and it would have been great if I had done it but I was one spot behind, so it looks more like something not meant to be:) My injuries are the thing that has thought me the most. As painful and unpleasant as they were (both physically and mentally) I would not have been the person I am. This is difficult to explain, but to me they were the biggest justification not to have to be perfect. I needed them to have a break. And I did. Now I miss them sometimes :))). There are very few people that have my career, so it would be very arrogant to say that I am unhappy with it. I am a much bigger "star" now then when I was number 4 in the world. People recognize me much more these days. Things have really changed and it would be different now. I consider myself to be pretty down to earth and I really work on being like that because in the tennis world it is very easy to loose your head. My basic philosophy is that all people have quality and something to offer. I have the chance to be good in a very popular sport and I have worked very hard to be where I am but that does not give me some special status.

Q: What makes you so bold in insisting on tactical play in days of power tennis?
A: I guess this is my strength. I have always been interested in developing a complete game and I wish I had done it a bit more when I was younger. I am not a Davenport and I am not a Novotna, but can try a bit of both and when that works it is very effective.

Q: Will your nieces and nephews become pro's one day too?
A: Manuela's kids don't play much and she is not very interested in them pursuing a tennis career. Katia's little girl is playing more, so we will see.

Q: Why do you think you are so good indoors although most indoor courts are normal hard courts?
A: I really don't know. I guess I have a shorter swing and play better using the pace of the other. This is what other people say. When I won Moscow (this is the slowest court I have played on) I thought it means I can play on everything. But the facts are that I have won much more tournaments indoors. It is a mystery to me :)

Q: A Maleeva has been ranked every single week for the last 20 years. What do you say about that?
A: What can I say? It is an amazing achievement and one that nobody expected. I am proud of that and tennis has given me a lot.

Q: Hi Maggie, what will you do with your new tennis club? Will u be a coach there? Do you miss countrywoman´s on the tour and how is it to meet ppl. who speak Bulgarian in countries like canada.
A: I will be very involved with our tennis club with regards to all the decision making. Later on I will be more involved with the tennis and have not really decided yet in what way. I am still very concentrated on my own tennis. I do miss Bulgarians on the tour and when there are some we always try to get together. I appreciate very much people who know some Bulgarian:)


---
Back to the index page