Tim Smells Web Site
Tim's Sweaty Smell
Tim's body produce two kinds of sweat: eccrine and apocrine. Actually, both of these liquids has a horrible odor. Eccrine is found all over his body. It helps to regulate the body's temperature. In Tim's Case, it just makes him smell bad. Apocrine is the body-odor culprit, and is found abundantly on Tim. It is found in the groin and underarm areas. Tim's well-known sweaty smell occurs only after apocrine reacts with the bacteria on his skin.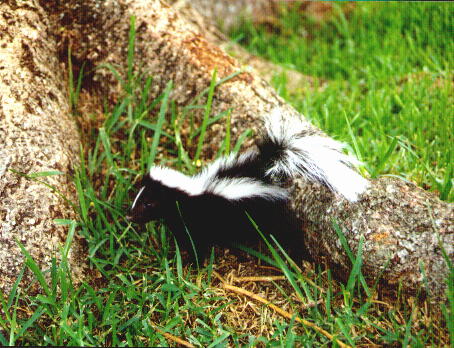 Controlling Body Odor
Tim is not much bigger nor more active, but because of his apocrine glands, he smells more than others. He isn't as successful as others in getting rid of the bacteria on his skin.
Try these tips Tim:
Bathe at least once daily with an antibacterial soap such as Safeguard or Dial. If the problem doesn't soon clear up, you might try a prescription soap such as pHisoHex. Some folks recommend using benzoyl peroxide or an antibacterial ointment. There should be no problem with short term use of such remedies except perhaps some drying of the skin. BUT, as with all medications, be sure to read and follow all instructions BEFORE USE. Get the problem cleared up, then go back to the plain old Safeguard brand or Dial brand soap.

Use a deodorant with aluminum or zinc. Either of these metals should kill odor-causing bacteria. Extremely ugly heavy sweaters should use an antiperspirant/deodorant containing aluminum chloride.

Launder clothing more often. No matter how busy we get, that trip to the dry cleaners is a must. Wash clothes at home using an odor-fighting detergent such as Tide.

Freshen up in the bathroom with a towelette as many times as necessary during the day. You might also apply some hydrogen peroxide or some witch hazel on the most offending areas of the body.

Avoid the regular consumption of spicy or sharp-smelling foods. The odor comes through the pores.
When To Consult A Doctor About Body Odor
Different bodily odors could indicate specific internal problems:
Tim's annoying beer smell could indicate a yeast condition

The smell of nail polish remover could indicate diabetes

The ammonia smell Tim has might be an indication of liver disease

Click on the poo to learn about Tim's Horrible Breath