2017 KEYSTONE NATIONALS TICKETS
RESERVED SEATING
BLUE SEAT SECTIONS ON BOTH SIDES OF THE ARENA BEHIND AND ABOVE THE GENERAL ADMISSION DIRT FLOOR SEATING ARE FOR RESERVED SEATING ONLY (see arena chart below). YOU MUST PURCHASE A TICKET FOR EACH SHOW PER PERSON. ONCE YOU HAVE PAID FOR YOUR TICKETS, YOU WILL PRINT YOUR OWN TICKETS. ADULTS AND CHILD MUST HAVE A PRINTED TICKET TO BE SCANNED TO ENTER RESERVED SEATING AREAS.
IF YOU ARE A PULLER/CREW/FAMILY AND WANT A RESERVED SEAT YOU MUST PURCHASE THEM AND FAMILY/CREW WILL NOT NEED ARMBANDS.
WHEELCHAIR PATRONS MUST RESERVE BY TELEPHONE AT 410-452-8068
OFFICE HOURS ARE 9:AM-6:00PM EST
>>> CLICK HERE FOR RESERVED SEATING TICKETS <<<
(ARENA CHART)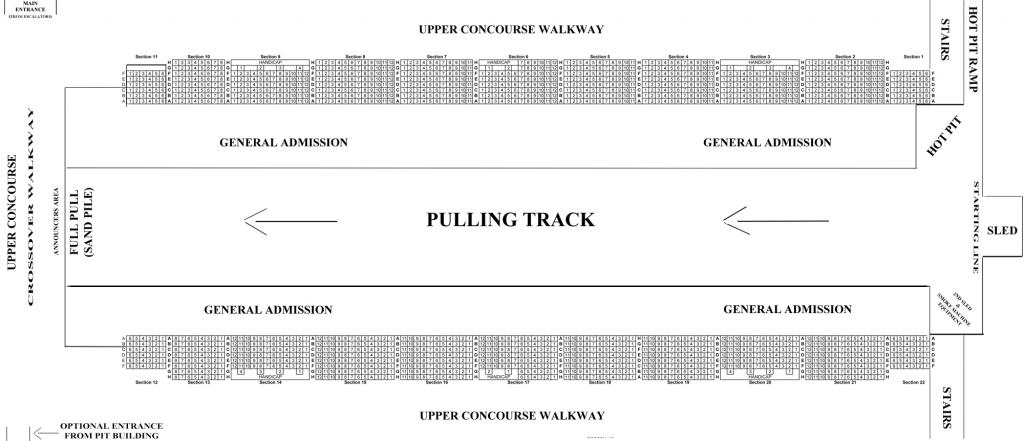 GENERAL ADMISSION
GROUND FLOOR SEATING (BROWN CHAIRS/BLEACHERS DIRT FLOOR AREA AT TRACK LEVEL) WILL BE FOR GENERAL ADMISSION/PULLER ARMBAND ONLY.
YOU ARE NOT PERMITTED TO ENTER AND SAVE A SEAT PRIOR TO DOORS OPENING TO GENERAL PUBLIC. THIS IS THE SAME FOR PULLERS AND THEIR FAMILY/CREW.
>>> ORDER GENERAL ADMISSION TICKETS ONLINE HERE <<<
>>> CLICK HERE FOR PRINTABLE MAIL ORDER FORM <<<
WE DO NOT TAKE AMERICAN EXPRESS
***NOTE: Credit Card charges will appear as EEPVIDEOS on your card statement***
"All Sales are Final. No Refunds/No Exchanges."