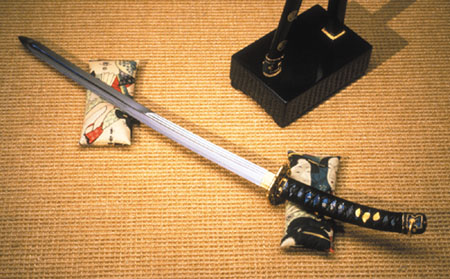 The Tachi
The Tachi, sometimes called the 'long sword' or 'extra long sword' was favored by some schools of martial arts. The Tachi sword ranged in length from 2 and 1/2 to 3 1/2 feet, was dramatically curved and had a very long tsuka. Some like these swords very much, but I find them akward and cumbersome.

One website visitor, Vincent, had the following to say about the tachi: it was the ancestor of the katana and was in combat use from the earliest days of the samurai until near the late fifteen hundreds or early sixteen hundreds- basically near the time of the takugawa bakufu(shogun government.)
After that time the katana was the combat sword and the tachi with its great tradition became the court sword.

thanks to Vincent for the info!

One might also wish to consider that the tachi's curved tsuka was developed to be gripped with one hand.