This next section reveals how Many missing person cases
are part of the heroin culture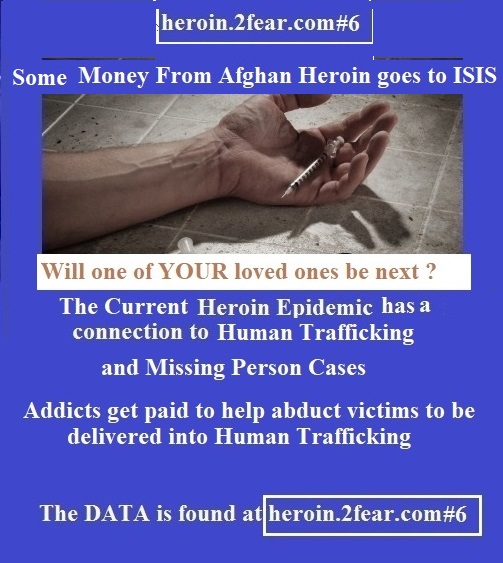 *
Touch HERE
to get ALL the info on how
the Current Worldwide Heroin Epidemic came about
and which recent candidate was involved
Please join me on Twitter
Tap on the button

Now
The connection of Heroin addiction to
Missing Person cases and Human Sex Trafficking
is real - and more prevalent than you can imagine
This section also educates the reader about
ways to protect your loved ones
from being abducted
And gives Info on How we can Find victims Quickly
+++++++++
Manchester England Bombing July 22nd 2017
How many of the 10s of thousands
of Women, Men and Children
listed in active and cold Missing Persons Cases
were abducted, sold
and are actually being held captive and used
for Human Sex Trafficking ?
Law Enforcement firmly believes
many abduction victims and missing persons
are delivered to human sex traffickers
by heroin addicts to
help fund their addictions
The Numbers are not know
One such Missing Person is Jennifer Kesse

Missing from Orlando Florida Since Jan 2006
Her family is sure
that is what happened to their daughter
Jennifer Keese's case
is Profiled HERE


~~~~~
Here is another story of a
Missing Person who was abducted and was about to sold
into the world wide Human Sex Trafficking system
The heroin addict who abducted her
to get money to fund his habit
for some reason let her go after she
was tortured and held captive for over a week
Her last name has been removed to
protect her identity
Sati was abducted in Los Angeles
after she went to seek a career in Films
she was held against her will and given heroin
to keep her disoriented.
Reminders of her captors still mar her skin.
A bite mark -- on her shoulder
each tooth easily seen
Circular burn marks from cigarettes
run up and down her pale, thin arms.
Needle marks from heroin shoot-ups --
forced on her by her captors --
dot her upper arms.
A carefully placed part in her bleached blonde hair,
which normally frames her doll-like face,
conceals her healing scalp where hair
was ripped out in clumps.
Sati who spent most of her childhood in Chattanooga
and whose mother still lives here,
has come back home to recover after being
kept captive in the rear apartment of a
Santa Monica Boulevard business in Los Angeles
for 10 days while
she was being prepared to be sold to a Human Sex Trafficking dealer
She was Injected regularly with heroin by her captor,

He told me If I made any attempt to escape
he would kill me and my Family
"He wouldn't let me leave.
There was a tiny room.
"I would cry and he would gag me
he put me into a hole in the wall
when people would come around
so people wouldn't know I was there.
He would beat me, burn me,"
Sati says in an emotionless, monotone voice
I tried to make myself as troublesome as I thought I could
Asking for food and drinks
I am sure my captor got tired of me doing this
and I hope that is why he decided to let me go
Then After 10 days - she was injected
with a large quantity of heroin.
She was dropped off
by her captor
at the emergency room at
Los Angeles' Cedars-Sinai Medical Cente
The hospital, at first, thought she was just another overdosed Heroin addict,
BUT she was saying
she wanted her mom.
Police were called and after they interviewed her
They realized she had been abducted
They contacted her mother
who travelled from Tennessee to
bring her daughter home
She is going through rehab and
psychological help to get her life back on track
She is one of the thousands of missing person cases
reported EACH DAY in the U.S.
She was able to escape
How many more who are
considered missing or dead are out there
who have been sold into
the huge Human Trafficking operation
and are in need of help
to get home ?
We could find some of the missing women children and men
if we really wanted to
Here is how
Now here are ways to protect loved ones
And Find the Missing Quickly
We use high tech drones for our Military
Many of those are being phased out
should they just be thrown in a junk pile?
We have recently started using similar drones to protrect our borders
and they are proving to be effective
Can we Use drones to find missing and abducted
women, men and children quickly
and solve most other crimes
We believe we can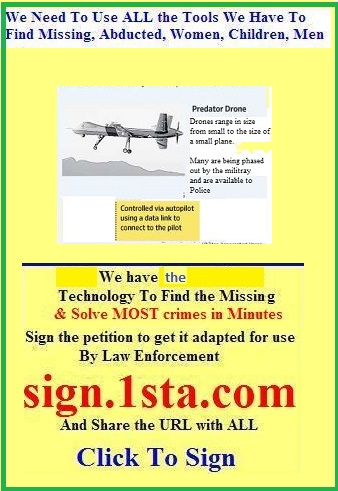 >
CLICK HERE
To sign the petition to help get the proposed solution in Place
*******
An example of this system is seen if you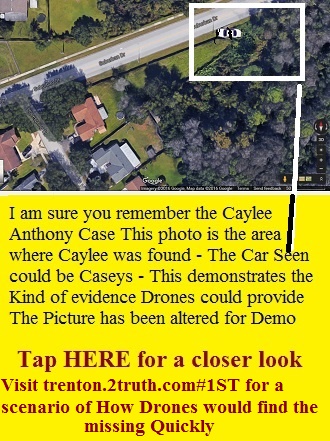 Click here to see a close up version of the above picture of the area
where Caylee Anthony's Body was found ( taken from space )
the picture has been altered to show what is possible
You can read scenarios on how
The drones might work
TAP HERE to read that info
*****
*****
Now read about the V.ALRT
and watch the Video about it below too
The V.ALRT Multi-Purpose is a personal electronic warning and
notification system
Can be used to find and locate
a lost, missing or abducted person IMMEDIATELY
OR
summon help for a person who needs any type of help
like and elderly or invalid person who has fallen
******
Limit 2 per order

Is under $45.00 too much
to help protect your family and loved ones ?