Radio Programs beginning with "B"
"Blondie!"
Fanny Brice (1891-1951) as the world will always remember her
Baby Snooks
Stars: Fanny Brice, Hanley Stafford, Harlow Wilcox
Sponsor: Maxwell House Coffee, Sanka Coffee, Tums
Network: NBC (Red), CBS
Theme Music: A raucous version of "Rock-a-Bye Baby"
Aired: 1937-1951
Type of Show: Situation Comedy
NB: Fanny Brice was the subject of the movie/Broadway musical, Funny Girl. On radio she was Baby Snooks, a precocious seven year old. Actually, she was over 40 when the program started. Some people then (as now) didn't like the idea of a middle aged woman portraying a child. But remember, it's radio and it's all make believe. The only thing which put this show off the air was Miss Brice's illness which shortly led to her death. It really is a wonderful show. It was one of the first shows I know of which treated people of various ethnic backgrounds with utmost respect and fairness. Fanny Brice was lightyears ahead of her time.
Ben Bernie and his band in the late 1920s
Ben Bernie in a 1938 DeSoto ad
Ben Bernie
The Ben Bernie Show
Star: Ben Bernie
Sponsors: Mennen, Pabst Blue Ribbon Beer, American Can, Lady Esther, Half and Half Pipe Tobacco, Bromo Seltzer, Wrigley's Gum
Network: NBC (Red), CBS
Aired: 1930-1943
Theme Song: "Au revoir, Pleasant Dreams"
Type of Show: Music
CLOSING: Au revoir, pleasant dreams!
Au revoir, pleasant dreams!
Think of us when requesting your themes
Until next Tuesday when
Possibly you may all tune in again,
Keep the Old Maestro always in your schemes (yowsah, yowsah, yowsah...)
Au revoir, this is Ben Bernie, ladies and gentlemen, with all the lads
Wishing you a bit of pleasant dreams
May good luck and happiness, success, good health attend your schemes.
And don't forget, should you ever send in your request-uh,
Why, we'll sure try to do our best-uh, (yowsah...)
Au revoir, a fond cheerio, a tootle-doodle, a bit of a tweet-tweet, God love you,
And pleasant dreams!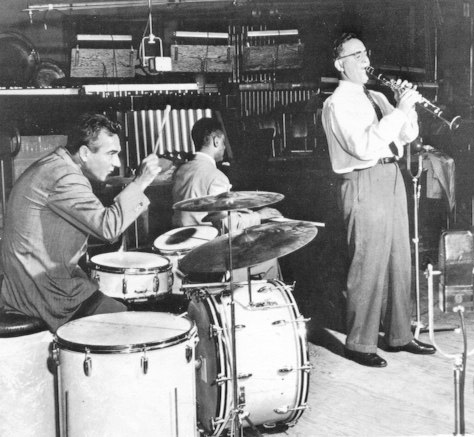 Benny Goodman, Gene Krupa, and guest Teddy Wilson

Benny Goodman
Stars: Benny Goodman, Bill Goodwin, J. Pat O'Malley, Oscar Levant, Victor Borge, others
Sponsors: National Biscuit (Nabisco), Camel Cigarettes, Old Gold Cigarettes, Maxwell House Coffee
Network: NBC (Red), CBS, Mutual
Aired: 1934-1947
Theme Music: "Sing! Sing! Sing!" (1990s kids may know it as the Chips Ahoy! song!)
Type of Show: Music
NB: Introduced "the new pulsating music of youth, swing."
Frances Langford and Don Ameche
The Bickersons
Stars: Frances Langford, Don Ameche (through 6/47), Frank Morgan (9/47-6/48), Lew Parker (1951) Danny Thomas
Sponsors: Drene shampoo, Old Gold Cigarettes, Philip Morris Cigarettes
Network: NBC
Aired: 1946-1948 and 1951 (June-August)
Type of Show: Variety (musical comedy)
Listen to an Excerpt: HERE
Tallulah Bankhead, the ususal hostess of The Big Show
The Big Show
Stars: various (rotating)
Sponsors: various
Network: NBC
Aired: 1950-1952
Type of Show: Musical Variety
NB: This 90 minute variety program was considered to be NBC's swan song to the "Golden Age of Radio." Within three years of its going off the air NBC would stop producing what has become known as OTR at its studios in New York and Hollywood.
Big Sister
Stars: various
Sponsors: Rinso, all Procter and Gamble products
Network: CBS
Aired: 1936-1952
Type of Show: Soap Opera
NB: Procter and Gamble began production of daily soap operas in 1936 and, even today, the soap and baking needs company still produces soap operas for television.
Big Town
Star: Edward G. Robinson (through 1942), Edward Pawley (from 1943)
Sponsors: Rinso, Ironized Yeast, Bayer Aspirin, Lifebuoy Soap
Network: CBS, NBC
Aired: 1937-1952
Type of Show: Drama (newspaper)

Bill Stern
Bill Stern's Sports Newsreel
Host: Bill Stern
Sponsor: Colgate Shaving Cream, Budweiser Beer, Allstate Insurance, Sustaining (none)
Network: NBC, CBS, ABC
Aired: 1937-1956
Type of Show: Storyteller/Interview
NB: Difficult to categorize, this program was not at all about sports but about telling stories. If you enjoy listening to Paul Harvey's The Rest of the Story, you'll love Bill Stern.
Der Bingle, as he was known
Bing Crosby (programs were known as "The Woodbury Program," "Kraft Music Hall," "The Bing Crosby Chesterfield Show," "Philco Radio Time," etc.)
Star: Bing Crosby
Sponsors: Woodbury soap, Kraft foods, Chesterfield cigarettes, Philco electronics, Minute Maid (he owned the company), General Electric, others.
Networks: NBC (Blue), CBS, NBC (Red), ABC
Aired: 1931-1956
Type of Show: Musical Variety
NB: Multifaceted Bing Crosby was involved in every area of entertainment. Philco Radio Time was the first program to be recorded several weeks in advance (Bing took the idea from the Armed Forces Radio Service). In 1948 it was the first program to use an Ampex magnetic tape machine for its transcriptions.
Orson Welles
The Black Museum
Host: Orson Welles
Sponsor: None (sustaining), F. Savor (9/30/52-12/23/53 only)
Network: Mutual
Aired: 1952 (one year: ¬ from 1/1/52 through 12/30/52)
Type of Show: Police Drama
NB: Originally broadcast by the BBC in London, this was an American introduction to British police procedures and punishment. The actual Black Museum, located in the Tower of London, exhibits replicas of unusual tools used in the course of murder.
Stars: Penny Singleton (did not appear in the final season), Arthur Lake, others
Sponsors: Camel Cigarettes, Super Suds, Sustaining (none)
Networks: CBS, NBC, ABC
Aired: 1939-1950
Type of Show: Situation Comedy (featuring many of the same stars from the Columbia Pictures movie series)
NB: Penny Singleton was the voice of Jane Jetson in the Jetsons cartoon series on TV. As of this writing, she is still alive at the age of 92.

Bob and Ray
Stars: Ray Goulding and Bob Elliott
Sponsors: Usually sustained (no sponsors), but had a few (including Colgate Toothpaste)
Networks: NBC, CBS, NPR
Aired: 1946-1984
Type of Show: Straight Comedy, involving parody and surrealism
NB: Always a favorite, Bob and Ray were on the forefront of comedy until Ray's death in the mid 1980s.
Bob Burns

The Bob Burns Show
Star: Bob Burns
Sponsors: Campbell's Soup, Lever Brothers, Lifebuoy Soap, American Foods, Dreft
Network: CBS, NBC (Red)
Aired: 1941-1947
Type of Show: Variety/Comedy
NB: Introduced by Bing Crosby, Bob Burns, the pride of Van Buren, Arkansas, was the first backwoods comedian to have his own show (Lum 'n' Abner came before him, but theirs was an ensemble presentation). He played a home spun instrument called the "bazooka." Rumor has it that he let the Army use this name to use for any weapon as they saw fit.
Bob Hope and crew
The Bob Hope Show ("The Pepsodent Show")
Stars: Bob Hope, Jerry Colonna, Tony Romano, Frances Langford
Sponsor: Atlantic Gasoline, Woodbury Soap, Pepsodent Toothpaste, Chesterfield Cigarettes, Jell-O, American Dairy Council
Network: CBS, NBC (Red)
Aired: 1935-1955
Type of Show: Variety (musical comedy)
NB: Fred Allen often joked about Jack Benny's need for writers. Everyone knew Bob Hope was lost without a script! I have a video tape of Bob Hope with Groucho Marx in with Hope drops his script and Groucho firmly plants his foot on it. Sometimes, it's fun to watch a man panic!
Boston Blackie
Star: Chester Morris (until 1944), Richard Kollmar (after 1944)
Sponsor: Rinso, R&H beer, Lucerne Milk (Safeway Markets)
Network: NBC, ABC, Mutual, CBS
Aired: 1944-1950
Type of Show: Detective Drama (PI)
Box 13 Promo
Box 13
Star: Alan Ladd
Sponsor: local sponsors
Network: Syndicated (Mayfair)
Aired: 1948-1949
Type of Show: Drama

Now owned by the Jel-Sert Company of Chicago, Wyler's was one of The Breakfast Club's biggest sponsors
The Breakfast Club
Host: Don McNeill
Sponsors: Borden products, Swift Premium, others
Networks: Blue, ABC
Aired: 1932-1968
Type of Show: Interview
NB: Better to listen to on the road to work than talkradio. (I've popped a tape of the show into my car stereo and listened to it on my way to work!)
The cast of the Buck Rogers radio show in costume. It sure was a good thing they didn't dress up like this everyday. I think the guy in the white suit looks mad. He won't wear his helmet. See the guy with the mustache? Doesn't his helmet look too tight?

Stars: Matt Crowley, Adele Ronson, Edgar Stehl
Sponsors: Kellogg's Corn Flakes, Cocomalt (I'd love to find out what it was; was it a chocolate malted milk powder added to milk? Let me know!),Popsicle, General Foods
Network: CBS, Mutual
Aired: 1932-1939
Type of Show: Juvenile Science Fiction Soap Opera (based on a popular daily comic strip)
NB: All right, for those of you who don't know the story, Buck Rogers was working in a mine in Western Pennsylvania during 1929. There was an explosion and Buck went to sleep. He woke up and everything outside the mineshaft was different. Over 500 years had passed. Everything he ever loved was gone and everyone he ever knew was dead. And people looked so funny....

Updated November 23, 2001



CHOOSE THE FIRST LETTER OF A RADIO PROGRAM