Acadamy AH64D Longbow
Acadamy's AH64D Longbow in 1/48 scale is based on thier -A model, and includes the upgraded parts needed to make the Delta version, leaving you with several leftover parts. The kit has a mix of raised and recessed panel lines, an A cockpit, vinyl tires and nice external detail. You can see the buildup photos of what I did to the larger avionics bulges along the sides. There is a major difference here; the kit gives you the early configuration, but I modeled the late configuration with air conditioning packs at the ends of each bulge. I made the Cobra style air data probes, which are fitted to the nacelles of later-model -D's. I also had to change the instrument panels to represent the modern Cathode Ray Tubes instead of the old round guages and 80s vintage instrumentation. The seats received Fuzzi Fur "lambskins" and True Details belts. The fuel tank is from some old jet wingtip tank and I had to cut it down to the right size and shape. The finish is overall FS 34086 Green Drab with decals applied and a custom mix of US ARMY/Marines Gulf Armor Sand and other sand colors,applied over the green. Rubber cement was applied here and there before the Sand went on. Removing this reveals the green below, for that "flaked-off" effect. I applied an oil wash over this and sanded the paint to remove it fromthe high spots and give it a really beaten up look, and then drybrushed with Sand. I made all the buttplugs for the intake/exhausts and added Verlinden RBF tags.

Notice the exhaust covers.


Nice outside closeup shot.


Flaky, faded and oil-soaked paint.


United States Army MH60K used by Specail Operations Airborne Regiments for insertion and support of SpecOps troops.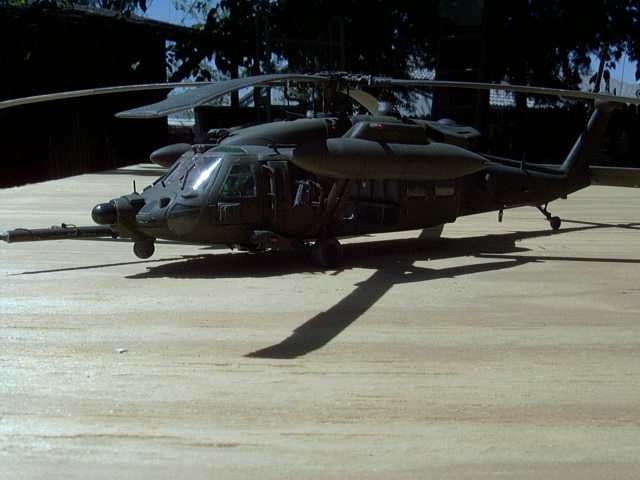 Left side view of MH60K


Overhead view loooking into cabin.

MH60K used for Special Operations helicopters by Acadamy in 1/48 scale. I added a Cobra Company update set, robbed miniguns from the Italari UH1N, totally rebuilt the interior troop seats, thoroughly detailed the cockpit and preshaded the kit before adding the paint scheme. I used FS 34086 Green Drab for the overall color. Helo Drab was used for the FLIR unit under the nose.