Our Maltese Girls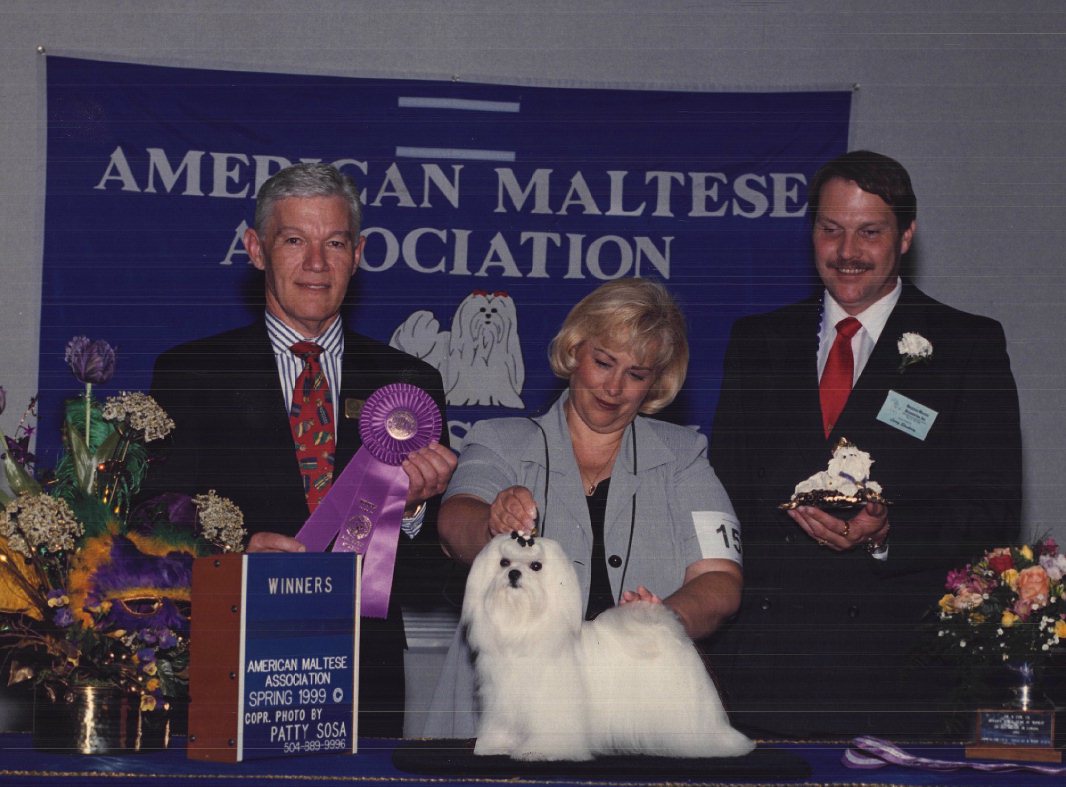 Ch. Richelieu's Hot Sight to Behold
(Ch. Richelieu's Hot Son of a Gun - Ch.Richelieu's Vision to Be Hold)
Winner Bitch American Maltese Assn. National Specialty 1999 Under Breeder Judge Mr. Len Repounnd from the 9-12 puppy classs Hotie finished her Championship in 6 shows with 4 majors wins. She was bred to our 2000 AMA Winner Ch. Am. Br. Whitefield's Here Comes Trouble due in Nov 2000.
"Sugar"
BISS AM.CAN. CHAMPION TWO BE'S HOOKED ON SUGAR
Top winning bitch in America 1993. Sugar won Best in Show at the American
Maltese Association National Specialty 1992. Judged by Mrs. Dorothy Welsh over
a record entry just under 2 years of age. She went on to win more than 30
group awards including 14 Toy Group Firsts. She produced only one litter
resulting in Ch. Two Be's Sugar Frosted another top winner. Sugar is now
retired as Midges house pet in charge of every thing.
"Madie"
AM. CAN CH. BAYBREEZE TAYLOR MADE
Top 5 winning Maltese in Canada 1997 and puppy group winner. A Frosty grand daughter, Maddy won many times Best of Breed from the classes over specials. An easy champion.Maddy was bred to Ch. Richelieu's Hot Son of a Gun watch for her beautiful daughter "Richelieu's Sugar N'Sprice and her brother Richelieu's Hot n' Spicey
"Salsa"
AM.CAN. CH/ RICHELIEU'S SOME LIKE IT HOT
A Multi Toy Group Winner from the classes over Champions on the way to her fast championship, "Salsa" is now the mother of 6 Champions, making her the Top Producing Dam of the Year 1997 (American maltese Association Award). One of her 1996 Champion daughters is Multi Toy Group Winning Ch. Richelieu's Risque Hot Stuff - rated Top 10 Winners 1996-1997.
"Vision"
CH. RICHELIEU'S VISION TO BEHOLD
Vision comes to us along with Salsa in a partnership with Judy McQuiston, Richelieu's Maltese. We are planning to breed her this Summer to the Group Winning Ch. Richelieu's Son of a Gun - "Shooter" - a Salsa son. Vision has a beautiful very white silk coat and beautiful eyes and expression. Watch for Visions latest litter Richelieu's Benjman Bunny and Richelieu's Some Hot Bunny. Hopefully they will follow in thier older sister footsteps Ch. Richelieu's Hot Sight to Behold.
go to our Maltese Boys
(OUR LHASA DOGS) (OUR LHASA BITCHES) (OUR MALTESE DOGS) (OUR MALTESE BITCHES) (WAFER YORKSHIRE TERRIERS)
(OUR YORKSHIRE DOGS) (OUR YORKSHIRE BITCHES) (PRO HANDLING SERVICES)
(IMPORT/EXPORT) (OUR HISTORY) (LATEST WINNERS) (LINKS)
Web Site managed by Debi Walsleben

Copyright©1999 All Rights Reserved



Email: shotru@cctrap.com