Does Donald Sutherland Have Curly Hair?
Topic: Yidaho
No doubt I've blogged about my crush on Donald Sutherland before.

But Don't Look Now is on telly, I've eaten too many boiled gooseberries in sugar, and it occurs to me to wonder if his hair is really curly, and straightened now, or if he felt the need for a demi-wave for both this film and Invasion of the Body Snatchers. To be right for the theatrical demands of the part, you understand.

So I looked for a split screen comparison - fat old grey beard Donald with the straightening irons clamped to his silver barnet, versus permanent waved virile frizzheaded emu-faced Donald of the sixties. And found a startling reality behind the hair.

So startling, I can't even pin it down. But there's something going on - something very very wrong - with Donald Sutherland's hair.

Can these all be the same man?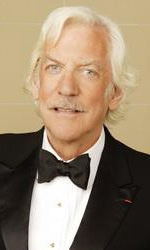 Best Blo'te of the Day So Far: Shy Lux
"I'm only linking to this because the guy lived.
Crapweasel of the day: Kenneth Smith, author of An Open Letter to My Deep Fear That My Girlfriend Will Be Really Fat Later in Life. Kenneth, I hope you go bald, slowly, in an awkward, non-pattern baldness kind of way. And I hope your girlfriend makes partner in her law firm and leaves your skinny ass for a younger, more attractive gentleman with a smokin' bod. And that they have lots of gorgeous children, while you grow old all alone and have to move in with your mother and start wearing shorts with black dress socks that offset your pale, skinny, hairy legs. And I hope Kenneth Smith isn't your real name, because eventually your girlfriend will google you and find this public declaration of love."