From 'Rowan County, North Carolina Court Minutes 1773-1786', William Ogle, with his brothers Thomas and Hercules Ogle, is listed in 'Names of Persons who have not taken the Oath of Allegiance in Captain Cox's District.' The date of the entry is 1778. Family traditions say that he served in the Revolutionary War.
William Ogle and his brothers, Thomas Jr. and Hercules Ogle, were listed in Captain Cox's District, 1778 Tax List of Rowan County, North Carolina.
Some records say William Ogle was an Indian trader, other say that he was a minister of the gospel. In the deeds from Rowan County, North Carolina, he described himself as a planter or yeoman.
In 1785 William and his family were living in Wilkes County, Georgia, according to '1785 Tax List of Wilkes County, Georgia'. They settled in Edgefield District, South Carolina, prior to 1790. He was listed as the head of household in 1790 and 1800 Federal Census of Edgefield District, South Carolina.
On 19 Oct 1795, Thomas Ogle of Grayson County, Virginia deeded 100 acres of land in Rowan County, North Carolina, to 'William Ogle of Edgefield County, state of South Carolina'. William later sold this same tract of land to Mark Cole and Jacob Skeene on 30 Oct 1795 (Deed Book 14, p 178 and p 179/80).
On 7 March 1796, William Ogle added to his holdings in Edgefield District, South Carolina, another 100 acres of land purchased from George Hagood. This land was situated on 'the branches of Rockey Creek, waters of Savannah River' (Deed Book 13, p 198). Family traditions say William Ogle had planned to migrate to Tennessee. But at that time, there was an epidemic of a most dreaded disease in the backcountry of South Carolina. It is believed that before William Ogle could make arrangements to dispose of his land, he contracted this disease and died.
Other sources say he built the first known structure in the Gatlinburg, Sevier County, Tennessee (seen below). They say he hunted with Indian friends in the area and decided to build a cabin and move his family there. He cut and hewed the logs, and then returned home 'to grow a crop' in order to bring supplies for his family's survival for some time. While there, an epedemic of malaria broke out and William died of the fever.
Between the date of his will, 26 Feb 1803, and the date of probate, 5 March 1803, William Ogle died and was survived by his wife, Martha and his children, five sons and two daughters. He is buried in the Fruit Hill area.
In his will William said, 'I give unto my son Harculous Ogle that Hundred Acres of Land he Now lives. Also the remainder of the Land is to be Divided among four Boys except a Child's Share which I give unto My beloved Wife Polly Ogle (Martha in the 1811 deed). Also I give unto my beloved daughter Rebecca (Mc) Carter a cow and Calf, bed and furniture, Pot and Some other furniture. Also I give unto my beloved grandson William (Mc) Carter a young sow. Also the rest of the property to be Equally among all the rest of my children except my beloved Wife which draws a Child's share.' His will was recorded in Edgefield County, South Carolina, Will Book 'A', box 22, #783.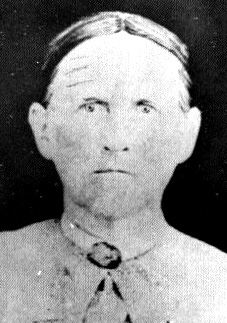 Martha Jane Huskey Ogle was part Indian. After the death of William, Martha took her five sons and two daughters for a short visit with relatives in Virginia. Her brother, Peter Huskey, and his family then accompanied them on their long trip to the East Tennessee area to establish their home.
They were in the Sevier County, Tennessee as early as 1805. There is a record in Tennessee State Library and Archives that shows Hercules and Thomas Ogle sold land to William Murphy in 1807. This land was situated in the area of 'mouth of Walden's Creek' in Sevier County, Tennessee.
On 19 January 1811, Martha Ogle, 'relict of William Ogle' and her sons relinquished to James Atchison of Edgefield County, South Carolina their claim on the property that William Ogle had bought from George Hagood in 1796. This deed of conveyance was recorded in Deed Book 31, p 291/92 in Edgefield County, South Carolina.
According to the church minutes of 'Fork of Little Pigeon Church', Martha Ogle was the one of the group of people from White Oak Flats Community that asked the Fork of Little Pigeon Church to establish a church in White Oak Flats as an arm of the church in Sevierville in December 1817.
Sometime between December 1817 to July 1826, Martha Ogle died and was buried in Gatlinburg, Tennessee behind Hays House Restaurant. However, the SMHS lists Mary J. Ogle in White Oak Flats Cemetery.
Photos above of William and Martha Jane Huskey Ogle
Our line of descent
Pictured below:
The home of William "Billy" and Martha Jane Huskey Ogle. The first settlers of White Oak Flats, in which is now Gatlinburg, Tn. The cabin can be seen today, and is in fine shape. It was erected ca. 1800, and is regarded as the first structure in Gatlinburg.
Gatlingburg Cemetery, formerly White Oak Flats
White Oak Flats Cemetery established 1830
Directions - In 600 block of downtown Gatlinburg, Sevier Co. , TN. Cemetery is on hillside behind a small shopping Mall called "The Village" The Village is on the left side of Southbound Tn. 441 which is the main street through Gatlinburg. Walk through the Village to the back right side, turn right just before reaching the public restrooms. Walk up the hillside on a steep one lane road. Martha Jane Husky Ogle is buried at a distinctive tombstone, which is made of fieldstones cemented together around a marble inset. This inset bears her name, birthdate and deathdate. This grave is located to left and in front section of cemetery. You can actually drive to the cemetery, however, it is best to walk. No other cemetery contains as many of Gatlinburg`s first settler`s.
Below: direction to the Ogle cabin. Traffic light # 6 is Cherokee Orchard Rd.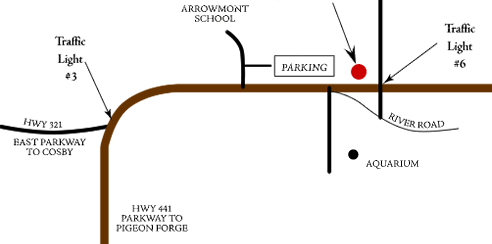 Source: 'Smoky Mountain Clans', Donald B. Reagan, 1978, p 138-139. 'Smoky Mountain Family Album,' Gladys Trentham Russell, 1984, p 6. 'Sevier County, Tennessee and Its Heritage', 1994, p 229. 'Mountain Ways', Gene Aiken, 1983, p 3., Smokykin.com