Easy Baked Spaghetti

Makes a great quick meal, served with a salad & hot bread!

4 cups cooked & drained spaghetti
1 pound gound beef, crumbled & drained
2 Tsbp Worsteshire sauce * 2 Tbsp brown sugar
1 c. catsup * 1/2 c. water * 1 tsp vinegar
Pinch of salt * Dash of pepper


Cook and drain both spaghetti and crumbled ground beef, and stir lightly together in greased casserole. Heat remaining ingredients thoroughly and pour over spaghetti mixture. Bake at 350 degrees 45 minues - 1 hour.

1-2-3 Peanut Butter Cookies

Quick and easy for summer snacks or picnics!

1 cup peanut butter - plain or chunky
1 cup sugar
1 egg


Ingredients should be at room temperature. Mix all three ingredients together well. Roll into balls and place on cookie sheet 1 1/2" apart. Flatten with fork in a criss-cross pattern. Bake at 350 degrees for 10 minutes or until a golden brown. Serve with milk!

Riddles & Jokes
What do you call a computer injury?
Answer: A megabyte!




What do you call a Grandmother who cracks jokes?
Answer: A Graham Cracker!



What is black-white-black-white-black-green-black-white-black-white-black?
Answer: Two zebras fighting over a pickle!

Why did the farmer name his pig "Ink"?
Answer: Because it kept running out of the pen!

Why are potato chips unpopular?
Answer: Because they hang around with the dips!

What is a sailor's favorite fruit?
Answer: Naval oranges!

What do you call a water cooler?
Answer: A Thirst Aid Kit!

Why was the pencil fussing at the sharpener?
Answer: It kept trying to make a point!

What has one horn and gives milk?
Answer: A milk truck!


For games, videos, gardening and other neat stuff for kids, visit
The Kid's Zone
Back to Kids in the Kitchen

E-mail your favorite recipe and riddle to Kids in the Kitchen.
These pages will change, and we may use your ideas!
Bookmark this page and visit often!



Search through hundreds of cookbooks!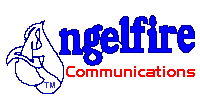 Angelfire - Easiest Free Home Pages