Melbourne Benchrest Club Fly Shoot


Fly Shoots are a fairly unique Australian event. The format for the fly originated at SSAA (ACT) BR, and fly competition is now shot in Queensland, New South Wales and Victoria. Fly competitions are shot at a distance of 500 meters.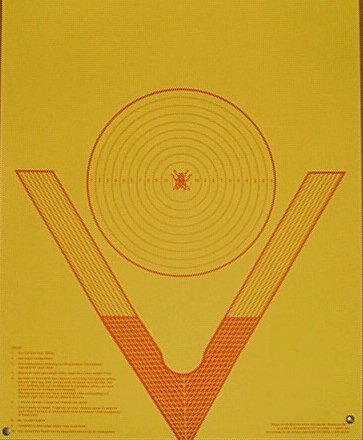 Points in the fly shoot are awarded for both group and score. The total score zone on this target face is 8.5", with a 1.8" ten ring and each score ring spaced .4" apart.

500 meter Fly rifles on the firing line at Little River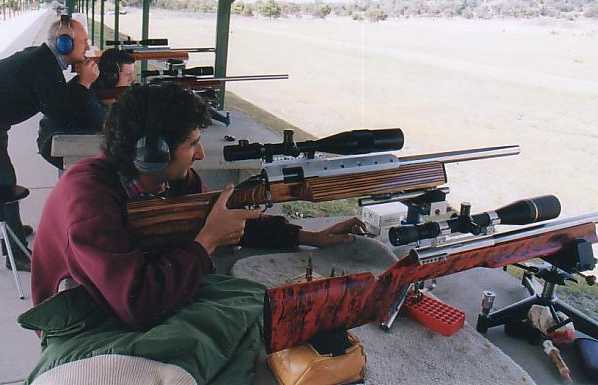 Anthony Bending shooting his heavy rifle. The rifle is built on a sleaved Remington action, a Madco 7mm barrel and a Prostock laminate stock. 12-42 Optics from Lightforce .

David Kerr's 7mm Remington heavy rifle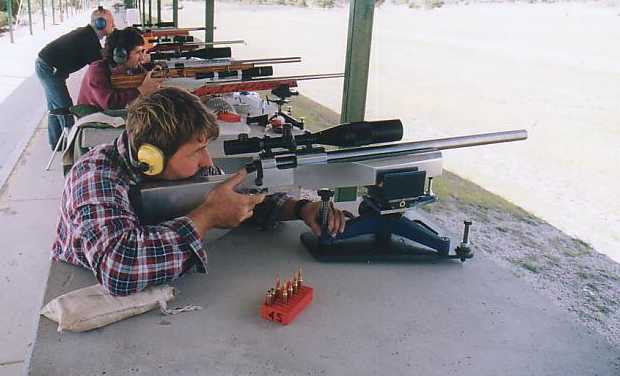 Ross Huchins shooting his heavy rifle. Ross machined this stock himself from a solid billet of alloy.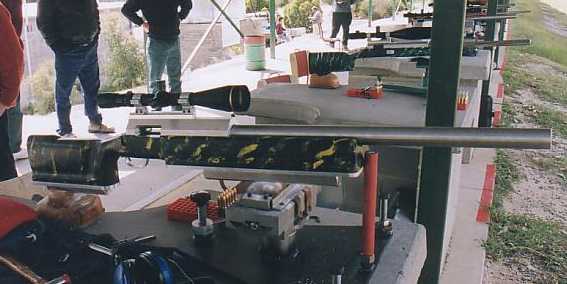 This heavy rifle was built by Mark White on an action of his own design.

Alan Fuge shooting a heavy rifle in 300 Winchester Mag improved. Optics from Leupold with magnafication boosted by Premier Reticles.

Hanging under each target is a steel sighter plate. These are repainted after each relay. The mark on of the bullet on the white paint makes spotting the shot very easy from the benchline.


Fly Shoot Rules:
1. Any caliber up to and including .49
2. Any stock configuration.
3. Any scope power including spotting scope. Competitors may spot for each other.
4. Maximum open gun weight 50lbs. Light gun class maximum weight 17lbs.
5. No rails ie: Guns shot from separate sandbag rest systems where the rear sandbag shall contact both the bench and the rifle. The front sandbag rest can be attached to a pedestal which can have adjustments for windage and elevation. The rear sandbag may have a stabiliser plate surrounding it if desired. Light gun class rifles are allowed bipods.
6. 7 minute details, 1 target per shooter per detail
7. Only 5 shots on target. 3 sighters at other medium paper or steel for each relay. Payment of nominations shall be deemed total acceptance of these rules.
8. No muzzle breaks
9. Compliance with range safety at all times.
10. Any competitor found not enjoying themselves will be disqualified.

Scoring a Fly Shoot:
Target to be shot for score and group.
Group points 1" or under = 10 points to 10" or under = 1 point, etc.
Maximum possible score total of 60 points per target x 5 details = 300 points