The Historic Past of the Curly Horse
~ Breeds & Bloodlines that shaped the Curly of Today ~

From the beginning, Curlies were very few in number. To create a Curly breeding program meant breeding to other breeds. The Damele`s herd was reduced to three mares & a colt during a severe storm in the 1950`s. Eli Bad Warrior sold his few remaining Curlies to Slim Burndt in the 1930`s. Curlies were discovered in other areas of the west but never in large numbers. To continue the breeding of Curlies it was necessary to cross breed them to other breeds. Each breeder had his own idea of what other breed to cross with the Curly. Some breeds used were the Arabian, Morgan, Quarter Horse, Appaloosa, Standardbred, Draft & Missouri Foxtrotter.
One thing that stands out about many of the other breeds used to cross breed to the Curlies, is many had outstanding bloodlines. These horses were some of the best of the best bred to the Curly. This is a great foundation for our Curly of today. Some of our Curlies pedigrees reads like a Who`s Who of Arabian, Morgan, QH, Appaloosa & Missouri Foxtrotter bloodlines. The Curly had a great beginning thanks to the planned outcrossing of dedicated breeders that wanted a "good usin` horse". For the diversity of breeds used and the high quality of those breeds sires & dams, we are truly fortunate to have those bloodlines in our Curlies of today. "Click on names in red, for links to more information".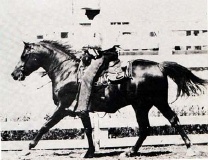 Nafix- sire of Nevada Red
ARABIAN
~
Nevada Red
was an Arabian stallion used by the Damele`s to breed to Curly mares. Nevada Red had outstanding purebred Arabian bloodlines. He was out of Nafix X Bint Nabiyan. Nevada was a double great grandson of the famous
Kellogg
stallion
Abu Farwa
. Abu Farwa was out of Crabbet sire Rabiyas & dam Risletta. Nevada Red was the grandson of
Serafix
who was out of Raktha X Sarafina (sire-
Indian Gold
). Crabbet bred stallion
Raseyn
(one of the outstanding Skowronek sons) appears 2X in Nevada Red`s 4th generation pedigree.
Skowronek
appears 3X in Nevada`s 5th generation pedigee. This stallion gave great Arabian bloodlines to the Damele Curlies. These are truly royal Arabian bloodlines.
Nevada Red Picture Pedigree

Ruby Red King
MORGAN
~ Ruby Red King was the most influential Morgan stallion used by the Damele`s on Curly Mares. Ruby Red King was of straight
Brunk/Western Working Family
breeding. The Western Working Family is out of several lines, including the
Black Hawk
bloodlines. Ruby Red King AMHA 26101 was out of Rockwell`s Valley Tan by Ken`s Car-a-mel out of
Ken Carmen
, out of
Jubilee King
. His great granddam was Mallow, whom most gaited Morgans are decesended from.
Ruby Red King Pedigree
Read about RRK`s Bloodlines
Other Morgans ~
Upwey Ben Don
& his great granddaughter MC Magdalena have contributed greatly in producing outstanding Champion sporthorse Curlies,
Sparlock
&
Spartnick
.

Sorrel(C)
Bad Warrior is a Curly that carries the QH lines of Hard Twist.
QUARTER HORSE
~ Two famous
foundation QH stallions
that had an impact on the Curly were
Hard Twist
and Wendy Bars. Also some Curlies carry the bloodlines of the Fredell QH`s who were of the
McQue
&
Oklahoma Star
lines.
*Warlord`s Thunder (Starbuck)
is a Fredell bred Curly out of Simitar Star AQHA, the Fredell`s QH stallion.

Tadpole is a Curly that carries Appaloosa lines.
APPALOOSA
~ Many Curlies carry Appaloosa bloodlines. Some carry the
foundation lines
of the legandary
Chief of Fourmile
who is part of the
Tate Topa line
.

Curly Jim foundation stallion of the gaited foxtrotting Curlies
One of the names found in most foxtrotting Curly lines is Curly Jim. He was a Curly horse that arrived in Missouri out of Tennessee with an unknown pedigree that resembled the Missouri foxtrotter horses in appearance. He was sorrel with a blaze and had a foxtrot gait. He was believed to be foaled around 1953. Curly Jim was trained under saddle at 3 yrs old by Johnny Brooks who was 16 yrs old at the time. Curly Jim was owned by Verne Mc Clellan at one time. Curly Jim was bred to the Bradford Mare and the offspring was a Curly mare named Blaze, who was the dam of Walker's Prince T. Several Curly Jim decendents that carry him top & bottom have been homozygous for curls. These horses also have full manes and tails even though homozygous for curls.
MISSOURI FOXTROTTER
~ Walker`s Merry Lad has had a very big influence on the foxtrot gaited Curlies through his son, *Walker`s Prince T (Walker's Merry Lad x Blaze). Almost every foxtrotting Curly finds Walker`s Prince T somewhere in their pedigrees past.
Walker`s Merry Lad
was a foundation Missouri Foxtrotter that was said to carry
Tennessee Walker
bloodlines as did many early MFT`s. His TWH background goes back to the foundation TWH horses of the
Allen F-1
line of
Roan Allen
and
Hunter`s Allen
. These were champion TWH. This bloodline also carries foundation Morgan lines of Black Hawk along with
Narragansett Pacer
.
There is also the story from Walker's Merry Lad's owner that he had an unknown pedigree and was given the TWH pedigree. Probably only DNA could prove or disprove this claim for either side of the arguement.
Other Missouri Foxtrotters ~ World grand champions, Mr. President, Danny Joe W and Zane Grey are also found in some of the gaited Curly bloodlines, along with Yankee (TWH) and Rockaway (
Saddlebred
) breeding. The Gaited Curlies have some of the finest old time MFT gaited bloodlines found today.
I`d like to offer a special thanks to all those that have contributed information on these past Curlies ancestors.
Curly Lnks
Curly History- Articles from the Western States Curly Newsletter
Curly Strains/Lines History
Curly Arabian Project- Sue Weavers extensive Curly/Arabian site, lots of gret info!
Foundation Curlies- pictures of the original Curlies