Jeffrey Douglas Fan Page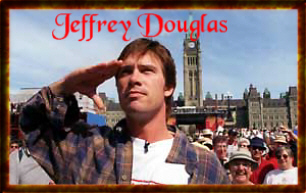 GO TO THESE PLACES FOR JEFF GOODNESS!!!!
Filmography
Just The Facts, Man!
Photos
Why I Like Jeffy Weffy!!

Yep, it's the one and only Jeffrey Douglas Fan Page. This is pretty much the first one to my knowledge. But that's okay right?
I noticed this handsome man not so long ago. I first noticed him playing a role on Big Wolf on Campus, and now I watch him on the Famous Jett Jackson!
Enjoy yourself and come back for daily/weekly/etc. updates! (the pic above is from the Canada Day 2000 event.
Email: bandhopper@aol.com