A note from Ken: Most of these tributes begin as an email to me from someone who found this Lin Carter site and liked it. I publish them here pretty much in the form in which they arrive, but with the occasional edit or hyperlink thrown in for the interest of the readers.
--Ken 1/15/2001
---
---
A Fan's Tribute to Lin Carter
I was just surfing the web for info on Lin Carter, and I was pleasantly surprised to find your site! I am very familiar with your work as designer of T & T and, of course, the first FRP I ever bought, Monsters! Monsters!
I have been out of the gaming and SF world for about 10 years now, but just the other day while packing, I came upon my Carter books and set them aside for re-reading. Lin Carter was one of the great ones. In my teenage pantheon, he was right up there along with Lieber and Howard. My very first Sword and Sorcery novel was his 'The Wizard Of Zao', which inspired me to start in on Xanth, Conan, Fafhrd and the rest. He had such a great sense of fun that some of the more serious writers lacked. His stories were pure adventure in the most fabulous settings in fantasy. In the years before his death, I read his more recent work with great interest. Mandricardo, Dragonrouge and Callipygia were masterpieces and prompted me to seek out many of the works he referenced. Found Wanting and Down To A Sunless Sea were startling departures from his established style, but utterly fascinating. I was waiting for more from him when I heard he died. If Lin had lived, I am sure his new direction in storytelling would have taken him far and finally awarded him the recognition he deserved.
As a teenaged Carter fan, I was sure that Lin was probably a very happy man. I thought anyone who wrote such magical stories must have a wonderful life. As I learned more about him on your website, I realized that in fact the opposite was true. Lin must have created these worlds of fantasy in part to escape what sounds like a very tragic life. The story of his final days in New York, written by his friend and neighbor, is very sad. The details offered by Jessica Amanda Salmonsson seem to verify this. If only Lin could have had back only a portion of the happiness he gave to all of us fans with his books.
In closing, Ken, I just want to thank you for doing so much to keep the memory of a great, but sadly underrated writer and editor alive. Keep up the good work!
Yours truly,
Mark Taverna
---
Here's a photo of Lin courtesy of M. Dell (Numa). My thanks, and may I encourage you to share your mementos of Lin Carter with his other fans on these pages.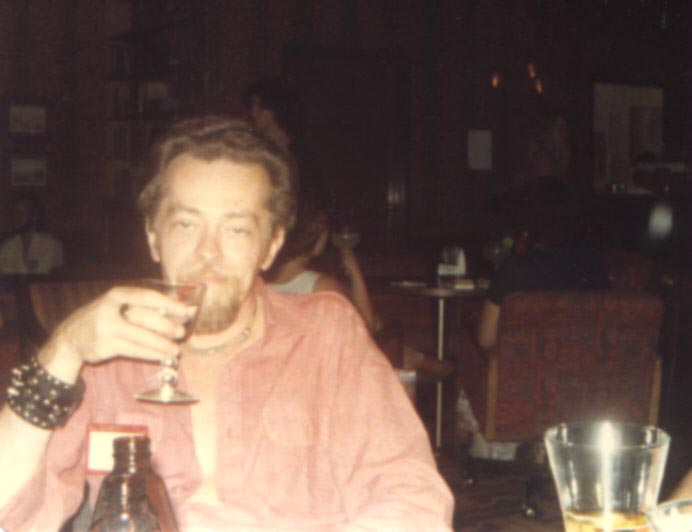 David Truesdale (Editor of the SFWA Bulletin) went to (IGUANACON) the World Science Fiction Convention in Phoenix, Arizona in 1978. He walked into the bar and found Vern Coriell (Founder of the Burroughs Bibliophiles) and Lin Carter sitting together, drinking. He walked up. They invited him to sit down with them. He snapped some pictures, hence the pic, and they all got drunk together. He spent hours drinking with them and talking. He had a good time.
This picture was taken at the hotel bar during IguanaCon in July, 1978, a time when Lin Carter was at his peak of popularity and success. That was also the time when I actually saw the man, although I was not in the bar with him on that occasion.
--Ken
---
---