In 1990, to celebrate the 150th anniversary of the world's first postage stamp, Tui Tui issued an attractive set of two values. The 150p stamp is very rare in mint condition, as most of the stamps were used on First Day Covers.

The top value of the Penny Black set.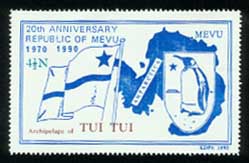 To celebrate the 20th birthday of Mevu, Tui Tui issued a set of two commemoratives.
The design is by Mr Geir Sør-Reime.

The Imperial Government Printing Office of the Sultanate of Occussi-Ambeno was commissioned to print several stamps for the Archipelago of Tui Tui.

The flag of Tui Tui.
Tui Tui is a member-nation of the International Council of Independent States, and is under the benevolent rule of Co-Tyees Dogfish and Dragonfly. The first stamps that KDPN printed for Tui Tui are the 1988 Year of Food series, shown on the right. These were printed with a Heidelberg platen press by letterpress process, as were the Occussi-Ambeno 20th birthday issue, and the Mevu 20th birthday set. The 1990 Penny Black set was printed using an English-made Adana press on white gloss art paper with shiny gum and perf 12.
For more information on Tui Tui, please e-mail Co-Tyee Dogfish or Co-Tyee Dragonfly at Tui Tui.
In 1988, Tui Tui issued this 3 nupees stamp, and the one below, to honor the ICIS Year of Food. The design is by Mr Geir Sør-Reime.
The 24 nupees stamp for Food Year.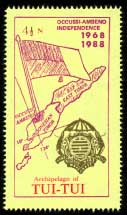 This 4½ nupees stamp of 1988 celebrates Occussi-Ambeno's 20th birthday. The design is by Mr Geir Sør-Reime.