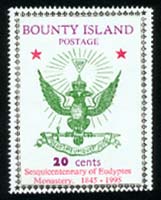 The first stamp of Bounty Island, the 150th anniversary of the Eudyptes Monastery, in 1995.

To celebrate Bounty Island's involvement with the Chadpex Stamp Exhibition, a special printing of the 45¢ Lighthouse was made with a diagonal overprint.
The Imperial Government Printing Office of the Sultanate of Occussi-Ambeno was commissioned to print stamps for Bounty Island.
The first stamp, shown here, was printed with an English-made Adana, an excellent machine for letterpress printing. The other stamps shown here were all printed in full color on white gloss art paper and perf 12.
For more information on Bounty Island, please e-mail the Preceptor of the Eudyptes Monastery, Bounty Island.
Bounty Island issued a set of three pictorial stamps in 2000. This one, 20¢, shows the antique iron coastal defence gun.
The 45¢ stamp shows the imposing Cousteau Lighthouse, at Bounty Island.

The $2 stamp of 2000, again showing the Cousteau Lighthouse at Bounty Island.