">">
Private Correspondence~Xtra~Just Add Water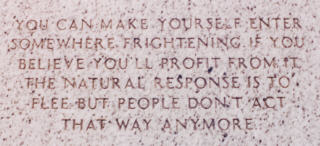 https://www.angelfire.com/art/letters/xtra.html
writegirl@altavista.com

"If you didn't do anything, then you shouldn't worry about getting searched."
If I hear ANYONE say that again I will SCREEEEEEEEEEEEAAAAAAAAAM!
WRONG, WRONG, WRONG, WRONG, WRONG, WRONG, WRONG, WRONG!
You terrify me when you say that.
I have never been arrested or handcuffed or anything. I do not commit crimes, and have no intention of starting some wild crime spree anytime soon.
But in my bag I do carry a knife. It is a small jackknife my father gave me when I was 10. My dad would often peel and slice apples and we would eat them together and we would talk. He taught me how to use that knife and I still use it to cut up apples, mostly when I go to the park.
That knife is my good-luck charm. I will not give it up.
I also have a nail file. That could be consider a weapon too.
Two weeks ago I picked up paint for my kitchen. The man gave me a stirrer and a metal paint can opener. I threw them in my bag so they didn't fall through the wires of my shopping cart. That opener has a sharp edge. I could do major damage with it.
Let's see. Oh, I have meds. I could force someone to take them all at once and poison the sucker.
This is totally frightening.
AG Ashcroft, if I remember right, lost his election to a dead man. He is ultraconservative and highly dangerous. He wants to enact laws that strip people of civil rights. If the government takes on that cop mentality they will criminalize EVERYONE.
HELP!
As I heard one man say, "Every little thing is being blown out of proportion."