---
---
Playa Fiesta 2008 and 2009

Ellyn in Paradise
~ Barceló Palace Maya Beach ~ Riviera Maya ~
---
---
~ Ellyn's Playa Fiesta ~
~ Trip Report ~
a gathering of friends at the Barceló Palace Maya Beach
Trip Report with impressions, links and photos
from the beautiful Mayan Riviera
---
---
~ Saturday July 5th ~ 12th, 2008 ~ and ~ Saturday June 27th ~ July 4th, 2009 ~
~ Barceló Palace Maya Beach ~
---
.......annual reunion of beach lovin' chicas and amigos in paradise!
---
I just returned from my second wonderful sunny fun-filled week at the Barceló Palace Maya Beach, located in the beautiful Riviera Maya and it was almost as blissful as last year.
This is my second visit to the Palace and my third visit to a Barceló resort. In 2007 I vacationed at the Colonial and watched the Palace being built. It was newly opened when I stayed there in 2008 and my plan for 2009 was to try somewhere new and different. But I am lucky to have dear cyber friends all over the globe that make this annual return to the Mayan Riviera and they chose to revisit the Barceló Palace. So where they journey, I go too….if at all possible! Here are several of my travelin' buddies while we were doing a 'bar crawl' of every bar at the resort one day. It took all afternoon and we got kinda toasty! We had different colored shots at each 'stop' and even made 17 cherry jello shots out of jello and a bottle of vodka, both from the buffet. Here are some photos from each bar crawl ~ 2008 and 2009
If you want to compare this resort to any of the others I have enjoyed and written about stop by my Cancun and Playa website. I also write about my traveling friends, how we all met, and Playa Fiesta and what it's all about:
ellyn's paradise page
The Barceló Maya Palace is the newest of the five hotel Barceló complex. It has colonial style architecture and vibrant tropical landscaping. There are 756 Junior Suites, including 2 master suites and 12 corner suites. The buildings are all connected. The open-air feel is delightful and the art and architecture is beautiful.
In addition to the beautiful courtyards, there are also elevators which are a very nice feature of the resort. My room was immaculate with nice furniture, unique artwork and a huge flat screen plasma television on the wall. There was an easy to use over-sized digital safe, a ceiling fan, a well-working air conditioner, a clock radio, a desk with a data port, and a lovely view! Inside the cabinets of the room were drawers for clothes. There was a nicely filled mini-fridge and a pull-out shelf containing a coffeemaker. The bathroom was well stocked with over-sized bath towels and nice amenities such as 4 zen-like candles and matches, toothbrush, toothpaste, shave cream, razor, shower cap, comb, shoeshine kit, sewing kit, shampoo, shower gel, and conditioner and more.
The closet contained an ironing board, a scale that I refuse to get on, a pair of terry cloth bathrobes and two pair of slippers. The bed is very comfortable with premium pillow top bedding, and is actually on box-springs. On the other side of the sliding glass doors was a balcony with functional plastic furniture and a pull-out clothes drying rack. Here is my view from 2008.
My room was always made up nice and my mini fridge was re-stocked daily. My fridge contained several large bottles of water, Fanta Orange, Coke, Coke Light, a 4-pack of Modelo Beer, two boxes of really delicious Sonrisa Orange Juice, candy bars, and nuts. There was another bottle of water near the coffeemaker, and coffee, cream, packages of tea, Equal and sugar were provided as well. I enjoyed the efforts of the hard-working young people that were cleaning the rooms. It was a real treat to return late at night from the show or the disco (2008) to find my bed turned-down with mints on the pillow and my drapes were closed, with soft lighting turned on as well. It was a very nice touch. Also every night before leaving for dinner, the housekeeper stopped by and took my used towels and bath mat and replaced them with fresh ones.
Although the resort is huge they do have a trolley system and even though it didn't run the length of the resort, it did run back and forth between the five lobbies. I took it to dinner or shopping a few times, but I enjoyed walking the beautiful grounds even more.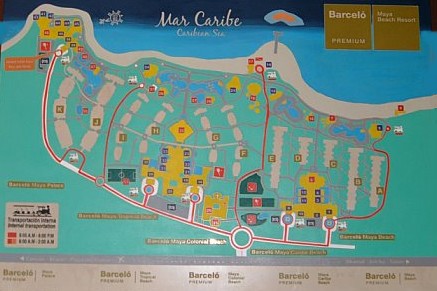 The resort was beautiful, impeccably clean, and the lush floral grounds were well tended. The beach was lovely ~ day and night.
My flights out of Saint Louis are always so early so my travel days begin at three-thirty in the morning. I found the TSA agents to be pleasant and I was through security so fast I had to wait for Starbucks to open at 5 am. My flight on USA3000 was fine although we were an hour late getting into Cancun this year. I listened to my mp3 player and read some trashy tabloids and before long we arrived in terminal 3 in dreary weather. As always, I got the green light!
I found the Palace, with all Junior Suites, and air-conditioned restaurants, to be a step above the four other sides of the resort and worth the extra expense. In 2008 I had a lovely 3rd floor room in the Oaxaca building with a king sized bed as near the beach as possible. This year I requested the same. For some reason they had none of my requests and I was offered the Michoucan building, twin beds, first floor as far away from the beach as possible. They had noted all of my requests and that I was a repeat visitor and a promoter but still not willing to give me what I requested. Another person finally came over to take a look at what she could do. She gave me an incredible room walking out to the sea (8505) and I was overwhelmed with the unexpected upgrade to Club Premium.
The food was delicious throughout the complex, however, and I loved the Japanese, French, Brazilian, Italian and Mexican restaurants. I also found the food at the buffets to be really good and I had a lot of steak, and made to order pasta! I loved the chocolate fountains and the crepe bar! I really enjoyed the sushi and show at the Japanese Restaurant called Bali Hai where we dined around Teppanyaki pits. The chefs do fun shows with all sorts of unique chopping tricks. Ours made a Mayan Pyramid out of onions and when he ignited it, flames roared high into the air.
He also did silly things with the eggs while making our fried rice. The steak and chicken and fried rice were very good and this year I had the lobster and steak! I did eat the dessert at the restaurant, but I also went to the buffet for dessert pastries and crepes and then hit the lobby bar for Kahlua, Amaretto and Baileys before retiring.
As an early riser, I could not wait to get to the buffet and eat breakfast. Several days I ate inside the air-conditioned buffet and some days I ate at the outdoor area overlooking the sea. Sipping fresh orange juice, and eating tropical fruits, the leisurely breakfast was the best part of my day! Breakfast included freshly baked pastries, bacon, hash browns, and made to order omelets, and everything else they offered.
After breakfast every morning I headed for the beach. I spent mornings at the beach and afternoons at the pool. The swim-up bar was wonderful and the drinks were great. The Palace has top-shelf liquor and my frozen margaritas were awesome ~ very tangy, limey, and just how I like them. They were made with top shelf Cazadores Tequila and Grand Marnier! The hard-working bartenders were terrific.
This year I arrived on a rainy drizzy dreary Saturday and we had 24 hours of torrential rain. The rest of the week was sunny, with blue skies and gentle breezes. On the rainiest Sunday ever, I went to the spa and had a massage. The spa is exquisite, calm, and peaceful yet the spa massage was not as nice as the beach one (go figure!). The rain didn't dampen my spirit, and although drenched, I stood under the Coco Bar Palapa and drank Margaritas and hung out with friends. By Monday the sun emerged once again and the world was beautiful and it looked like my tropical paradise was back.
The Caribbean Sea was an exquisite shade of aqua, teal, sea foam green, and turquoise, the sand was as white as snow, the skies were blue, and the sun was glorious. The palms were gently swishing and the smell of cocoa butter wafted in the air. Only one thing would have made me happier and that was to have a palapa on the beach with a beach bar nearby. I only hope that an upscale resort as fine as the Barceló will provide palapas on the beach for shade one day. I heard the Barceló prefers the natural look of the beach without palapas and that their palms would fill out over time and provide more shade. I loved my time there because I was with friends, but as an all-day "beach girl" I do need shade at times. I think palapas would be a nice touch and that they look quite tropical.
I must confess I left the property and trespassed to some nearby Ruins and it was so worth it. I returned to the Barceló via the very rocky coastline and it was blazing hot and I got quite overheated. The ruins look very old and I have the picture to prove it and I am glad I went. I had to walk past the Palace, leave the property, and enter posted property covered with frightening warnings. I am not advocating anyone else do this.
My only complaint (and for the 2009 trip it was huge) was the L'Oreal Convention that arrived during the week. The staff blocked out approximately 250 or more yards in front of the Coco Bar for their Beach Party. They started clearing the area mid-week so lying out on the beach was out of the question as there were no lounge chairs to be seen!
They put this cheesy crime scene tape up and marked it off. I dragged a lawn chair through it and laid out a while. It annoyed me off that they took all the prime sand real estate and made it off limits to all guests, and as someone traveling solo, I no doubt paid more than these cosmetic people. There were 30 huge signs lining the pathways with L'Oreal advertising on them and two huge billboard signs in the lobby.
We spent three days watching them set all this up. It took one full day to clear every chair from the beach and one day to set up 100 or more tables. The workers were laid back and slow paced and there were people with clipboards, and chefs milling about all day. The last day of setting up they had hundreds of people working at hyper speed. Electrical teams were wiring every palm tree with lights. Others built a stage and set up all the instruments for a band. Some people constructed a dance floor and immediately painted it white since all of the guests would be dressed in white (gowns, gauzy pants, etc.) It was exhausting yet fascinating watching how they constructed this tropical paradise. There were pickup trucks full of men and each truck contained hundreds of chairs; then crews took these chairs and covered them in white fabric and tied them with white bows. They decorated the scene with carved fruit, sombreros, serapes, tropical plants, and more. As mad as I was at the Barceló for taking the entire beach away, I was impressed with the way the team constructed the scene.
The L'Oreal people turned out to be a very strange crowd. I met a girl from Venezuela who had 3 inch long hand-painted bedazzled fingernails. There seemed to be more men than women. It must have been a product launch party and a lot of these guys were probably makeup artists. All were wearing lavender armbands. My friends dared me to get a L'Oreal tee shirt from these conventioneers but none of them spoke English. Still a dare was a dare! We had been told by the many 'suits' walking around that the group would be carefully controlled and they would not be a problem. Except for the band playing long into the night (2 a.m.) right outside my beachfront door and me having to get up early (5 a.m.) for a flight home, they were not a problem. The problem was the lack of beach for three days. There was no view whatsoever, and no beach to use for my last 3 days! Despite the conventioneers, I had a wonderful time and enjoyed the beautiful weather and being with all my amigos (many of them left before the beach party).
There wasn't a lot of nightlife at the resort, but I got up so early, it didn't matter. I enjoyed the free internet in the Club Premium lounge where it was fun to keep up with the message boards, facebook, myspace, and e-mails while sipping Champagne and eating pastries. We spent some of our evenings in the theater (caught a fantastic Broadway Show) and the air-conditioned lobby bar. The lobby bar Mudslides were really good and the Palace lobby provided some sort of tasty salty nut mix served in bowls. The grounds are magnificent at night. Truly beautiful! I loved walking around at night and taking photos.
Here are a few more miscellaneous Palace photos from 2009.
All too soon all weeks in paradise have to come to an end. I found checking out of the Palace was a breeze. They have coffee and donuts in the lobby bar and I have many wonderful memories of a nice resort! Oh yeah, remember the dare? The L'Oreal people actually left me a tee shirt at the desk!
---
---
Here are some terrific pictures from an online amigo who has way better photos than I do!
Phil in Ottawa's Barceló Maya Beach Resort Photo Gallery
Philip Gammon's exquisite photographs are breathtaking.
---
---
Please visit my other Playa and Cancun Pages!
Ellyn's Cancun and Playa Paradise
Cancun and Playa Impressions, Photos, Tips, Thoughts, and Links
I have many other trip reports here too from other Mayan resorts!
Ellyn's Online Photo Album
Trip Report ~ Barceló Colonial Maya Beach ~ 2007
---
---
---
---
---
---
It will make my day!
---
---
You are visitor number

free counter by andale
copyright©july 21st, 2008 ~ last updated august 8th, 2019
~ ellyn hloben ~ webmaster ~