Thoughts on Thanksgiving
Mood:
hungry
Now Playing: "Thank You," by Sly and the Family Stone AND Led Zeppelin!
Topic: Reflective
Oh, yes! Thank you for letting me by myself!!!!
I'm not a "perfect" person...or naturopath....or mother....or minister...or friend. But I'm created in perfection, as are we all, and I am very grateful for that today!
What a relief! I mean, people sometimes expect others to meet their standard of what they think others should be, and that's just a silly idea. I get it a lot in my position...you know....JUDGED! People think I should have a fancier car if I'm good at my work, or a fancier house or fancier clothes. There are those who want to test me, and just dismiss me because sometimes I giggle or laugh! What a silly reason to decide whether I'm able to help them regarding their health. As a matter of fact, I really believe laughter is GOOD! Hahaha!
We all get it...people who think we should be doing something this way or that way, and deciding they're better than us, or that we just aren't making the grade.
Sometimes, of course, we could improve. Maybe we're a little mean sometimes when we could be kind. I know I can get snippy sometimes!
But it's human for us to make mistakes and faulter, and also to display indifvidual traits, and to hold different ideas and viewpoints on things. This is all part of the plan...The plan where we're created in the image of God, but living this life in human form.
So, my job involves me as a human making mistakes but keeping my eye on the path. I've been on the trail that I'm following a little bit longer than some, and so I help to guide those along who come to me and ask me questions regarding how to get through this whole maze in a healthier way. There are others who have gone before me, and many who are further along. But I am willing to help those who ask me. That doesn't mean I'm better or more perfect than anyone else. Why in the world should I be?
So I want to thank you for letting me be myself. I could have waited to put myself out there in a position of helping the way that I've done until I felt more comfortable in the way I'd be perceived. Instead, my readers and clients and friends have allowed me to just be myself...struggling along like everyone else, and trying to apply what I know...attempting to learn html just to get out the word about natural health, and all of the other things I've stumbled through! If I would have waited until I could afford to hire a webmaster, you wouldn't be reading this now.
This all brings me to what I'd like to say...THANK YOU, THANK YOU SO MUCH! I've been so well received by the people I've interacted with through writing this blog and my other activity online that it has made my work very, very worthwhile! I've received so many notes, cards, phone calls and letters telling me how much what I do has helped. That keeps me going, because I want so much to be a channel for healing good! So thank you for letting me know!
I'm also verrrrrrrrrrrrrrrrrrrrrrrrry thankful for what we've been given to heal.
AIR to breathe into our lungs and to carry throughout our whole entire body to live!
WATER to refresh our every cell and to move the nutrients along and the impurities out.
FOOD the way it was created...perfect, whole, nutritious, tasty andGOOD without GMO's!!!
HERBS which are really foods, too!!!! Herbs are food to every part of our body and provide what is needed to heal.
AROMA which is natural and fragrantly healing, touching us through the most sensitive parts of our mind.
COLOR to wrap us in vibrational healing, there to excite, calm, inspire and heal us in a rainbow of light.
SOUND - sounds of laughter, of birds, of raindrops, of singing, of crickets, of frogs and so many things which resonate through us to give vibratory healing clear down to the bone. Even the deaf benefit from sound healing, as do those with no voice of their own. Sound is healing both to hear and to make. Mostly it's something to feel. Sound touches us in so many ways.
MOVEMENT which carries our body from here to there to carry out the tasks we shoudl do. Movement that stretches us, and keeps our blood flowing. Movement of everything in us, representing vibration, again. (You can see where I got my name! Vibraceous is symbolic of all vibrational healing, which occurs in every form.)
RELAXATION is important, too. I forget that sometimes and I go, go, go, but then Life steps in and MAKES me relax when I don't take the time to do it myself! That's when my body gives way. It's much easier and more effetive and less stressful to just do it in the first place, I find. Meditation seems to take time, but in the long run it saves it by much. Meditation, sleep, and just plain letting all problems go and enjoying a quiet moment or two, even if in front of TV. (I don't even have TV! I really do need to learn to relax! Hahaha!)
LAUGHTER to massage the happy zone in our brain and to move all our organs around to feel good! Laughter is a really good thing and it sets happy and healthy chemicals off, besides oxygenating our bodies and a lot of other good healthy things. It also keeps our attitude up and that's always good in the healing realm.
TEARS are good, too...they release toxins and pain, besides of course washing our eyes. They wash our souls is what they do the best. There's a lot to be said for just sitting down and having a good cry now and then! Sometimes we think that we're not allowed. That's one of the biggest health problems I know! Waters flow for a reason for good within and without.
PRAYER has so much power to heal. Prayer has ALL the power, in fact! Positive prayers of belief that there is perfection within our design. Prayers asking for guidance of how to proceed. Prayers to have an open mind in the face of all else we are told, to keep believing that we can be healed. Prayers to see the good in life every day and to focus on only GOOD. (I believe God is Good!)
LOVE - of ourselves, of each other, of God. Love can heal all wounds and comfort all pain. Love of friends, family, animals, and life itself is what heals better than anything else. Even in death, when there is love, there is life.
I'm very thankful for the awareness of these healing gifts, and I'm grateful for the opportunity to pass this awareness along. It's more than an opportunity to me, it's a responsibility...part of what allows me to become more and more aware of these gifts all the time. It is in helping othres I learn. (Not that I'm practicing medicine...I'm not licensed for that! But I'm am trying to pratice as much natural health as I can!)
Today I am going to go to my mother's. Perhaps you've read of her in my writings before. My mom's 93 and cute as can be. She's the one who first taught me about natural health. I'm so happy to be able to be with her today!
Then on Sunday I'm going to cook here at home with the kids, and I'm also looking real forward to that! I'm going to make everything homemade....dressing, mushroom gravy, organic sweet corn and mashed pototoes and fluffy green salad and real cranberries that pop! I love it! Sweet potatoes with butter I'm going to whip myself from fresh cream, and whipped cream for on top of the homemade pumpkin pie that I"m going to make! Woo hoo! I don't eat turkey, but someone gave one to us and my kids and the cats and the dog will make sure it did not die in vain. God bless all the sweet turkeys at this time of year for the terrible sacrifice they make for us.
I'm grateful for all the animals and all the sacrifices they make, and I pray that people will learn to be kind.
I'm grateful for the beauty in all of nature, in everyone, in every song of the bird and every beautiful rainbow and smile.
I'm so thankful for my mom and my kids and my grandson and my sister and brother and all my cats, dogs and friends! I'm grateful for the people who have taught me so much, especially those that I serve.
I'm grateful for the relief from sickness I've had in my life, and I'm grateful to be free from drugs, alcohol, tobacco, and the addiction to many foods which are not good for me.
I'm grateful for my home, for my health, for the daily bread that I eat.
I'm grateful for the books and the knowledge I have and the experiences which have helped me along the way, and all the people with blessings and lessons for me.
I'm just grateful to be alive, especially when there have been so many times in my own personal life when I've almost died, mostly through my own neglegence to do things according to nature, although sometimes I just didn't know. In all of those cases I'm extremely grateful for GRACE!
I'm thankful to God for creating and sustaining all this.

So many things to be grateful for, even in hard times. I'm grateful to learn from the hard times and use them to soften my soul, and I'm grateful for the good times that come as surely as the rising sun.
I'm grateful to know that there's nothting that cannot be healed...no physical injury, no sickness, no relationship problem, no financial crisis...there's nothing, NOTHING that cannot be healed!
Thank you for visiting us here. Happy Thanksgiving, and as you set out to shop on Black Friday, please remember we have gift certificates
, services and products right here! We have select products and also a list of our preferred vendors from which you can choose. Please shop for good health on our site! If you need any help, let us know. Let us know, too, if there's anything you want but don't see. We don't have everything listed just yet, but if it's natural and good for your health, chances are we can get it for you!
I'm thankful that All Natural HealthWORKS!
Blessings to all...
Mary Jo Eshelman, ND, CTN, CNHP, D.D.
www.allnaturalhealthworks.com

Thank you for being here!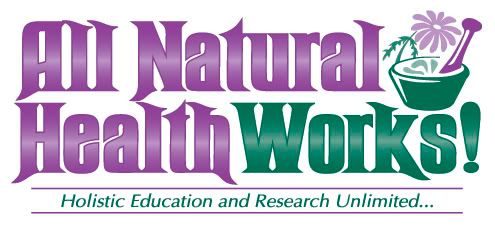 The information presented is the author's personal and professional opinion, and is intended for educational purposes only. Nothing printed here is designed to take the place of a physician's advice. If you are experiencing problems with your health, it is recommended that you consult with a licensed health care professional. All Natural HealthWorks! is not responsible for any damages or ill-effects resulting from the information presented herein, nor do we make any recommendations regarding your health. We are simply here as a resource for you in making your own choices for your health yourself.