Acting Naturally
Stage~TV~Movie Credits

Theater:
Appeared in Yale University Theater, Southbury Playhouse, Berkshire Theater Festival, Cincinnati Playhouse in the Park, American Repertory Theater...(click on the linkable titles for more info!)
Broadway:

"Macbeth"

Off Broadway:



"Judgement"
"The Elephant Man"
"Carlotta & O'Neil" (NY Shakespere Festival)
"Snow White" (American Place Theatre)
"Welded"
"You're Going To Be Alright, Jamie Boy"

Regional:


Yale University Theatre
"Rosencrantz & Guildenstern Are Dead"
"Peer Gynt"
Southbury Playhouse
"A Man For All Seasons"
"Look Homeward, Angel"
"Night Must Fall"
"Harvey"
Berkshire Theatre Festival:

"The Lion In Winter"
Cincinnati Playhouse In The Park:

"What The Butler Saw"
"The Contrast"
Odyssey Theatre:

"The Jail Diary of Albie Sachs"
South Coast Repertory Theatre:

"Search & Destroy"
An Ideal Husband
The National Tour: (35 cities)
"M. Butterfly"
American Repertory Theatre:

Macbeth
Olney Theatre:

"For Reasons That Remain Unclear"
Matrix Theatre:

Television:

Adams Chronicles (Charles Adams)
Curacao-aka: Deadly Currents (Van Vlaanderen)
Dallas: War of the Ewings (Peter Ellington)
The Elephant Man ** (John Merrick)
Millennium: Sacrament (Tom Black)
Monsters (Mack)
Star Trek: Deep Space Nine (Vedek Bareil/Antos Bareil)
The Thorn Birds (Dane O'Neill)
Tomorrow's Families

Movies:

Milena (1991-Franz Kafka)
The Man Inside (1990-Rolf Gruel)
Haunted Summer (1988-Lord Byron)
Malone (1987-Harvey)
The Horse Dealer's Daughter (1984-Dr. Jack Ferguson)
Testament (1983-Father Hollis Mann)
Mohammed: Messenger of God
(aka: The Message) (1976)
The All-American Boy (1973)

Literary Credits:

A Hearing of Harvests
Plague of Prochus
The First Thursday

Novel:

"The Moon Burns"
* Drama-Logue Award



** (Nominated)-Emmy Award & Golden Globe Award



***Obie Award, Drama Desk Award, LA Drama Critics Circle Award, Theater World Award, National Artist Award, (Nominated)-Tony Award



Lonely Planet

1982 Emmy Awards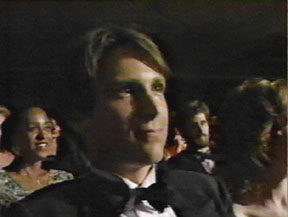 | | |
| --- | --- |
| Kevin Conway interviews Philip (Macbeth) for Stage on A&E | "I was going to be a veterinarian..." |
(Author's note: Thanks for changing your mind, Philip!)

TV Week cover - Jan. 1982


Photo featured from Nickelodeon Networks
"English Music Reborn" hosted by Philip
in conjunction with his run of "The Elephant Man"

Publicity photo from
"Haunted Summer"


Thank you for your interest in Philip!
This is a 100% fan-created & maintained web site, and is in no way affiliated with Mr. Philip Anglim.
These pages are dedicated to the artists & works shown here.
No copyright infringement is intended.