Hawkman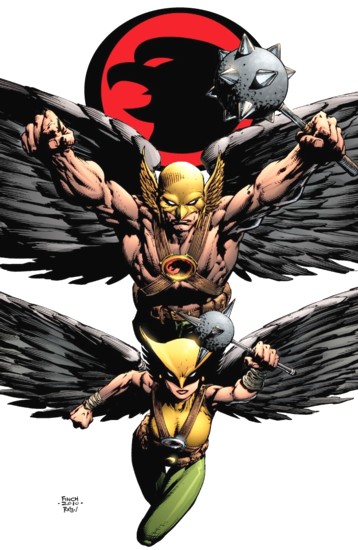 Carter Hall and Kendra Saunders are destined to fall in love. As Prince Khufu and his consort, Chay-Ara, they perished centuries ago while battling an Egyptian sorcerer only to be reincarnated repeatedly throughout the ages their fates forever intertwined. At one another's side in each lifetime, the fought in the service of justice and honor.
Eventually at the dawn of the modern heroic age, their souls finding one another again as Carter and Shiera Hall: Hawkman and Hawkgirl.
In this incarnations, however, their relationship took a stunning turn when Carter cheated the cycle of death and rebirth and Shiera didn't. Unwilling to separate from Carter, Shiera's soul held to this life by intermingling with that of her grandniece, Kendra Saunders, but at a terrible cost. Like Carter, Kendra is driven to heroism. Unlike him, she has no memories of any past lives and rebels strongly against her feelings toward this man she seems fated to love.
As apart as often as they are together, these winged hunters soar above St. Roch, Louisiana protecting its citizens from bizarre menaces both earth-based and intergalactic. Whether their passion can someday be rekindled, however only time will tell.

Heroes:
Hawkman
Hawkgirl

Supporting Cast:
Cyril "Speed" Saunders
Oliver Evans
Danny Evans
Jeremy Barlow
Susan Morrison
Officer Isabella

Other Heroes:
Golden Eagle
Hawkwoman
Doctor Fate
The Atom

Equipment:
The Brontadon
Hawkman's Armory

Villains:
Hath-Set
Queen Shrike
Shadow-Thief
Gentleman Ghost
Copperhead
Tigress
Fadeaway Man
Northwind
The Headhunter
Sin-Eater
Vandal Savage
Brother Grimm
Byth
Lion-Mane
St. Roch
Trygg the Sorcerer
Blackfire
The Spider
Matter Master
Demon Gray
Airstryke
Fahir

Villainous Groups:
The Manhawks