---
---
---
Asian Adventures
Doing Time in a Japanese Detention Center
---
One Night in Kagoshima
---
Singapore's Kampong Glam
---
+ - + - + - + - + -
» Asian Tourism Growth Despite Global Economic Downturn: 2012 Report
» Beijing Capital Airport
» Budget Flights and No Frills Airliners in South East Asia
» Getting a Massage in Singapore
» In Transit in Singapore
» Kuala Lumpur International Airport
» Malaysia Massage and Spa Guide
» Singapore ODP
» Singapore's Changi Airport Guide
» Shopping in Singapore: Best Denki
» Study in Singapore
» Suvarnabhumi Airport in Bangkok Thailand
» Tripzilla
---
Singapore Airport Hub // Lost in Transit // Star Alliance, & Playing the Points Game


SINGAPORE AIRPORT OUGHT TO BE CONSIDERED A TOURIST ATTRACTION IN ITS OWN RIGHT FOR ITS SHEER OPULENCE AND BEAUTY AND THE RANGE OF THINGS YOU CAN DO THERE. The place consistently wins awards for excellence and is described as one of the best airports in the world, as well as a busy Asian hub (the 5th busiest in Asia, and the 19th busiest in the world, in 2007). While London Heathrow was going into meltdown following its recent expansion, Singapore Airport's new Terminal 3 opened without a hitch earlier this year -- or almost without a hitch. The S$1.75 billion Terminal 3 opened on 9 January 2008, a little delayed due to the War on Terror and the subsequent stalling in traffic growth. Even before it opened, Terminal 3 had become a tourist attraction of sorts in the island republic. As Singapore Sights wrote: "Terminal 3 features a unique roof architecture which allows soft natural light into the building while keeping tropical heat out. The one-of-a-kind design has 919 skylights with specially designed reflector panels which automatically adjust themselves to allow an optimal amoutn of soft and uniform daylight into the terminal building. The overall effect is a soothing ambience at all times of the day. "Another key highlight of Terminal 3 is a five-storey high vertical garden, called the Green Wall. Spanning 300 meters across the main building, it can be admired both from the departure and arrival halls. The Green Wall is covered with 25 species of climbing plants and is interspersed with four cascading waterfalls. In addition, a sculptured sandstone art wall display with multi-language weclome messages located below the Green Wall offers an artistic treat for arriving passengers waiting for their baggage..." Meanwhile, Changi has been courting both premium and budget travellers with the opening of a commercially important persons terminal by JetQuay and a S$45 million Budget Terminal in 2006. To further diversify the picture, a new full-service nine-story Crowne Plaza Hotel is under construction, immediately adjacent to Terminal 3.

According to Changi Airport's own official website, which rates me as one of their friends, the airport boasts the following amenities:

1 -- Miles of duty-free shopping, the usual kind of stuff you would expect to find in an airport -- but also shopping of a seriously more upmarket calibre. Inside Retailing Magazine reported in January 2008: "Apple, FIFA, Vertu, Sony Style and Ferrari are brands usually associated with up-market shopping malls. Now they're coming to an airport near you - well, near to those travelling internationally anyway..."
"Singapore Changi Airport's long-awaited third terminal, T3, will open on January 9 with more than 100 retailers and 40 food operators vying for the cash of not just travellers but locals as well.
"While 55 of the new retail tenancies and 20 food operators will be air-side - which means only travellers can access them - another 45 shops and 20 food vendors will be accessible to Singaporeans who aren't flying anywhere.
"'For Singaporeans, a trip to the airport is something the whole family likes to do, so we want to give them more reason to come out here,' an airport spokesperson told Inside Retailing Magazine on a tour of the new terminal, currently under systems testing..."
2 -- Rooftop swimming pool with accompanying bar (of course!).
3 -- Gardens and koi ponds featuring cactus, bamboo, ferns, sunflower, and heliconia -- truly beautiful believe me!
4 -- Sleeping chairs fitted with vibrator alerts to wake you up when your plane leaves (I'm planning to camp out there the next time I find myself stranded with no money, as happened in 2003!) I'll just plug in my ear-plugs and doze off!
6 -- A sports bar with a complicated payment system, which seems to involve the manager having to validate every purchase, and the signing of paperwork. This frequently results in the staff forgetting to give change to customers, and customers getting angry and storming off to find another bar (of which there are many, thankfully!)
7 -- A free movie cinema (that's right, a free cinema in an airport!) with a big screen and cinema-style seats and 24-hour rotation. The only thing missing is the popcorn. And the only catch is all the movies they play seem to be cheesy B-grade American movies, the sort that might appeal to teenagers (and Singaporeans, no doubt!)
8 -- Countless restaurants offering an international range -- sushi or Indian curries, for example. There is one particular Indian curry shop at Changi which I adore, which I visited in the initial phases of my first trip to Iceland. Says Laura: "There is a fantastic indian restraunt on the second floor in terminal 1, has the best Dosai (Indian pancake with a yummy potato filling) and its pretty cheap too."
Those dosais were a little too rich for me and combined with the cheese I couldn't even finish them. But thanks for the tip Laura! And although I haven't ever passed the night there yet, I am sure my time will come soon -- and that will be one of the great experiences of my life!
9 -- Traditional culture shows using live actors. On my last visit in August 2003 there was a Chinese magician-cum-martial artist juggling plates and catching knives and so on. At one point his assistant tried to ram a sharp spear through his throat. By some Shaolin magic of mind-over-matter, the martial artist was able to stop the spear from piercing his neck. The assistant pushed and pushed, the spear started to bend almost 180 degrees -- and the only wound the martial artist suffered was a little blood. This little blood was enough to freak out some Scandinavian children in the crowd, who had to run back to the shields of their mothers.
10 -- A downstairs foodcourt set up in the typical Singapore "hawker's market" style, featuring such delicious dishes as chicken laksa (you need tissues because it sure is spicy!).
11 -- A science museum and "Timezone Australia" arcade lounge...
12 -- Designated napping areas and specially designed snooze chairs free of charge. Or, for $AUS23 for three hours, you can sleep in your own chamber at the shower, fitness and lifestyle centre. A room with television and a private bathroom in the Ambassador Transit Hotel - which is within the airport - costs $AUS44, or a budget room with shared bathroom is $AUS30.
13 -- If pampering is on your itinerary, the Aromazone massage centre has aromatherapy, reflexology and massage treatments. A one-hour aromatherapeutic massage treatment costs $AUS58. A traditional foot reflexology session, helpful in relaxing nerves and tracing "qi" imbalances, is $30 per half-hour, as is a head-and-shoulder massage.
14 -- Changi's fitness centre or the gym in the Ambassador Transit Hotel have sessions for between $AUS8 and $AUS12 (including hire of sports attire and footwear). At the rooftop swimming pool and jacuzzi complex, a swim and shower costs $AUS10. You must bring your own swimwear but soap, shampoo, shower gel, moisturising lotion and towels are provided. If you're feeling a bit out of puff after your workout, head to the oxygen bar, where 10 minutes of pure oxygen costs $AUS12.

Anyway, you get the picture: it is one kick-ass airport, consistently voted the best in the world. You could spend the day in there, and still find things to do. Maybe start the day with a swim in the pool, a massage, check out the science museum, and then catch a cheesy movie in the cinema. By this time it is lunchtime so you could order some of of the huge cheese dosas and mango juice they serve in one of the Indian restaurants, or perhaps a round of sushi. Since it is now afternoon it is okay to start drinking, so I would hit the bars for a chance to meet fellow travellers waiting for their planes, or to watch a bit of TV (there are special viewing lounges set aside for CNN or BBC or the Discovery Channel, for example, as well as sports areas where you can watch boxing or the golf.) There are options all round, and plenty of beverages to be consumed.

Given that I have been to Singapore so many times, I want to create a website which celebrates the city and provides information for the curious outsider. This particular page, however, is dedicated to the city's Changi International Airport, which is so cool and offers so many fun things to do, that it deserves to be considered a tourist attraction in its own right. bought a number of small electronic things at the airport saving me having to haul it around. The restaurants and food hall upstairs is double the price of the city but when the prices in town are S$3-4, whats S$8 when compared to other airports? Free internet is fantastic. The most exiting thing I found when I went back in March 2005 was free X-Box Live! But I didn't get a go coz my flight was soon and plus I would have to pry the controls out of the cold dead hands of the players."

Wrote one of the knowledgable writer-folks at Ft.com: "Bright, shining Changi Airport is one of the very few immigration desks I have passed through that offer bowls of sweets as you wait to have your passport examined - on my last trip, they were Fox's Glacier Fruits." And last but not least, SavvyTraveller writes: "I actually look forward to a trip to Singapore just for the airport. I've never seen anything like it. I mean, how often do you hear the sounds of fake birds at an airport? I'm in the orchid garden, home to a small pond and the soundtrack of chirping birds. It's a tiny island of plants surrounded by a sea of carpet right in the middle of the departure terminal. For something less serene, let's wander upstairs and take in a free movie..."

These writers have said it all, and better than I can say it myself. Changi Airport is cool. I can't wait until I make it down to the Singaporean island again, and enjoy a long layover at the airport.

/2007/08/indian-food-changi-airport-singapore.html">Indian Food @ Changi Airport // Try the Aishah Indian Rojak and Rex Satay in Changi's car park hawker center // Indian Food in Singapore

"THE AMBASSADOR TRANSIT HOTEL IS BARE BONES, BUT OFFERS MUCH BETTER SLEEPING CONDITIONS THAN ANY AIRPLANE BED, FLAT RECLINER OR NOT. It can be difficult to book a reservation ahead of time, but there are a number of economy rooms, which are rarely fully booked, and even when they are, I have been able to get a room within an hour or so of waiting around at the desk. The regular rooms have between 1 and 4 beds, a small desk, television, and bathroom. The economy rooms are smaller, some do not have a television, do not have a separate bathroom, but are adjacent to the gym, where there are a number of shower rooms.
"Interestingly, the rooms have indicators pointing to Mecca, for the convenience of their Islamic clientele. There is also a small children's play area on the ground floor, but I've never seen any families at the transit hotel. It usually seems to be business travellers, and people are just trying to sleep. International flights are coming and going around the clock, so the hotel books blocks of six hours at a time, which can be extended by the hour. It costs about US$35 for a room.
"Use of the terminal 1 transit hotel gym, showers, and swimming pool are included in the room charge, but can also be purchased separately. The transit hotel gym has a fairly new Precor treadmill (was finally replaced this spring), a stationary cycle, and a few weight machines, and a rack of dumbbells. The shared gym showers are much nicer than the ones in the rooms. They're equipped with glass doors and soap dispensers, while the ones in the rooms have just a curtain, with a drain in the floor (so the whole bathroom floor gets wet), and little packets of soap (which are hard to open).
"The swimming pool is on the roof of the building, and is accessible through the Terminal 1 gym. The pool doesn't open until something like 9am, so I've only used it on a couple of occasions when my outgoing flight was delayed..."
Champion credit card churner and travel blogger One Mile at a Time stayed at the Aerotel Transit Hotel in 2016 and wrote: "The room itself was gorgeous, easily the nicest airside transit hotel I've ever seen. It featured two beds. They were firm, though not uncomfortably so. The pillows were rather thin, though since I was alone I could use all four pillows (two under my head, and two to hold).
"Across from the beds was a desk with a chair, as well as a lounging chair.
"At the desk were international outlets, which I was happy to see (you'd think they'd be a given, but you'd be surprised…).
"I'd note that the room doesn't have windows. While there are shutters at the far end of the room to create the illusion that there are windows, that's not the case. That's a good thing, since it means the room is completely dark with the lights out, even in the middle of the day..."

homeless in
japan


styling it
vietnam


ripped off in india
mumbai
Book a MaxiCab limousine in Singapore // The Singapore Taxi Man Says // To and From the Airport in Singapore

LIKE ONE MILE AT A TIME, I OFTEN FLY INTO STRANGE CITIES NOT KNOWING EXACTLY WHERE I WILL BE STAYING THAT NIGHT. I try to rely on the accommodation counter at the airport to find me somewhere good and, hopefully, cheap. Sometimes, as in the case of Mumbai, this leads to a lot of confusion and getting ripped off, rides through the unlit streets in dodgy cars, and sleeping in slums. Sometimes, in the case of Kuala Lumpur, it ends on a sweeter note. If you are flying into Singapore and you haven't arranged digs for the night, the SHA counters at the Singapore Changi Airport can help you with hotel bookings.

Daily opening hours of SHA counters at Terminal 1:
East Counter: 1000 hrs – 2330 hrs
West Counter: 24 hours Daily opening hours of SHA counters at Terminal 2:
North Counter: 0700 hrs – 2300 hrs
South Counter: 24 hours One way to travel to and from Singapore Changi Airport is to take the MaxiCab, a six-seater taxi shuttle service operating daily from 0600 hrs to midnight. The shuttle service stops at Concorde Hotel Singapore, Crown Prince Hotel Singapore, Excelsior Peninsula Hotel, and Marina Mandarin Singapore. The shuttle offers a flexible routing system between Singapore Changi Airport and almost all hotels within the city. Bookings can be made at the aforementioned service counters.

medical trials
japan


tokyo
lock up


suvarnabhumi airport
bangkok/thailand
Kampong Glam, the new Alternative Heart of Singapore // What movies will I watch on Singapore Airlines this month? // What movies will I watch next month?
BIG FOOT MASSAGE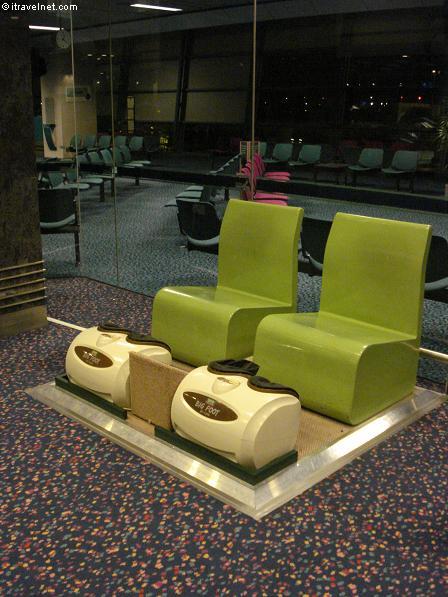 ONE OF THE OUTSTANDING ASPECTS OF CHANGI INTERNATIONAL AIRPORT IS THE ABUNDANCE OF HIGH TECH GIZMOS WHICH CAN BE USED FREELY (AND FOR FREE) BY PASSENGERS. Consider, for example, the e-hub on the second floor of the Transit Lounge, which allows VoIP (Voice Over Internet Protocol) capability, or IP phone technology. Changi International Airport has great tech throughout -- that so much is a given. But of course great technology doesn't mean squat, if you don't have the personality to back it up. Friendly staff and colorful characters are necessary to complete the equation. Below I want to recreate one of my more eccentric experiences at Changi International Airport -- my encounter with a mad fundamental Christian preacher who also happened to work at the airport. It happened in the transit lounge.

THE AIRBUS A380
This story from James Wallace, aerospace reporter at Seattle Pi:
"A new era dawned in aviation Thursday when the Airbus A380, some 18 months late but creating the kind of buzz not heard in passenger jet travel in nearly 40 years, made its maiden commercial flight from Singapore to Sydney, Australia.
"Painted in the gold and blue livery of Singapore Airlines, the plane that Airbus has called the flagship of the 21st century carried 35 crew members, including four pilots, and 455 passengers, some of whom paid a bundle in an online auction for seats on the historic flight -- more than $100,000 in one case.
"When the A380 lifted off from Singapore's Changi Airport at 8:15 a.m. local time, it officially took the title from Boeing's 747 as the biggest commercial jetliner, a crown the world's first jumbo had proudly worn as the queen of the skies since entering service with Pan American World Airways in 1970.
"'This is one of those times when no one is in a hurry for the plane to get there. I think we all just want the experience to last,' Everen Brown of Salt Lake City said about halfway through the 7 1/2-hour flight.
"Although he was in a coach seat on the lower deck, Brown was so impressed that he was hoping to change his return flight to Singapore in a few days and take the A380 back instead of a 747-400.
"Like many on the A380, Brown loves airplanes and aviation. He was on the first Boeing 777 that entered commercial service with United Airlines in 1995. He was also on the final flight of the Concorde from Canada."
CHANGI VILLAGE HOTEL


n e g a t i v e + e x p e r i e n c e s
NOT EVERYONE HAS THE SAME VIEW OF CHANGI AIRPORT AS I DO -- and some people are downright negative in their assessments. Malachy Roscoe for example had this misadventure to relate:
Having transited through Singapore recently from Perth to London I was only too happy to have a few hours to explore what most of your contributors claim is the world's best airport. My outward flight had such a tight connection I had no opportunity to enjoy any of the facilities. As a Star Alliance Gold card holder I looked forward to experiencing the hospitality of Singapore airlines and hoped that the service they offered on the ground was equal to that offered in the air. Unfortunately I was left disappointed on both counts. The airport was crowded with very little seating available even at 4am, I found the large selection of shops offering pretty much the same selection as one another and the layout was confusing and cramped. Regarding the hospitality of Singapore airlines, as I approached their business lounge I was quickly turned away and instructed to visit the dedicated Star Alliance lounge. On entering the lounge the attendant in true Singapore style was welcoming and helpful; I requested a shower which was my main reason for visiting and was informed showers were available inside the lounge and given a towel and toiletry kit. I entered the lounge to find it extremely small for such a large hub and a major alliances lounge. There was one shower which you had to queue for and no seats became available during the 1 hour wait for the shower to become free. There was not even an attendant to clean the shower between customers! The food and beverage selection was atrocious and no reading material was to be found.
..
v i s a + n e w s
SOME NEWS FOR TRANSITEES FROM CHINA AND INDIA: For a limited period starting from 1 October 2005, 96-hour visa free transit facilities (VFTF) will be available to PRC and Indian nationals without the need of letters of guarantee by airlines if they are in possession of a valid onward air ticket departing within the next 96-hours and satisfy the following criteria:
Possess a valid visa/long term pass (validity of at least 1 month) issued by any of the following countries*: a. Australia b. Canada c. Japan d. New Zealand e. United Kingdom f. United States of America The 96-hour VFTF is eligible to PRC and Indian nationals who are in transit to or from any third country. However, transit passengers who satisfy the above criteria are not guaranteed entry but are still subjected to Singapore's prevailing entry requirements. Transit passengers who satisfy all the above requirements and allowed entry will be granted a stay of up to 96-hours (4 days) in Singapore. Extension of stay for transit passengers under this VFTF scheme is strictly not allowed. Please check with the Singapore Visitors Centres at Changi Airport for more information. With a variety of travel options like the Free hourly shuttle to town, Free city tour, Tourist Day Pass and Taxi Tour Guide, you will be spoilt for choices while transiting in Singapore. Apart from the travel options, transit passengers can enjoy a FREE snack voucher* OR a FREE shower facility voucher* for a refreshing shower after they return from the city. Simply collect your voucher from our Singapore Visitors Centres at the Arrival Halls of Changi Airport with your transit pass and passport for redemption at the following outlets: Shower @ Rainforest by SATS Changi Airport Terminal 1 #034-06 3rd Storey Departure/Transit Lounge Snack @ Brek Ristorante Changi Airport Terminal 2 #026-109 Departure/Transit Lounge
---