Private Business Falls from Fiscal Cliff

How certain are American business owners of all political stripes that the 'Fiscal Cliff' will be avoided?

Liam Denning writing in the November 9th, 2012, Wall Street Journal, reports that so far in 2012, the sale of private businesses (such as 'Lucasfilm' to Walt Disney Co. for $4.05 billion) are up 45% more than for the entire year of 2012.

This is because in 2013, less than six weeks away, the capital gains tax is set to increase from 15% to 25%, which, for you public-school-educated kiddies, is a 40% increase in the tax rate.

In 2013 Obama-voters, with the capital gains tax then set at 25%, will be gleeful that multi-multi-millionaire, the evil Mitt Romney, will be subject to paying 40% more on any income from his cancer farms and penal camps.

The only thing these same idolaters don't understand (not including their absolute ignorance of the free market, economics and how to make change for a five) is that a 40% increase in capital gains taxes will cause investors in business, and creators of new businesses, (and jobs), to look elsewhere in order to invest their dollars so as to not suffer such a high tax rate on any profits they may generate.


posted Monday November 12, 2012 . . . . . Mr Wonderful Talks Politics @ www.mrwonderful.org
Suicides in the U.S. Army

Hood, Army suicides hit record mark reports the 'my San Antonio.com' web page.

301 suicides in 2010 with an Army strength of 539,675?

That works out to a .056% suicide rate, probably one-quarter of what the general population suicide percent is. Why would that be? Because the losers don't make it past the recruiter, while the posers are weeded-out during boot camp.

Since the DeMedia hates our volunteer Army, it will headline any 'news' that will help dismantle it. Because, like John Lennon, these history-nincompoops believe we can 'Give Peace a Chance.' Only problem is, that without a strong, massive, cohesive military, America, just like John Lennon, will die in a flash.


posted Thursday January 20, 2011 . . . . . Mr Wonderful Talks Politics @ www.mrwonderful.org
"Quanitative Easing Explained" by malekanoms
Quanitative Easing 2, inflation, deflation and how former Goldman Sachs executives in the Federal Reserve enrich their buddies left behind on Wall Street is all explained here.

Bottom line, QE2, if enacted, is hoped to pump 600,000,000,000 more dollars into the U.S. financial economy. This is the definition of inflation, pure and simple. Think about it, after QE2, there will be $600 billion more dollars to lend, where before there was nothing but U.S. Treasury Bonds earning 2% interest sitting in bank vaults.

posted Thursday 11/18/2010 . . . . . Mr.Wonderful Talks Politics @ www.mrwonderful.org
Boehner: "Hell no you haven't!"
The winning side on the Health Care Debate, while emoting little, simply doesn't understand why there is such passion on the other side. This is because the losers (composed of Dems. Reps. & Independents) are seeing every option in regards to their own health care choices being taken out of their hands and instead put into the hands of bureaucrats paging through a 2,409 page document enforced with a newly recruited 16,000 man army of Treasury agents.

The winners show little passion, because, like the rich parent's 16 year old daughter at private school getting her first BMW convertible from mommy and daddy, they only perceive they are getting something real pretty for simply existing.

posted Thursday 03/25/2010 . . . . . Mr.Wonderful Talks Politics @ www.mrwonderful.org
Vegan: No meat for you!

Dennis Miller interviewed CNN reporter Jane Velez-Mitchell on his radio show Tuesday night while she plugged her autobiography iWant: My Journey from Addiction and Overconsumption to a Simpler, Honest Life.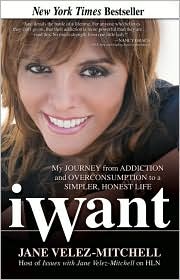 She blamed her alcoholism on inheriting the disease from her father. She quit drinking at age 39, 14 years ago. (I'm not exactly sure how you can quit a disease.) Shortly afterward she discovered she was addicted to consumption. I guess that means she bought stuff just to buy stuff. I had to pay for my $2.19 gallon of Lucerne whole milk tonight with nickles and dimes and my last one-dollar coin, so I'm pretty sure I am not currently suffering from an addiction to consumption. Too bad I can't say that about alcohol.
Shortly Jane discovered she was gay. Then she decided to become a Vegan and stop eating meat or meat products because the animals are treated so poorly and, more importantly, they are a major cause of global warming.
When Dennis Miller tried to find a middle ground by asking her that while he considered himself a good person, but if he still ate meat, would she still consider him a good person?
That's where the train came off the tracks with Ms. Velez-Mitchell doing a damned good job of channeling the ranting manner of Sam Kinison while pretty much screaming at Dennis and us about just how horrible to her mind the business of raising animals to eat their meat is. Then she quickly segued into a screed about pork causing thousands of deaths in the United States from swine flu.
Really?
At the next traffic light I was forced to wipe the spittle off my car radio speaker, while at the same time saliva filled my mouth, as I looked to my left at the steaming Jack in the Box restaurant and remembered that, if I had the five dollars, I could buy 10 tacos. Ten meat tacos.
Miss Jane Velez-Mitchell's attitude is why this column is on my political page, not my Current Events page, because Vegans, those who eat no meat or meat products, are one hundred percent militant in their beliefs.
If these Vegans become involved with our government, if they get their spinach-stained hands on the levers of power, their anti-meat madness will destroy the American meal and further demolish our economy.

posted Wednesday 11/18/2009 . . . . . Mr.Wonderful Talks Politics @ www.mrwonderful.org
Arctic Seed Bank

At first I thought the whacky Alex Jones was being his typical nutty self when he told us that the "world's elite" were saving seeds in the Arctic. But, here it is the Arctic Seed Vault.

And, isn't it so convenient that it is located in the Arctic, so that these same 'world elites', pushing their unrelenting program to force the civilized world into living like the proletariat did in the Soviet Union last century, can now wail even louder about 'global warming'?
This is simply another step in convincing the citizens of the world that we are so inept that we absolutely need a world government to protect us--a government where, like in the proposed E.U. Constitution, the presidents of the individual nations would not run for election (as awful as that is) but instead be appointed by existing members of the world government.
The odd thing about even the perceived need for a 'doomsday' seed storage vault is that the entity most likely to render a world wide catastrophe is a government, especially a world wide one.

posted Monday 09/07/2009 . . . . . Mr.Wonderful Talks Politics @ www.mrwonderful.org
Cash for Clunkers

The cash for clunkers scheme is going hot and heavy.

This thing is an absolute joke. People don't realize that the $3,500 to $4,500 is going to a car dealer to make it easier for these slime-balls to get marks into the showroom.
I think it's really nice that Illegal Aliens can take part in this program since they all own a 1992 White Crown Victoria or a 1988 Dodge Caravan.
I pay about $5,000 in taxes every year. I am struggling to make the $244 per month car payments on my 2006 Cobalt POS, that gets around 30mpg. It warms my heart to know that my tax dollars are making life easier for Illegal Aliens and luxurious for car dealers.

posted Wednesday 08/05/2009 . . . . . Mr.Wonderful Talks Politics @ www.mrwonderful.org
Saturday 04/11/2009
Obama Administration's Word of the Day

From Dictionary.com we have: Portend portend \por-TEND\, verb:

To indicate (events, misfortunes, etc.) as in future; to foreshadow; to bode.
Mr. Wonderful uses the word in a sentence:

Obama's $3,600,000,000,000 injection into the U.S. economy portends an inflation rate far above 10% before the end of this decade.
Pirates & Pilgrims

In the 21st Century it is politically incorrect for merchant ships to wield defensive weapons of any sort.

Thank God that in the 1600s we had no political correctness to command our behavior.
From the book--A Great and Godly Adventure: The Pilgrims and the Myth of the First Thanksgiving by Godfrey Hodgson, copyright 2006

page 63: "The Pilgrims anticipated having to defend themselves ... So Mayflower carried twelve artillery pieces, eight "minions" and four "sakers."

footnote 14. "... says a saker, or "sacre" weighed 1,500 pounds, and had a 3.5-inch bore and a range of 360 yards, while a minion weighed 1,200 pounds and had a 3.25-inch bore and a range of 340 yards.
These artillery pieces weighed more than one-half ton each, sans cannon balls & black powder, and consumed extremely valuable deck space, so they were hardly an afterthought.
And now we find the pirates have attacked the U.S.-flagged unarmed container ship, the Maersk Alabama, made off with Captain Richard Phillips, and are undoubtedly demanding ransom payment while the destroyer, the USS Bainbridge, is being held off as frantic poll-taking proceeds in the Obama White House.

posted Thursday 04/09/2009 . . . . . Mr.Wonderful Talks Politics @ www.mrwonderful.org
12/16/2008
Stupid Statement by Government Lawyer

From the Arizona Republic approximately December 7th, an article about Arizona Congressman Rick Renzi (R) facing federal indictments based on crimes uncovered using wiretaps which may have violated the Constitution's 'separation of powers' clause:

Justice Department lawyer Andrew Levchuk described such a postion as "unprecidented," then added, "What got us here is Congressman Renzi's flagrant criminal activity, and not anything the government did wrong."
What may not be instantly obvious to my multi-tasking readers is that both Congressman Renzi and the Justice Department are the government, so that it is clear that someone in 'the government' did something wrong.
Barack Obama
our first Black President from Kenya
Facing accusations that millions of alleged donation dollars were coming from outside of the United States, thousands of accusations of voter fraud, the evidence that he had zero of any kind, shape or form of executive experience, the claims that his mentors included a terrorist who bombed the Pentagon (and ghost-wrote his first book), a long-time pastor who hated Whites and America, and a wife who despised the country she was born in, paired with the fact that the President-elect can no more prove his U.S. citizenship than Madona prove her virginity, did not keep voters in America from placing the admitted cocaine user, Barrack Hussien Obama in the White House.
This is a great victory for Marxism and for our government school system.
For government school teachers, paid with tax dollars, (confiscated under the threat of ruin, prison or both from citizens, businesses and corporations), have so brainwashed several generations of our children into the belief that America, Israel & Capitalism are the most cruel, selfish and racist institutions on the face of the Earth they were convinced that only by electing a person of color promising to spread the wealth from those who earned it to all American residents could virtually 100% of our evil past be erased and the United States be once more be respected by France, Russia, China, North Korea, Cuba and Syria.
What Promises Won Obama the Election
1) National health care designed by government life-time bureaucrats, whether you want it or not.
2) Gasoline at $4 a gallon and higher.
3) The ruin of the coal industry, which supplies 50% of our energy needs.
4) Taxing only the upper 5% of income earners to fuel his programs that will make the lives of the other 95% so much better.
5) A federal police force headquartered in Washington, D.C., that would override any and all local law enforcement. (Don't piss-off the King.)
6) Return of the 'Fairness Doctrine' and shutting down evil conservative talk radio and finally returning music to the AM dial.
7) Placement of federal judges who would re-write the U.S. Constitution rather than defend it.
8) Comprehensive Immigration Reform, which would make all individuals in this country illegally, instant U.S. citizens, so that they may compete with any and all citizens for employment, for college, for loans, for college loans, for welfare, for medical services, for home loans and for elected office.
9) Passage of the: "The Employee Free Choice Act" (Union Card-Check law) where votes by employees deciding for or against union representation *, will no longer be covered under secret ballot, so that union thug organizers can ferret-out and then openly intimidate those workers who don't want to join the union and coerce them into voting for union membership against their will.
* in the early 1970s your Mr.Wonderful was coerced into joining the 'Picker-Packers' union at our Phoenix, Arizona Revlon warehouse. Starting wage was, in today's dollars, somewhere between $14 and $17 an hour. Unable to earn a profit (which is what Capitalism is all about) the warehouse was first robotocized, cutting the workforce in one-half, and then when it still wasn't able to produce sufficient profit, it was closed altogether. Note: if you're a man, and you have balls, you don't need a union, because contrary to what you've been told, there is only one thing a union cares about and that is: The Union.

(revised Tuesday 12/23/2008)
posted Tuesday 11/04/2008 . . . . Mr.Wonderful Talks Politics @ www.mrwonderful.org
Obama Problemo: Is He a Citizen?

Obama is postponing his Presidential race and on Thursday October 23rd, he is flying to visit his seriously ill grandmother, Madelyn Dunham, in Hawaii. Some claim he is actually in Hawaii to locate his original birth certificate located somewhere in the possession of his grandmother.

While like most people I had discarded the claims as to whether Obama is a U.S. citizen or not, as sour grapes, but when I went to look at his supposed Hawaiian Birth Certificate ("Certificate of Live Birth") on the left-leaning LA Times web site, and then read the comments afterward, I began to wonder.

I dug out a birth certificate that was issued in the State of Arizona nine years after Obama's. You can compare them for yourself. The Obama Hawaiian "Certificate of Live Birth" is clearly a sanitized mock-up, spit out of a 21st Century laser printer. As a matter of fact, this certificate brings back to my mind the identity thieves who stole my banking information, printed up official-looking checks on a laser printer, and then tried to turn them into cash.
This is Obama's birth certificate
dated August of 1961
Note form name at bottom of page:
"OHSM1.1 (Rev.11/01) LASER"
Where is Mr. Obama's original
birth certificate?

This is an Arizona State birth
certificate dated May of 1970
We are not running a background check on a security guard who's going to walk the fence outside some used car lot on Van Buren Street. In November, we are electing the most powerful man on the planet, the President of the United States, and there should be no doubt that this person is an American citizen. This is not a case of the government having to prove Obama is not a citizen, but instead, that he must prove he is a citizen.
Who is a citizen? You can read here and learn who is considered a citizen. You will see that it states: "By birth, either within the territory of the United States or to U.S. citizen parents, or..." And note that it states "parents", meaning both parents must be U.S. citizens.
The Obama campaign has admitted that his birth father was a citizen of Kenya, so by default, if Mr. Obama was not born in Hawaii, he was assumed to have been born in Kenya, hence he would not be a citizen of the U.S.
One final comment is, that considering the number of books I've read about the United States federal investigative agencies, such as the CIA, NSA, FBI, et cetera, (many of which are dominated by left-leaning career employees) right now, someone has got to know the truth. What is it?

posted Thursday 10/23/2008 . . . . . Mr.Wonderful Talks Politics @ www.mrwonderful.org
10/05/2008
Obama's Communism vs. Capitalism
I was watching a movie preview when I saw the U.S.S.R.-manufactured Yugo automobile, and imagined it a clear demonstration of the difference between our current economic system and the one, 'The One', Obama would force on us:
The Soviet Union built a Yugo, of which 19 years after the fall, are only seen in movies, and then as a joke. In 1953 the United States built a Chevrolet Belair, which 56 years later, is still driven daily on the streets of Communist Cuba.
From the Rumor Mill: Biden Out & Hillary In

(I don't often re-post, verbatim e-mails I receive, but this looks like a good one. A move like this doomed the 1972 McGovern-Eagleton ticket.)

"If the following is really true, it will be an interesting turn of events to watch. You will want to read this.
On or about October 5th, Biden will excuse himself from the ticket, citing health problems, and he will be replaced by Hillary. This is timed to occur after the VP debate on 10/2.
There have been talks all weekend about how to proceed with this info. Generally, the feeling is that we should all go ahead and get it out there to as many blog sites and personal email lists as is possible. I have already seen a few short blurbs about this - the 'health problem' cited in those articles was aneurysm. Probably many of you have heard the same rumblings.
However, at this point, with this inside info from the DNC, it looks like this Obama strategy will be a go. Therefore, it seems that the best strategy is to get out in front of this Obama maneuver, spell it out in detail, and thereby expose it for the grand manipulation that it is.
So, let's start mixing this one up and cut the Obamites off at the pass - send this info out to as many people as you can - post about it on websites and blogs - etc."
---
"Brain Aneurysms: Rare, but Usually Deadly If They Burst"

"Tubbs Jones memorial a reminder of Biden's aneurysms"


posted Thursday 09/18/2008 . . . . . Mr.Wonderful Talks Politics @ www.mrwonderful.org
7/29/2008
ObamaCare

If the disciples of Barrack Obama believe that their candidate cares about them, let them ponder this. Mr. Obama voted against the Born Alive Infant Protection Act.

What's that? That is when an abortion (the only surgery in which success equals death), is botched, and a viable fetus is remains. In English, that means a living, breathing baby was born where only dead meat was expected.

The Born Alive Infant Protection Act would require that all means available are used to keep that infant from a botched abortion alive. However, Mr. Obama thought in voting for the act, that, that would be an attack on Roe vs. Wade, an attack on 'choice', so instead voted for the babies to die in the heavy-lidded dumpster out back of the hospital.
New York Liberals

Those of us with functioning brains and a grasp of these two most variable constants, reality and history, wonder how an absolute nobody über-leftist, and one-term Illinois senator,
Barrack Hussien Obama has a shot at the White House.
A June 2008 column from the New York magazine may go a ways towards clarifying the mindset of New York Liberals, and most likely, for ultra-wealthy denizens of the Left everywhere in America who are currently fawning over this empty suit.
The article's about the Harvard class (tuition $31,000) of 2003 that lives in New York City. These people are as phony as Arnold Kennedy Schwartzenegger's panic over global warming and then, instead of driving his platinum-plated Prius to work from his home in Los Angeles to the capital in Sacramento, flies in a Gulf Stream G550 private jet that screams through over 408 gallons of fuel per hour while leaving a size 15DD 'carbon footprint' in the sky.
That 408 gallons of fuel is the same amount my Hyundai Sonata would consume journeying my normal 11,832 miles over a period of fourteen weeks. And his Gulfstream G-550 burns that per hour. 6.8 gallons every sixty seconds.
I had imagined in the politics of Left-wing circa-socialism we were all equal.
But then, I heard the pig in George Orwell's Animal Farm novel announcing to the rest of the non-porcine barnyard livestock,

"All animals are equal but some animals are more equal than others."
So I guess Arnold and fellow private jet owner's of the Left, Al Gore, John Travolta, Warren Buffet, Arianne Huffington-Post, and George Soros fall into that 'more equal' designation? While at the same time they urge us, the mere rabble, the detritus of society, to engage public transportation, drive D-Cell battery powered cars, peddle to work on bicycles and to tele-commute via the Internet Al Gore invented.

My dear Left-wing friends,
Do you believe that you will someday, somehow soar into the above group? Or instead, will you be 'trapped' by evil Capitalism, by Adam Smith's 'invisible hand', held down here where the rest of us 99.5% of American's are toiling away everyday to be able to afford, housing, food, fuel, and the occasional fun? Of course all those are acquired after the various city, county, state and federal governments invisibly take their cuts.
Read the priorities of these swell Harvard 2003 Alumni I mentioned many paragraphs ago: 1) net worth, 2) annual salary, 3) number of sexual partners since college (many), 4) number of times they have sex in a month, 5) number of children (few), and the real shocker, 6) the number who plan to vote for John McCain (13%).

posted Tuesday 07/10/2008 . . . . . Mr.Wonderful Talks Politics @ www.mrwonderful.org
6/30/2008
Today's N.P.R. Sob Story
Today we heard the sob story of the senior couple, living in a small house in the middle of a forest. They both have I.R.A.s, as I don't, but still, they are strapped for cash. Because if they pay for their heating oil, they can't pay their mortgage. And if they pay their mortgage they can't afford heating oil. They may have to move into an efficient apartment similar to the one Mr. Wonderful lives in. So sad.
What did they used to say before the Liberals took over the Major Media, the DeMedia? "That's the way the cookie crumbles."
But help from Congress is on the way for these losers. $300 billion of taxpayer's money to aid 400,000 households in trouble on their mortgages. Never mind that that works out to $750,000 per household ...
Major Media Picks & Chooses Facts

Here we go again, the Major Media simply choosing what facts to expose to the mostly brain dead American Public. (You'd have to be brain dead to give up an hour of your only life for an hour of watching American Idol.)
We've heard again and again that Barrack Hussien Obama's campaign contributions come in a higher percentage of below $200 amounts than the McCain operation. That is true, 45% of Barrack Hussien Obama's money comes from the less than $200 donors, while in John McCain's campaign only 24% of the donations are in the $200 or less bracket.
However, the DeMedia (salivating over the probability of saying "President Obama") conveniently ignores the other statistics. On the maximum amount of $2,300 individual donations, Obama has 28,215 patrons, while McCain has 15,953. On the maximum per-couple amount of $4,600, Obama has 2,652 givers, while McCain has 1,386.
So in the $2,300 column, Barrack has 44% more givers than McCain, while in the $4,600 bracket, Obama has 48% more donors giving almost $5,000 than McCain does.
One might also note that the Democratic Party is put forth to be the party of the 'common man', the 'working man', the man looking for a lifetime government job or handout, while at the same time losing their homes to foreclosure and not being able to afford health insurance or gasoline or even cereal. (But always having money for Maraboros, an ice cold Bud and a plasma TV.) How many citizens who fit that description could realistically come up with the even the $2,300 or much less, the $4,600 campaign contribution amounts?
I suspect that massive bundling (I think that's what it's called) and, like the Chinaman in California, who on a $60,000 a year income, donated $300,000 to the Hillary Clinton campaign, many Democrats are trading a $2,300 or $4,600 check from a wealthy donor for a $2,300 or $4,600 made out to the Barrack Obama (they hate the Hussien part) Campaign, drawn from the of the person-too-poor to actually afford it, checking account.
That is very illegal. Probably a felony. But, if Barrack Hussien Obama wins, he certainly won't investigate, and if John McCain wins, he'll be too busy running the country to pursue these Democrat sewer rats.

Courtesy OpenSecrets.org
posted Tuesday 06/24/2008 . . . . . Mr.Wonderful Talks Politics @ www.mrwonderful.org
Major Media Ignores Why Tim Russert Died
and Trial of Florida Muslim Students


Here we go again, the Major Media simply ignoring facts. With our own Arizona Republic (a Gannett publication) by looking at any of their sections front pages, you would swear Arizona had no productive or notable Caucasians, for every single day, day after day, Caucasians are as rarely seen as Ted Kennedy is at AA.

From the Arizona Republic's incredibly biased reporting, you'd believe that Sheriff Joe Arpaio was arresting chemistry professors over at Arizona State University simply because they had Hispanic blood.

And likewise, paging through the Arizona Republic you would be bludgeoned into believing that our 500,000 plus illegal-alien population is nothing but beneficent angels, who toil seven days a week, live quietly, commit no crimes, and ask little of our free social services.

Our social services, that don't seem to have the gumption or the wits (probably both) to determine the person they are talking to (who speaks not one word of "Ingles") is most likely here illegally. Hey, but that's okay, because they are doing something good . . . with someone else's money.

Now we have the Major Media claiming the death of the fine gentleman named Tim Russert, was due to a heart attack. Yes, that caused his death, but what caused the heart attack?

Diabetes. Diabetes increases your chance for heart attack by around double versus someone who is not diabetic. Why doesn't the Major Media parade this fact and use it to scare people into a healthful lifestyle of less meat, more greens, more vegetables, regular aerobic exercise, regular weight-lifting, and calorie counting?

The truth is being withheld because of the Advertisers. Understand that Big Advertising signs the Major Media's paychecks, the 'DeMedia' as I call them. After all, what kind of moron would pay to see the stuff on 'free' television? Hell, you can get more truth out of your teenage son after you caught him smoking pot, than you ever could out of the DeMedia. You could experience more laughs watching an
old Pink Panther Movie than you would in a whole season of Scrubs. (And that is why, in September of 2007, I turned my TV off.)
You see, the fitness folks want to sell us personal treadmills and stair-climbers that they know we won't use. The powered-chair manufacturers want to sell us Hoverounds®, so we can continue to pack on pounds like Kirstie Alley after Cheers, and still be just mobile enough to pilot our blubbery folded masses between the tables at McDonald's, and then let Medicare pay for the chairs.
Pharmaceutical companies want to keep us on reflux 'disease' pills, when most reflux is caused by being so damned fat that the stomach is always under pressure. They sell us anti-depressants, insanely powerful sleeping pills, and heart medicine to keep us well enough to buy more.
The Advertisers have no intention of actually improving the quality of life for the consumers of their products. They simply want to keep us alive longer, keep us comfortable longer than we would be without their products, so they can sell us more stuff. More stuff. While we slowly kill ourselves.
Did you hear much in the DeMedia about the two students from Egypt who are being tried for terrorism?
Their names are Ahmed Abdellatif Sherif Mohamed, aged 24, here on a student visa and Youssef Samir Megahed, age 21, a 'Permanent' Resident. Both are students at some Florida university. And both are originally from Egypt--a place they ran the Christians and Jews out of during the 1970s.
They were pulled over by law enforcement for speeding near Goose Creek, S.C., and incidentally near a U.S. Navy Weapons station. In other words I don't think they were lost trying to find the nearest Florida Mosque.
With the driver's permission, officers looked in the trunk, and expecting to find it full of prayer rugs and Q'urans, instead it contained: Twenty feet of fuse, a box of .22 caliber bullets, a drill, several gallons of gasoline, PVC piping (probably schedule 40 or 80) and gun powder. Also found on Ahmed's laptop computer "...was a video he made demonstrating how to convert a remote-control toy into a detonator." Isn't that just precious? Buy something cute from Toys R Us and use it to blindly murder dozens of innocents.
For those of you who haven't witnessed the power of a properly made bomb, venture over to LiveLink and put "IED" in the search box.
I know the power of a bomb. A bomb that me and my older brother, Crazy Brother Pat, made out of an old-time glass liquor bottle our mother brought home empty from a recent flight on Bonanza Airlines.
I won't tell you what we used, but we did not have access to commercial gun powder. However we did have a well-used and battered chemistry set. (You Government-Schooled kids will have to look up "Chemistry Set" at Wikipedia. I hate mentioning that piece of crap 'encyclopedia', but since you've been indoctrinated in Government Schools, it's good enough for you.)
Yes, I know the incredible power of even a bomb the size of a normal glass salt shaker. Ours was that size, and it experienced an unplanned detonation, the concussion of which knocked both of us out, and stabbed a shard of glass into Crazy Brother Pat's midriff, chipped a chunk out of one eyeglass lens, caught fire to the carpet, and got me, the un-injured one, treated like a soccer ball while my furious father deftly kicked me down the narrow hallway.
Knowing what the FBI found in the trunk of the Egyptian student's vehicle, they still plead 'not guilty' and found a lawyer.
"Yes the fuses and the PVC pipe and the gunpowder and the gasoline. Well we were making firecrackers. Isn't that obvious?" And then while they squinted alot, trying to look Chinese, and said, "It is an ancient tradition in our country."
It would be interesting to see if the State of South Carolina or some Mullah back in Iran is footing the defense bill.

posted Friday 06/20/2008 . . . . . Mr.Wonderful Talks Politics @ www.mrwonderful.org
In Protest Enviro-Nuts Wear Plastic Bags on Heads

Could we be so lucky if the Eco-Freaks did take to slipping plastic bags full of lagoon water over their heads? Apparently they aren't very intelligent, so it could happen.
Lets look at the current crisis, which involves a mainstay of commerce, plastic bags, which they claim are more destructive than an atom bomb. These morons would be happy living under Talaban control if only they would promise never to use plastic grocery bags.
Why were the nations grocers' forced to change to plastic bags? Of course, it was the Eco-Freaks screaming "To save a trees!" Remember? So that same 'saved' tree could still be harvested and turned into planks to be sent to Japan.
Turned out the grocers loved the condom thin bags for a couple of reasons: 1) They were cheaper than paper bags, and better yet 2) They held less groceries than paper bags, which fooled the typical dumb-ass shopper into thinking they were getting more for their money because the bag could be filled to overflowing with a carton of Ritz Crackers and one can of soup.
Now plastic bags are accused of killing everything from flesh eating bacteria to Blue Whales.
Lets look at some other genius ideas these Eco-Freaks have forced on us. How about the latest idea, which they enticed (using payoffs, stocks, free dinners, vacations and such) our Congress to mandate; that is Compact Fluorescent Bulbs.
They had been around since the late 1980s (I knew as I was a wholesale distributor of them) and due to their size, cost, and shape, twenty-five years later, outside of a few commercial uses, they had not caught on. Now with only three or four companies being able to manufacture these lamps, out of the blue, we are told we must use them. To save energy, the creation of which causes Global Warming.
I took a look at my Arizona Public Service (one of the premier power suppliers in the nation) utility bill, and it estimated that 20% of my household energy was used lighting my 700 square foot Cave Creek compartment. Does it seem to you that Congress is correct in mandating an attack on the 20% portion of retail power consumption?
A quick check on Google shows me the cheapest CFL (Compact Fluorescent Lamp) but does not show me the lumens (light output) or the wattage, however it cost $3.47 each plus shipping and handling.
Now this is for a lamp that gives off inferior light to an incandescent lamp, and, in cold climates takes 30 to 90 seconds to come up to full brightness. Isn't that nice?
Any day of the week one can purchase 40-60-75 or 100 watt incandescent bulbs for .25 cents each at Albertson's. Not a store known for cheap prices. So for almost 14 times in cost versus an incandescent, we are being forced to purchase a clearly inferior light source, (granted they do last a long time, but so did a kerosene lantern), that contains dangerous mercury? Do you imagine in your wildest dreams that someone is not going to make 'windfall profits' on this scam? And what do you imagine the power companies are going to do if demand for their product ever drops? Of course, raise their kilowatt-hour charges.
And this part is laughable, at an Eco-Freak website they tell us that since CFLs consume less energy than any other light source (except for candles) and that it is okay to purchase and use them. We are instructed to simply purchase the ones "...with the less mercury in them."
posted Sunday 06/15/2008 . . . . . Mr.Wonderful Talks Politics @ www.mrwonderful.org
Tip Toe, Eyes Closed, Through the Tulips

Does anyone remember
when we were told not to mention Barack Hussien Obama's prominent ears? That one instance demonstrates to everyone just how naive, and vainglorious this gentleman is. Anyone who has attended high school knows that you never, ever, bring up things you don't want the other students to talk about, doubly so if you are concerned about your body parts.
But, did Obama attend a high school? Because, apparently, until this year, he had never bowled or played pool; where the hell was this guy raised?
I think we can pretty much rule out his teen years, growing up like I did, playing pool, bowling (hoping to see C&W singer Marty Robbins at Glendale Bowl) and stealing an occasional car battery. Come to think of it, I didn't play basketball. Well, I did play the White Man version: H O R S E.
Last week, Hillary Clinton asserted that she was staying in the primary race because it wasn't until June that Robert F. Kennedy was assassinated by the Jew-hating, Palestinian Arab, Sirhan Sirhan; which essentially put him out of the running. Although, if the race had been in Barack's Chicago, Kennedy still could have been elected.
In any case, after the assassination, the Secret Service was reconfigured to include protection of all presidential candidates. I wonder if any of the howling hordes after this thick-thighed woman mentioned that change?
RFK's rival, Hubert Horatio Humphrey, then took the Democratic primary, only to be defeated in the 1968 general election by Richard Milhouse Nixon and Spiro Agnew, with the Independent party's George Wallace/Curtis Lemay team siphoning away 13.5% of the popular vote.
Hillary simply was fed up with everyone trying to crush her life-long dream of being President of the United States and continually asking her when she was going to give up her run for the Democratic nominee. If anyone knows how thorough Secret Service protection is, Ms. Hillary does, so I hardly think she was hanging out the 'Assassin Wanted' sign by mentioning the 1968 murder of Mr. Kennedy.
Prior to this, we have the so sad fact that thousands of voters want Barack Hussien Obama already shot dead simply because he is a Black man. So his security is already tighter than Hillary's XXL pantyhose.
Although I've suffered racism from Blacks, Hispanics and Jews, and since I'm a security officer, been treated by everyone else on a regular basis, like a day-old, piss-frosted, dog turd found by Sarah Jessica Parker in her latest Mahnolo Blahnik $800 pumps, I've faced racism and elitism, but I don't see any profit in it.
So leave Hillary, the Socialist, alone so that herself and Barack, the Marxist, can detail their awful plans to destroy this democracy.
posted Friday 05/30/2008 . . . . . Mr.Wonderful Talks Politics @ www.mrwonderful.org
God Spede William F. Buckley, Jr. 1925-2008
Bill Buckley, the smiling founder of modern conservatism, passed away yesterday. He was 82. He was one of the only people I'd run across who could use the word 'funicular' in everyday conversation. How odd it is that I finished his 1998 book, Nearer, My God: An Autobiography of Faith nine days ago. And now he is with our God. Even if he was a Catholic.
For this baby-boomer, born in the fertile fifties, I grew up watching William F. Buckley (and if I recall accurately oftentimes surrounded by a gray cloud of tobacco smoke) moderating his Firing Line television program, and on The Johnny Carson Show, among many others.
Nine brothers and sisters, fluent in three languages, (he spoke Spanish before he spoke English) a father richer than Croesus, raised in multiple family homes in both America and Europe and with nine full time servants, could explain his trademark relaxed pose, as during interviews or discussions he seems almost like a wet towel carefully draped over the chair to dry.
As I read some of his so clever responses the laughter causes my tears to jump off my cheeks. One of my favorites, courtesy of Ann Coulter's, reminisces revolved around
WFB being challenged on President Reagan's intellectual cachet, Bill responded with, "Of course, he will always tend to reach first for an anecdote. But then so does the New Testament."
He had an answer for everything and when God called today, he had an answer, as the below transcript from a Charlie Rose June 9th, 2004 interview reveals:

"The most dismal thing in my life is when I do exercises and I punish myself by signing up to do them three times a week from now on. I think that nature goes after you and castigates you for any tendency to self satisfaction..."

C.R.--Do you wish you were twenty?
"No. Absolutely not! No I would, I would not, if I had a pill which would reduce my age by twenty-five years I wouldn't take it."

C.R.--Why not?
"Because I'm tired of life."

C.R.--Are you really?
"Yeah. I really am. I'm utterly prepared to stop living on. There're no enticements to me that justify the weariness, the repetition, the ... my hours of exercise ... in the end you just view that the essence of life is, 'I've done it and I'm ready ... to end it.' Well, irrespective of whether you have done it, you reach a desire, you reach a certain, a certain age in your life where you don't think there's much point in continuing to live. One, at a certain age predicts there will be continuing attrition of your body and your muscles and so on and so forth. There'll be a slight memory loss, like when we couldn't remember the word for the Charlie McCarthy. And, so you feel, 'What am I hanging on for?'

"Now, to the extent I may give pleasure to my family, that's an important consideration. But it's going to happen sometime. Like the magazine having a new editor, so why not go ahead and do it? I'm not going to commit suicide, I think that's wrong to do. But I uh ..."

C.R.--But you're ready?
"Absolutely. Uh Shelby, who wrote that book How People Die, said, 'The greatest enemy of older people is young doctors.' Cause you go into a hospital and you have seven doctors who are determined to keep you alive, irrespective of what you want to do. And there isn't a Living Will written in such a language so commandeeringly that you can deny them their resources. So that's something which I think one thinks fruitfully about. If you reach the point in your life where you simply don't want any exertions in order to prolong it."

C.R.--Have you thought about what your funeral would be like? Have you written instructions?
"I thought it would feature you (long pause) in the..., in the middle part."

C.R.--(Laughing) All right, that's fine.
"And then, no I haven't thought about it."

C.R.--I mean, do you have some sense of the music you want played and--
"Oh yes, yes, yes. I wrote a memo to my son, I named the people who at that point I thought would make sense as vehicle mushes do--"

C.R.--There are ushers and pall bearers both--
"Pall bearers, yeah, and so, that's as much thought as I've given to it."

C.R.--Would you write your own?
"On no! Mrs. King (Martin Luther King's wife) had six hours of funeral--"

C.R.--and four presidents
"--and four presidents. Yeah! Well--"

C.R.--I hope you don't go for a long while...

(Click Arrow Below to See the 1981 60 Minutes Program on William F. Buckley, Jr.)
---
More Videos on William F. Buckley, Jr.

William F. Buckley, Jr. on NPR Radio's 1950 program, This I Believe

October 28th, 1968 video of Buckley and Gore Vidal's views on the next president

William F. Buckley, Jr. In His Own Words, Part I

William F. Buckley, Jr. In His Own Words, Part II

Mona Charen, Richard Brookhiser, Garry Wills and others discuss William F. Buckley, Jr. on Charlie Rose Show

CBS Bob Schieffer remembers William F. Buckley, Jr.

Right from the Start: biography of William F. Buckley, Jr.

Katie Couric on the passing of William F. Buckley, Jr.

Andy Rooney mourns the passing of Buckley and W.C.Heinz

Chris Matthew's Loving Tribute to William F. Buckley, Jr.


Charles Krauthammer remembers William F. Buckley, Jr.
Atheist, America-Hater, M.I.T. tenured professor, Noam Chomsky remembers William F. Buckley, Jr. Feel the love.

posted Thursday 02/28/2008 . . . . . Mr.Wonderful Talks Politics @ www.mrwonderful.org
Winter Waterboard Land

Khalid Sheikh Mohammed was accountable for the September 11 attacks, and has said that in February of 2002, he personally hacked off the head of W.S.J. reporter Daniel Pearl. Abu Zubaydah planned the foiled Los Angeles airport millennium terrorist attack which would have killed thousands of innocent travelers and dozens of Muslim taxi-cab drivers. Abd al-Rahim al-Nashiri directed the USS Cole attack in Aden, Yemen, costing one billion dollars of taxpayer's money and in which seventeen United States sailors were murdered. (I write "murdered" because these Sharia-adherent-Muslims wore neither uniforms or flew the flag of any nation.)

These were the three, and the only three, Islamic terrorists who were waterboarded during their 2002/2003 interrogations. Interrogations which the Evil Puppetmaster of President George W. Bush, Dick Cheney, stated "it's a good thing" that waterboarding was used on the trio as the were forced to give up information that saved "thousands" of American lives.
Almost as a reflex action, the DeMedia immediately labeled the vice president's statement as a "claim" and not a statement of fact. Remember these are the same fine people who doubted not a whit William Jefferson Clinton when he stated, under oath, that "I did not have sexual relations with that woman."
Sadly for the victims of future terror attacks, now that the DeMedia has exposed and intricately detailed this formerly secret and quite effective technique, it is certain that terrorists are now being trained to resist it, as it causes no physical harm, and will not result in the promised and eternal bacchanal with the seventy hymen-intact females.
But can you imagine that Democrat Jay Rockefeller and Democrat Nancy Pelosi, who consented to the implementation of, and knew the exact details of this questioning method, not keeping the DeMedia silent in order to
protect national security and keep hidden this proven interrogation technique that had already saved thousands of American lives?
With their concerted push to grant citizenship, and hence voting status, to twelve million plus undocumented aliens, the Left may feel that a few thousand, or even tens of thousands of the lives of the people who voted them into office can be sacrificed in the next terrorist attack, as long as right now, this moment, they get front page news and accolades from those who know nothing and, of course, respect from the 'world community'?
Whether they are members of a recognized national army or not, our war on terror is wholly against Sharia-adherent Muslims. We know that these sadistic, immoral, misogynistic, patriarchal, anti-democracy global jihadists recruit feeble-minded, Downs Syndrome afflicted girls and strap bombs to them to murder dozens of innocents, bury women up to their shoulders and stone them to death, whip females after they have been confirmed as victims of rape, sentence to death any Muslim who changes his religion or any writer of any religion who defames Islam, and that they not only saw off the heads of their victims, but also videotape the act.
Against this enemy, Liberal Democrats absolutely insist that the United States must adhere to means of interrogation that wouldn't harm a jellyfish (should we ever have to interrogate one) guaranteeing, of course, that our sworn enemies would be thereby obligated to treat our captured soldiers accordingly.
In all our wars, from the shores of Tripoli (in which our marines battled Islamic pirates) to Afghanistan and Iraq, have our enemies ever treated our captured soldiers as any more than sacks of meat? What kind of insanity is this?
What really exposes the Left for their insane attack to ban waterboarding is that this harmless, and now most likely ineffective interrogation technique, can continue to be used in the future if the President and the Attorney General approve of it on a case by case basis.
posted Friday 02/15/2008 . . . . . Mr.Wonderful Talks Politics @ www.mrwonderful.org
Will the 'Conservatives' Crucify McCain?
. . . revised February, 9th/21st 2007

Of course our 'non-partisan' media is searching out any Conservative Republicans who will withdraw their presidential vote now that it appears that Moderate Republican Senator John McCain is the Republican nominee.
Being a Conservative myself (with my current conservatism entirely due to the intervention of fellow native Arizonan, Barry Goldwater stepping into my life in 1967) I find this line of thinking insane.
And I won't be "holding my nose" and grabbing the lever to vote for McCain, because Arizona deploys the fraud-proof optical voting system. Who says Mr.Wonderful can't write like a politician?
Speaking of insanity, here is part of my e-mail KFYI Talk-Jock J.D. Hayworth read on the air, Wednesday, February 6th, 2008:
"I stopped writing Senator McCain two or three years ago when I decided he was insane and that being I really would rather end my life naturally, rather than in a hit and run accident with a full-sized, shiny, black, Chevrolet Suburban with multiple antennas and windows tinted darker than Hillary's heart."
Our competitors on the Democratic side are fielding two possible presidential candidates, one being Hillary of the House of Clinton, who has, on the record, stated she'd like to seize oil company profits and would indeed garnish wages from citizens' paychecks to fund her national health care plan whether they want it or not.
And that's on top of her past performances in the Whitewater, Cattle Futures and the Travelgate scandals, in addition to her friends, contributors or advisors, Jorge Cabrera, Johhny Huang and Webster Hubbell, not to mention her "I don't recall" performance times fifty in front of a house committee investigating her.
Barack Hussein Obama, the other Democrat, son of a Muslim father and winner of the most politically liberal of all U.S. Senators (voting even to the left of acclaimed Socialist United States Senator Bernie Sanders) has avoided any commitments and simply uttered good-sounding vague promises while casting a Svengali-like emotional net over his worshipers.
But what he could do, with his far left attitude and vast inexperience, would be to destroy the American economy, install a battalion of federal judges who would refer to the writings of Tolstoy & Marx, before our own Constitution, and, either by action or inaction, maneuver the U.S. into some terribly complex and quite deadly military situations abroad. Situations which would be left to the next president.
However, you can be assured that if either Hillary or Barack become President, all the world's nations would love us again.
posted Friday 02/08/2008 . . . . .
Mr.Wonderful Talks Politics @ www.mrwonderful.org
Will the 'Christians' Crucify Romney?

Of course our 'non-partisan' media is searching out any Republican 'Evangelical' Christians who will withdraw their presidential vote if the GOP nominates Mit Romney.
Being an Evangelical myself (with my current existence entirely due to the intervention of Jesus Christ stepping into my life) I find this line of thinking insane.
No, I do not belong to the LDS faith. Years ago, after deep study of the religion, and finding several anti-Mormon books checked out of the public library never to be returned, along with many others in which plaintively were written, "you don't understand" along the margins, and among other things, I discovered many Mormons do not know fully understand what they believe.
However, since adherents of the Latter Day Saints church show no inclination towards violence by strapping explosive packs to twelve-year olds, or any leanings towards a communist-style command economy, I don't give thirty shekels what they believe. After all, we are not crowning a monarch, we are electing a president of this republic.
Consider one possible alternative: Hillary Rodham Clinton. Her presidency would bring back into the White House the impeached former president Bill Clinton in a role not unlike that of last century's Rasputin. Anyone not believing he and his cronies would hugely influence national policy is spending too much time behind a crackpipe.
This is the same Hillary Clinton who discovered the Rose Law Office billing records in the third-floor private residence at the White House, shortly after she was advised that other copies would be used instead in the two year old inquiry. Her husband is the same Bill Clinton who had an innocent Hispanic couple detained and thrown in jail for approaching and telling him that You suck ... and those boys died. This is the same Hillary Clinton who told us what her life was really about when she did not divorce her husband after being humiliated by his affair, in the White House, while she slept upstairs, with an intern the age of his own daughter. This is the same Hillary Clinton seen by law officers, in a vehicle at a traffic light in Arkansas, open-mouth kissing the apparently suicidal Vincent Foster, who instead of a 'magic hat', possessed an ancient magic revolver that could only discharge once and never again.
This is the same Hillary Clinton who (regardless, that in America, unlike our southern neighbors, the oil companies are owned by
private citizens, not the State) stated, about oil company profits, "
I want to take those profits ..."
Can you remember when the government redirected the tax revenues from Social Security (FICA) and poured them into the general fund and left behind the Social Security Trust Fund littered with only worthless I.O.U.s? or re-directed the federal highway gas tax added to every gallon of gasoline purchased, that was meant to keep our highways in good repair, and instead drove them into, again, the general coffers, in order to power non-stop efforts to buy votes with the taxpayer's own money? But at least F.I.C.A. and the federal gas taxes were government destined funds, while the oil companies' corporate profits certainly are not.
In short, Hillary Clinton is a Hugo Chavez Marxist in a skirt, suffering from the ravages of menopause, and a husband who doesn't love her. She will not only devastate our free-market system, but appoint dozens of federal judges who are ashamed to be American and in an attempt to get the world to like us again, will re-write our two hundred and thirty-year old Constitution.
posted Friday 01/25/2008 . . . . . Mr.Wonderful Talks Politics @ www.mrwonderful.org