Welcome to the home of the...
MASKEN
MASTER
Greetings. I am Matt Rhyner, the current 2005 Masken world champion. I started playing Masken with the kids from my school about a year or so ago. They were all pretty good, one kid got like a 97 once. My high score back on my Sony Clie used to be like 62, then it went to 66 then to 71. 71 lasted for awhile, I though the seventies were "insane." Gradually I just got better. I got my score up to a "miraculous" 107 right at about the time everyone stopped playing. Partly the reason for this was because none of them could break 70 and they just got discouraged since I had broken 100. I got my Zire 72, and things changed included my game. I sat down for old times sake to play another game of Masken on my "new" Palm. Within a few tries I landed a 138, the third highest score in the world. It is also interesting to add that the very game before getting a 138 I believe I got 2 points! I showed my score around and every basically rolled their eyes, all in good fun. I discovered this website only to be disappointed that I had been beaten out by Miguel Sterner and future theologian, Luke Sneeringer. I sat on my bed and formulated a "game plan" or a strategy. I went to work. Three tries later, 181. Using my technique which I like to call "Follow the Leader" I could/can get about 145-160 every time. The time I got 181 was just...special (no NOT luck!).
Play on Maskenites,
Matthew Rhyner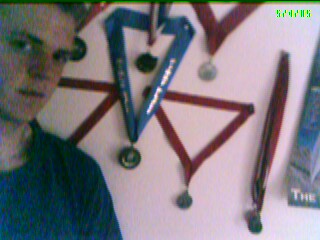 Themessengerman45@hotmail.com
The world's highest Masken score was performed with Palm Zire 72.
---
By the way this is my dog, she was my only witness.