70s invasion ; 70s GIRL BANDS; THE STILLETOS, THE TEEZERS, THE CURSE *
updated as of summer 2011
THE STILLETOS PLAYING with the DOLLS *
Debbie Harry and Co. had their following in the old glam days, previous to this outfit DEBBIE HARRY sang in the band the WIND in the WILLOWS who had a good pop-psych lp in '68, ( see page 3 of the 70s invasion for reviews )
1973 STILETTOS; DEBBIE HARRY - ELDA - AMANDA JONES - ROSIE ROSS - BILLY O' CONNOR - FRED SMITH - CHRIS STEIN
From October 1973 - August 1974 Debbie featured in the Stilettos. The first gig was in October 1973 in a bar on 24th Street called the Bobern Tavern. "It was a mix of Shangri Las/Supremes type trio, doing a mixture of raunchy music. We had alot of fun, but we weren't too musical. Three girls trying to get along together is pretty hard . . . I wanted to do my own thing again and left", says Debbie.
wanna see another photo of them ? u can see it on a gallery in the gateway 4 of the 70s invasion along with some of the 42nd st. Harlots, u can also see it in an interview site done with N.y. scenester DEBORAH OLIN, to get there quickly copy and paste this link ~
https://www.angelfire.com/ab9/cat0/42stHarlots.html
STILLETOES SITE
http://www.thestillettos.com/
recordings now available, this site by ELDA GENTILE was added jan 29th ' 06, more info and photos can be seen there,
---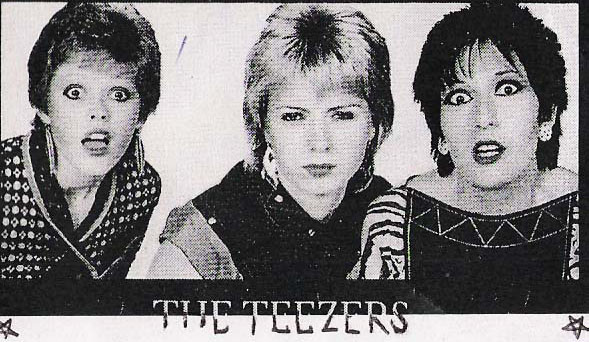 The TEEZERS 70s uk glam-pop band
the TEEZERS surfaced in '74,......... with those punk haircuts these girls were way ahead of their time, see page 4 for reviews and info, they were produced by JEFF ALLEN of HELLO.......they had at least 2 singles, and their style was like that of the SHANGRI - LAS allthough updated to a 70s glam-pop style.........known to have released 2 songs ;
1 'THE BEST PART OF BREAKING UP' '75
'REBEL' 75
'Rebel was a HELLO cover, not sure about the b sides....
the girl in the middle is pictured with silver hair on the lp 'The Great Glam Rock Explosion', she says that the 45 was actually recorded later in the 70s, which makes more sense with their punk haircuts which would have been very rare in the glam era, she what she looks like today here at this link
http://www.myspace.com/cool-cache
---
story from the year 2107

So Grandpa tell us what it was like in the old days before the war, when people used to eat animals ?

Well kids on the surface everything looked fine,people drove fancy cars , lived in nice homes and so on, but many of them seemed to be hooked on prescription meds. all because they ate animals, the animals themselves were kept in CONCENTRATION CAMPS and most spent their entire lives kept inside cages where all they could do was to look at a brick wall,only seeing the light of day when they were headed for the gas chambers, what existed was an ANIMAL HOLOCAUST similiar to what happened in germany in the 40's,wanna hear more ?

You bet !

well kids the FDA ( food and drug administration ) were very good at lying to people and kept most people in the dark about how bad eating meat was for u, basically what happened was the animals were kept in such horrible conditions that they developed all kinds of sicknesses , so the meat industry kept pumping drugs into the animals to make them better,and fatter,and bigger,which when ate by a human it set off all kinds of bacteria and illness within the person's body,u see people did not realize they were eating something DEAD,as oppossed to vegetables which for the most part are still alive...........so eventually by the time these idiots got older they had all kinds of illnesses which were all due to eating meat,chicken,fish,eggs, milk,and so on, the FDA regulated all the foods and drugs in the u.s. they were able to make sure the doctors were kept wealthy with a steady stream of patients coming in all the time, and the PHRAMACUETICAL COMPANIES basically trained doctors to SELL THEIR DRUGS all the while the FDA kept Homepathy and NATURAL MEDICINE very confined to small clinics since such hospitals were outlawed in the u.s. a long long time ago,

Grandpa is it true the Natural medicines cured people of these illnesses ?

Sure they did ! there were cures for all sorts of ailments that people get, but again the Govt. thru the FDA made sure the majority of the u.s. were kept in the dark and ate a steady diet of junk food and diseased animals, but in the end this proved to be mankind's mistake and all of a sudden the animals rebelled and attacked humans,and then the war began causing millions of deaths............

Do you think a comparison could be made to that film SOYLENT GREEN ,were the govt. conned people into eating their product because there was no food left ?

In a way yes SOYLENT GREEN is a good comparison, but in the end Mankind did not realize it was eating GOD's CREATURES it was

eating it's own...

this story ran atop our homepage throughout mid - end of march '05, it is also on our page 8 close to the bottom of that page,...........see this link for more info on this subject and see also NEWSTARGET.COM....

http://www.forums.rpgchat.com/archive/index.php/t-39977.html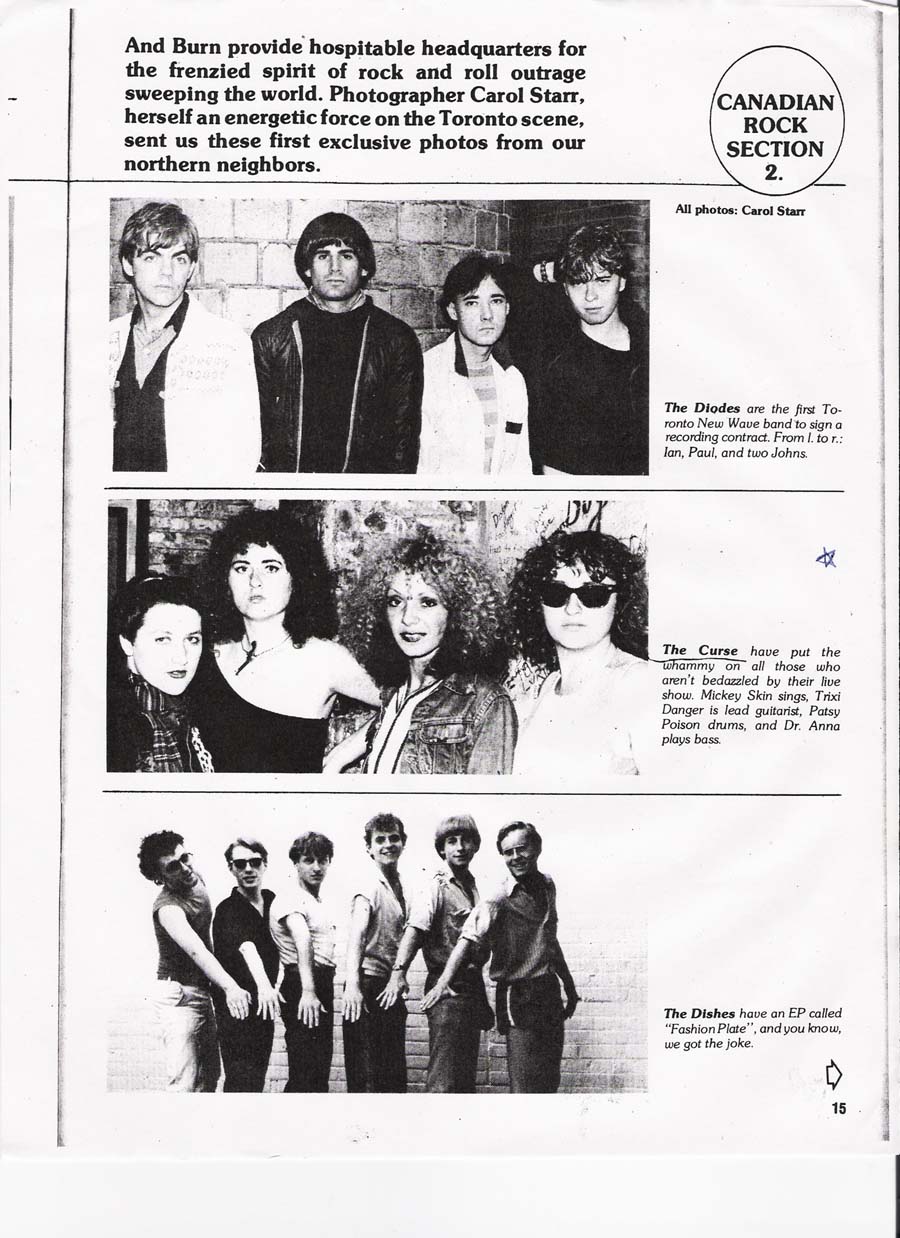 THE CURSE
THE CURSE pictured amongst these other canadian bands were an all girl punk band from canada who had some singles and an ep, they began in '77.....u can see another picture of them somewhere in our gateway 2 or 3....see page 7 for a review of canada's punk festival in '78 called THE LAST POGO.........