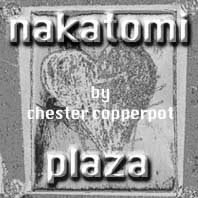 Band: Nakatomi Plaza
Album: By Chester Copperpot
Label: BD Records
Year: 2000

I got this CD ages ago from Oscar but never got around to reviewing it until recently, and when i did i lost the damn review, so here goes, second time... I didn't really like this CD first time i heard it, i just kinda though, yeah emo, heard it all before... But since then, i've changed my opinion... to a point. You see, this CD has a bunch of stand out tunes (Bottle Full Of Jesus, I watched a baby squirell fall out of a tree and die, They Didn't Die, etc), but for every excellent song theres a kinda, well, crap one to make up for it. However, thats not to say its not one to but, the three aforementioned songs alone make it a worthy purchase.

Rating:7/10
Lasting Impression: Class emo plus rockin tunes too. For the first half. Buy it anyway though.
Track to check: Bottle Full Of Jesus
Web: Official Site?