BANISHINGS, BINDINGS, CURSES AND DARK MAGICKS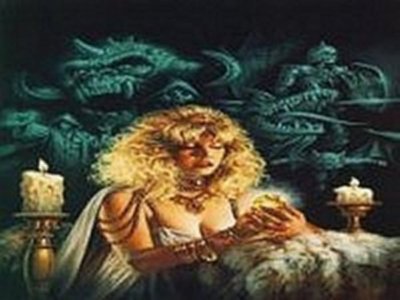 THINGS TO KNOW ABOUT BANISHINGS, BINDINGS, CURSES AND OTHER DARK MAGICKS
Be ever mindful that anything you do magickally whether it be for good intent or malintent it WILL come back to you or effect someone or something close to you.
Be very careful what you wish for...you just might get it. Meaning, please please please be 100% sure you are not acting on impulse or just being foolish. These spells and their consequences are very volatile and unpredictable...expect random side effects. THESE SPELLS AND CHARMS ARE TO BE HANDLED WITH ALOT OF CARE AND NOT TO BE DEVIATED FROM OR ALTERED!!! YOU HAVE BEEN FOREWARNED!!!
Make sure your intent is VERY focused as you wouldn't want ANY Banishing, Binding, Curse, or Hex to miss it's desired target. This can spell absolute disaster for the caster and/or for those close to the caster or even some random innocent that has completely nothing to do with the situation. NEVER EVER TAKE THESE SPELLS LIGHTLY AND THEY ARE BY NO MEANS EVER TO BE DABBLED IN BY THE INEXEPERIENCED!!!
A charm to bind an enemy

Gather from the corners of your chambers every cobweb, and place them, all of a tangle, upon a black cloth. Procure then a fly, recently dead, and set it down upon the mass of webs. These words should then be written down on paper:

North South East West

Spider's web shall bind him/her best

East West North South

Hold his/her limbs and stop his/her mouth

Seal his/her eyes and choke his/her breath

Wrap him/her round with ropes of death.

Fold the paper four times, and wrap it up, along with the fly and the webs, in the black cloth, forming a small bag. This should then be bound up with the end of a long cord, and suspended from a hook in some dark corner of the house. Do not disturb it, but let it hang until it is thickly covered with dust. Then it may be taken down and buried in the Earth, to work its influence in perpetual secrecy.

Binding:Keeping someone from causing harm

This spell must be made with good intent on your part ~ do not attempt any binding spell on someone or something that is not causing harm or pain to anyone else. Some Sorcerors will disagree with this and I myself am a Druid and not a Sorceror, this is the ways I have been taught.

On a Monday night (if possible) during the phase of the Waning Moon, light two candles ~ one black and one white. The black candle is lit to absorb negativity, and the white is to show your own intent of good and purity. Together they are used for balance, fairness and justice in right causes. On a small piece of parchment paper ~ lay these dried herbs:

Lavender ~ for protection

Sage: for the knowledge and wisdom that you are doing the right thing

Chicory: for removing obstacles

Basil: for cleansing and new beginnings

Bay leaves: for balance, purification and cleansing

Knotweed or Hemlock: to bind the person

Roll the herbs into the paper and twist tightly both ends so it looks a bit like a christmas cracker. Have ready a container you can burn items in, and then light the paper both ends ~ one end from the flame of the white candle, and one end from the flame of the black candle.

Put the paper containing the herbs into the thurible, and say these words as you watch the paper burn, visualising the person who is causing pain and harm:

"By word, deed, or thought,

You cannot harm me.

By word, deed, and thought,

I bind thee...

Until word deed and thought with kindness be found,

Til that day, ye shall remain bound".

Wait until the paper has burned away, and left to cool. Within the next seven days you must go and bury the ashes in the earth. As you bury them, repeat the chant, and let it be known that this person is not bound forever ~ you are only binding them from causing pain to you or others, and the effects of the spell will cease as soon as the person has kind words to say and good thoughts about the person being attacked.

As the ashes disappear into the ground, so the harm that the person has caused will be eased. Turn your back on the spot where you have buried the ashes and walk away. Don't look back, and try not to return and disturb the earth there for at least three weeks.

A charm to win control over another

Write with dragons blood or Bats Blood ink on a piece of parchment the full name of the person or paint with a brush and India ink, upon a ragged scrap of cloth, the figure of the person you would control. Furl the cloth into a scroll, tie it with a thread of black, and curl this up into a tightly rolled coil. Wrap the coil in a vine leaf, and this in a scrap of red silk, and this in a circle cut from silver foil. Wind it round with red thread, seal it well with sealing wax, and pack it in a hollow walnut shell. Set both halves together tight with glue and then wax again, and mark this on the nut to fix the spell:

Nux nox

Pax pox

Hex hax

Wix wax

Hithero hothero

Withero wothero Well.

Shut the nut within a box, bound about by heavy twine, and you shall hold the subject in your rule. So shall he do as you command, a feckless shadow to your hand, though he be fabled king or common fool.

Music: Druid's Chant by Libana
View My Guestbook
Sign My Guestbook
GO TO...
MY SPELLS AND RECIPES MAIN PAGE
PROTECTION SPELLS, CHARMS AND TALISMANS
LOVE SPELLS, CHARMS AND TALISMANS AND SEXUAL MAGICKS
HEALING SPELLS AND HERBAL/HOME REMEDIES
MY CORRESPONDENCES AND REFERENCE GUIDE
MY ONLINE BOOK OF MAGICKS AND LORE MAIN PAGE