GW Carver High School of Picayune MS
Click for Music!
PICAYUNE AND GEORGE WASHINGTON CARVER HIGH SCHOOL REMEMBERED
1950 - 1970
Willie L. Robinson
Class of 1962
G.W. Carver High School
Picayune, MS
With Commencement in May for the Class of 1970, came the end of George Washington Carver High School of Picayune, Mississippi. But memories of our dear school live on in the hearts and minds of many of us who were blessed with the opportunity to receive our high school education there during times much different in many ways from the days in which we now live. Desegregation, while intended to make educational opportunities more equal for all students in our country, brought a bittersweet end to an era that is still very fondly remembered by many former Carver High students and others.
I take this opportunity to offer a bit of information about my hometown, introduce some of my friends, share some of my Picayune experiences and attempt to show the influence that Carver High and Picayune had on my life as I grew up in the small Southern Mississippi city in the 1950s and 1960s.
Picayune is located in Pearl River County on Interstate 59 about three miles from the Louisiana State Line, and some thirty plus miles from the Mississippi Gulf Coast. The city used to be known for its production of tung oil. In fact, during the Carver High Days, it was called the Tung Oil Capitol of The World." The tung industry was destroyed in 1969 when Hurricane Camille destroyed most of the tung orchards in the area.
Poplarville is the county seat of Pearl River County. The county was formed from the counties of Hancock and Marion in 1890. According to the U. S. Census Bureau, the population of Picayune was more than 10,500 in 2000. Information published in Surviving The Storm! by Dr. Buford Satcher, shows African-Americans comprised approximately thirty-three percent of the population of Picayune in 1990. The city's population has increased greatly since Hurricane Katrina. It is estimated that as of 2007, there are approximately 35,000 people in Picayune, MS.
A picayune was a small coin common to the South during colonial days. A newspaper, owned and published by Eliza Jane Poitevent Nicholson, was named for the coin. The township of Picayune was named for the newspaper and incorporated in 1904. The following year, 1905, Picayune was incorporated as a town, and in 1922, it was incorporated as a city. The newspaper for which Picayune was named is now the Times-Picayune of New Orleans, Louisiana.
For twenty years Carver High helped build character and provided educational opportunities for African-American students of Picayune and other parts of the county. The school began operation in 1950 after replacing the East Side Colored School, which opened its doors for educational services in 1919. Unlike the cross-town facility it replaced, Carver High was located on the West side of town at the corner of South Beech Street and Rosa Street near the Weems Housing Projects where I used to live at B-1.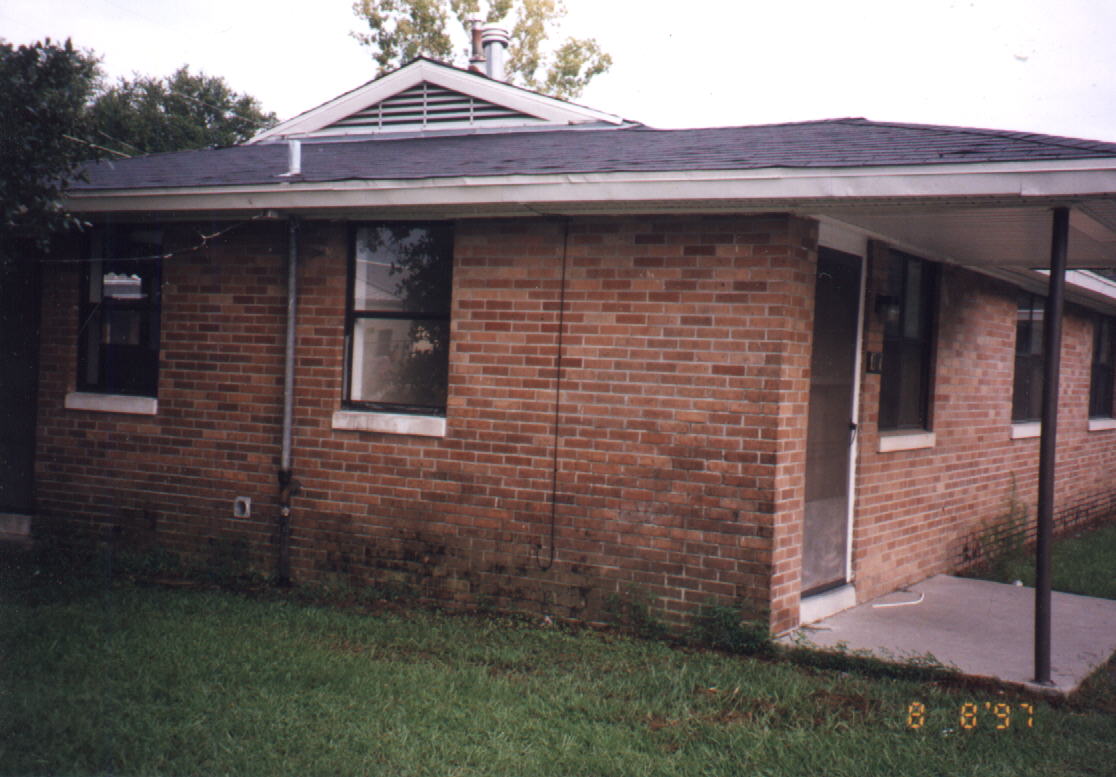 HOME BACK THEN
CLASS OF 1970 - CARVER'S LAST GRADUATING CLASS
FUN IN J.P. JOHNSON PARK ON ROSA STREET
CORNER OF SOUTH BEECH STREET & ROSA STREET
The Family Residence, 1955-1969
We moved to the projects from 317 Bruce Street in June after the end of the 1954-55 school year. The house we called home on Bruce Street was owned by Dudley Packard, who also lived in a room of it himself. My family had also rented from Jake Hair on Rosa Street when they first moved to Picayune in 1954. When we lived in the projects I, along with friends Leon Magee, Joe Henry Gaddis and others, spent many hours hanging out at the corner of Beech and Rosa and under the big tree in front of Carver High. The building that housed the school still stands and is now Picayune's South Side Lower Elementary School.
Rosa Street was also the location of two of my favorite west side teenage hangouts---"Vick's Place" and "Snake's." The late Victoria Jackson and the late Clifton Jerry Abram were owners of the businesses. They were also wise members of the community. I spent much of my spare time around these two well-known citizens of Picayune trying to take advantage of their knowledge and experience.
While at those places, I also spent a lot of time listening to the great music of Little Richard, The Platters, The Drifters, Jackie Wilson, Ernie K-Doe, James Brown, Etta James, Irma Thomas and others. Others like B.B. King, my favorite blues singer then and now. It was Snake who first told me I would never make it as a singer unless I developed my own unique sound. I didn't know what he meant then.
I am very appreciative for the opportunity I had to attend Carver and play defensive back on the school's football teams of 1960 and 1961. I graduated from Carver High in 1962. It was my experience of playing football at Carver and later at Mary Holmes Junior College in West Point, Mississippi, that helped me earn the college education I most likely would not have earned otherwise, especially given my financial situation.
MARY HOLMES JUNIOR COLLEGE DAYS
The Picayune Boys and a Friend 1962-63
After graduating from Mary Holmes in 1964, I studied at Jackson State College (1967) in Jackson, Mississippi, and later at Tennessee State University (1976) in Nashville, Tennessee. The first three years after graduating from JSC I taught Spanish and French in Jackson and Vicksburg in Mississippi. I also taught Spanish at Fisk University in Nashville in the late 1970s. In December 1970, I became employed by the State of Tennessee.
All of my employment with the State of Tennessee was in the field of Juvenile Justice. My first position was as a dormitory supervisor in Nashville at the Jordonia School For Boys, which later became Spencer Youth Center. That facility was later relocated and is now the Woodland Hills Youth Development Center. I transferred to the Central Office in August 1983 where I worked until my retirement as a Program Coordinator on January 01, 2008, after more than thirty-seven (37) years of service with the State.
AT JACKSON STATE IN 1966
Jackson, Mississippi
I enrolled at Carver in January 1955 after moving to Picayune from Quentin in rural Franklin County, Mississippi. I had started the 1954-55 school year at the new Lillie Mae Bryant High School in Meadville. My family, mother, stepfather and brother, had relocated to Picayune in late 1954 as I remained in Franklin County to live with my Aunt Louise and her family. Carver, like Bryant, had grades one through twelve. It was also in the year 1955 that George Curtis (G.C.) Cameron, who lived in the McCall Creek area of Franklin County, left Mississippi with his family and relocated to Detroit, Michigan. G.C. became a member of the Spinners music group and later he joined the Temptations. While attending Bryant, we rode to school on a bus driven by Mr. Revis Black, Sr., who also taught at the school.
BEFORE PICAYUNE ABOUT 1952
Franklin County, Mississippi
Although I had attended Bryant for only about four months before I had to leave, I had made many friends at my new school and leaving for me was not easy. However, after getting to Picayune and becoming used to what seemed to me at the time to be a big city, I made new friends and spent less time thinking about the ones I had left in Franklin County. As more time passed, the memories of most of my young friends at Bryant started to fade as I gradually forgot the names of most of my sixty-three fifth grade classmates I left there.
My first day at Carver is a day I will probably never forget. After providing the necessary information to enroll at my new school, I was assigned to Miss Hanshaw's class. Following introductions, I was instructed by Miss Hanshaw to take my seat. As I attempted to do as I was told, someone moved my desk and I sat on the floor as it seemed like each one of my new classmates started laughing at me.
Some forty-two years later, I found out who had been responsible for playing the trick on me. My former classmate explained her action by saying she had caused my embarrassment on behalf of the other members of the class "...to break you in." I was broken alright; and things could only get better for me from that point after being so embarrassed in the presence of my new classmates on my first day at Carver.
The school year 1959-1960 represented my sophomore year in high school. I did not, however, spend that year in Picayune. At the end of the school year in 1959, I left Picayune and went to live with my father and his family in Milwaukee, Wisconsin. It was there on the East side of the city at Lincoln High School that my interest in the Spanish Language began to develop. This is an interest that has had great influence in my life in many ways. To put things in perspective in terms of time, I left Picayune for Milwaukee less than a month after the April 24, 1959, lynching of Mack Charles Parker. This incident is the subject of the book Blood Justice: The Lynching of Mack Charles Parker by Howard Smead.
Also located at the corner of Beech and Rosa, was a small grocery store that was owned by Charley "Smokey" and Vivian "Polly" Byrd. The store was located in front of my residence in the Project, and it began operation in 1960 after I returned to Picayune from Milwaukee. Smokey and Polly befriended me and allowed me to work at their store as I started my junior year at Carver. I worked there off and on for about as long as they owned the business, even after I went to work at St. Regis Box Factory.
My new friends were retired from the military and they had returned to Picayune while I was in Milwaukee. Polly was Snake's sister. She was a lively lady who joked and laughed a lot. Smokey was a former baseball player, and at the time he was still a scout for a major league team. I believe the baseball team was the Pittsburgh Pirates. They, like Snake and Miss Vick, were experienced individuals from whom I learned a lot.
It was Polly who encouraged me to go to college after I returned to Picayune following a quick trip to Milwaukee in July after graduation in May 1962. Smokey gave me the $12.00 I had in my pocket when I left Picayune in August 1962 to go to West Point to try to make the football team at Mary Holmes Junior College and earn a football scholarship. Smokey and Polly, like Snake and Miss Vick, have passed away.
For many people associated with the school there are good memories of Carver. But there is probably no single accomplishment more memorable than the winning record established by the Pirate football teams between 1958 and 1964. The Pirates participated in the Gulf Coast Athletic Conference. The school competed against Mississippi teams in Poplarville, Bay St. Louis, Pass Christian, Pascagoula, Moss Point, Gulfport, Biloxi, and Ocean Springs. Other non-conference Mississippi teams the Pirates played were from Hattiesburg, Laurel and Columbia. The Louisiana cities of Bogalusa and Franklinton were also the homes of teams the Pirates played regularly.
During the period 1958-1964, the Pirates compiled one of the most impressive winning records in high school football history with sixty-three (63) victories and one (1) tie before the winning streak came to an end. The 13-13 tie came in a contest with Jefferson High School of Columbia in the first game of the 1963 season, after forty-nine (49) or fifty (50) consecutives wins for the Pirates. The winning streak began with the second game of the 1958 season with a win over the school in Franklinton, Louisiana. It ended in the ninth game of the 1964 season in a controversial loss to the Jim Hill High School Tigers of Jackson. Jefferson High, incidentally, was named for John Jay Jefferson, father of Eugene Means of Picayune. Mr. Means' children attended Carver High.
Tommy Williams, a Jackson State graduate and a native of Oklahoma, was the head coach of the Tigers at the time. The game was called to an end by the officials with eleven seconds left on the game clock after the Tigers scored to go ahead of the Pirates by a score of 19-14 and a fight broke out on the field. Not only were the Pirates charged with a loss that night, I left the field without my favorite sports jacket. This game was the first and last meeting between the two schools.
MAKING KAPPA AT JACKSON STATE IN 1966
I was a junior at Jackson State at the time the game between the Pirates and the Tigers was played. I, like many other Pirates fans, left the game that night feeling a great sense of loss. As time went on however, I realized that my encounter with Jim Hill would not be a total negative experience for me. Mildred Marie Varnado is a 1963 graduate of Jim Hill. I met her at Jackson State in foreign language classes. In 1966 she became my wife and later the mother of two of my children, Carla Marie (1966) and Willie Curtis (1983). Cornelius T. "Teddy" Taylor, brother of Carla and Willie, is my son who was born in 1965. Genealogy is my favorite hobby. For more about my genealogical research, visit ROBINSON, VARNADO & Other Family Research.
Although Carver's winning streak came to an end in Jim Hill's homecoming game that year, the Pirates had accomplished something enjoyed by few other football teams in the nations. In a 1970 Junior Scholastic Magazine article, the Pirates were credited with having established the third best record in the United States. The article listed Bedford County Training School of Shelbyville, Tennessee as having the best record with seventy-eight (78) victories during the period 1942-1946. The second best was held by a school in Jefferson City, Missouri with seventy-one (71) wins between 1958 and 1966.
This great record was accomplished under the leadership of Head Coach Marion Lorenzo Henley (March 17, 1934 - July 02, 2013), a 1957 graduate of Jackson State and a native of Biloxi. At Jackson State "Chief", as Coach Henley was also known, had distinguished himself as a scholar as well as an outstanding football player. The late John A. Merritt was head coach at JSC when Coach Henley was there. Coach Merritt later became known as the legendary "Big John" of the Tennessee State University Tigers. He was also known as "Bo Dogier" in Mississippi, a name that obviously did not follow him to Tennessee.
At JSC as well as at TSU, Coach Merritt was assisted by Coach Joe W. Gilliam, Sr., and Coach Alvin C. Coleman. These three men are now in the Tennessee State University Sports Hall of Fame. Coach Henley often spoke of the influence these men had on his life both on and off the football field. Coach Henley left Picayune in 1970 after Carver closed for the last time, and he and his family relocated to the state of Maryland. During Coach Henley's tenure at Carver High, the football Pirates complied a record of 116-8-2.
Although the coaching responsibilities were generally a one man operation the first year I was on the team, Chief was assisted during the 1961 season by Boxer/Teacher Freddie Little. Freddie was a 1957 graduate of Carver High and a recent graduate of Dillard University in New Orleans. Although Freddie is a former Pirate, he is best known for his performance in the boxing ring. He won the vacant World Boxing Council Junior Middleweight Title on March 17, 1969, by defeating Stan Hayward in Las Vegas, Nevada. Freddie also served on the Nevada State Boxing Commission for many years.
The principal of Carver High during its entire existence was John Prentiss (J.P.) Johnson. Having also served as principal of the East Side Colored School beginning in 1943, Mr. Johnson, also known as "Prof", was a graduate of Wiley College in Marshall, Texas. He received his masters degree from Xavier University in New Orleans. Prof also attended Atlanta University in Atlanta, Georgia, and Peabody College in Nashville. Mr. Johnson was a native of Yazoo City, Mississippi. Mrs. A.M. Johnson, Prof's wife, also taught at Carver for many years and played an important role in the school's activities.
To recognize the accomplishments of the Pirates, a plaque honoring the players was presented to Carver High by Picayune business men in 1964. The plaque read, "Presented to George Washington Carver High School by businessmen of Picayune, Miss., in honor of the players on the all-time National Championship teams 1957-1964 which won 64 straight victories. Given December 1964."
The year 1957 on the plaque most like referred to the year Coach Henley began his tenure as assistant coach under Head Coach Lionel Martin. Coach Martin was from Pascagoula, and he was a graduate of Alcorn College in Lorman, Mississippi. He left Carver after the 1957-58 school year to teach and coach at Mary Holmes Junior College. It was at that time that Chief became head coach at Carver.
SOME OF THE PIRATES IN 1960
(#22)
With the exception of a few minor corrections and alterations, the names on the plaque were as follows:
"William 'Bill' Knight, '57; Clinton Stevens, '57, '58, '59 & '60; Herman Brooks, '57 & '58; Johnny Jackson, '57; Robert Rochell, '57 & '58; Eugene Parker, '57 & '58; Lamont Johnson, '57; Leroy Gillum, '57 & '58; Richard Jones, Jr., '57; Arthur Turner, '57 & '58; Louis Turner, '58; John L. Smith, '57; Milton Acker, '58; L. S. Collins, '57; Robert Bender, '57 & '58; Paul Acker, '58, '59 & '60; Charles D. Lowe, '58, '59 & '60; George Bolden '58, '59 & '60; Samuel Woullard, '58; Clinton Baker, '58 & '59; Wright H. Brumfield, '58, '59; & '60; Louis Mack, '59 & '60; Lonnie Jones, '58; Billy Ray March, '58; Charles Johnson, '58, '59, '60 & '61; Charles Ward, '58; McArthur Moses, '59, '60, '61 & '62; Raymond Staten '59, '60, '61 & '62; Buford Satcher, '59 & '60; Alvin Farmer, '59 & '60; Percy Manning, '59 & '60; Willie L. Robinson, '60 & '61; Oscar Carter, '59; Joe Henry Gaddis, '59 & '60; Paul Dees, '59; Carl Woodson, '60 '61 & '62; Charles Malone, '60 & '61; Eugene McCann, '60, '61 & '62; Willie C. Dean, '60, '61 & '62; Marvin Nicholson, '60 & '61; Johnny Little, '60; Leon Magee, '60 & '61; Ray Goff, '61 & '62; Tommy Manning, '61, '62, '63 & '64; James Little, '61, '62 & '63; Leon Satcher, '61, '62, '63 & '64; Thomas Breland, '61, '62 '63 & '64; Walter B. Woods, '61 & '62; Robert Lee Washington, '61; Charles C. Lowe, '61, '62, '63 & '64; Willie (Johnson) Ellis, '62 & '63; Charles Griffin '62 & '63; Fred Turner, '62 & '63; James Avery, '63 & '64; J.C. Tribbett, '63 & '64; Charlie Johns, '63 & '64; Willard Johnson, '63; Edward Stubbs, '63; Deloyd Bullock, '63; Willie Newsom, '63; Walter Ray Thompson, '63 & '64; Ardie McSwain, '63 & '64; John Brown, '63; Fredrick Aikens, '64; James Bender, '64; Robert Burton, '64; Carey Byrd, '64; Wilfus Gatlin, '64; Jimmy Kirish, '64; Donald Moore, '64; Jerry Meyers, '64; Eddie Richard, '64 and Edward Stubbs, '64."
Obviously, the names of some of the players on the 1957 team appeared on the plaque.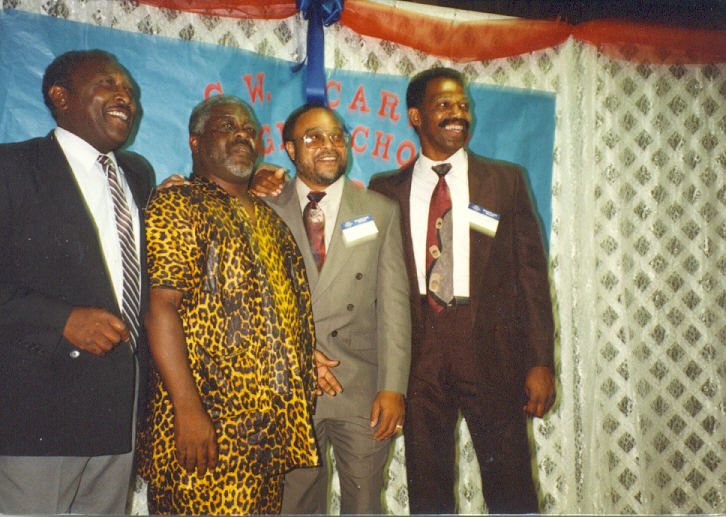 FOUR FORMER CHS QUARTERBACKS IN 1992
Parker, Satcher, Baker & Ellis (Johnson)
There were also many others who played important roles in the accomplishments of the Pirates, although they were not actually on the field playing the games. The supporting cast included faculty and staff, trainers, cheerleaders, band members, the student body, parents and the community in general, both black and white. Many Pirate home games were played on Saturday nights in order to allow more of Carver's white fans to attend after they supported the Picayune Memorial High School Maroon Tide football team at their games on Friday nights.
TWO REAL PICAYUNIANS
Willis Woodson and Lap Baker roasting Coach Henley in 1993
Through the tireless efforts of James A. "Lap" Baker, a 1966 Carver High graduate and now a resident of Jackson, both Coach Henley and Freddie Little are now members of the Mississippi Sports Hall of Fame after they were inducted in 1993 and 1995, respectively. At the 1992 Carver High Reunion, Lap promised he would accomplish the goal of having the two men inducted into the organization within three years, by the time of the next reunion. Lap was also a Pirate whose first year on the team was 1964.
ENJOYING THE ROAST
Coach Henley and Family at his Roast in 1993
On September 27, 2002, Coach Henley, along with twelve other former Jackson State athletes, was inducted into the Jackson State University Sports Hall of Fame. For more than thirty-five years after leaving Picayune in 1970, Coach and Mrs. Henley made their home in Baltimore, Maryland. They now live in the state of Florida. Mr. Johnson passed away in 1995 while living in Picayune in retirement after many years of quality service to his community.
HIS CAME TWO YEARS LATER
Freddie Little at Coach Henley's Induction in 1993
Although Carver High School ceased to exist in 1970, the Carver High Spirit lives on today in many of its former students throughout the United States. The pride developed there so many years ago is still obvious in many who had the experience, especially as we return to Picayune every three years to join our home boys and home girls who still live there, for the Carver High School reunion. It is at this time that many of us reflect on the benefits of the teachings and guidance of those at Carver who were instrumental in helping to shape the lives of its students, as we understand the true meaning of, "Dear Carver High, we love thee..."
EIGHTH GRADE GRADUATION
Johnny M. Littles, Leon Magee, Jr. and
Willie L. Robinson in 1958
TOGETHER AGAIN
Johnny, Leon and Willie at the Picnic in 1998
We were also together in July of 2001 and 2004.
To view more photos, go to PHOTOS OF THE 2001 CHS REUNION.
AT THE 2004 CHS REUNION BANQUET
Bessie L. Means, Anna Marie Manning Rieux Bush, Arthur L. "Foots" Turner and Evelyn G. Lott
SOURCES: Information for this page is provided from personal knowledge of Willie L. Robinson, Surviving The Storm! by Buford Satcher, Ph.D., Blood Justice: The Lynching of Mack Charles Parker by Howard Smead, The Thirty-first Annual Mississippi Sports Hall of Fame and Awards Banquet Program, The Thirty-third Annual Mississippi Sports Hall of Fame and Awards Banquet Program, History of Picayune Mississippi, and The Tennessee State University Home Page.

The Art of Sandra L. LatherBenson
As a young child growing up in Picayune, Sandra L. Lather became interested in art and her talents developed as she matured. As her interest in painting grew, her talents were recognized by family members, friends and teachers as she was involved in art projects at school. She graduated from George Washington Carver High School in 1969, the year before it ceased to exist as our beloved high school. After graduating from Carver, Sandra went on to further her education as her artistic ability continued to mature. Today, Sandra L. LatherBenson is a professional painter, an artist of extraordinary ability. As an artist, Sandra's work clearly reflects her beliefs, interest and background. Her work can be appreciated at MyARTSite.Biz. Sandra would appreciate your visit. Please let her know of your visit by signing her guestbook.
07/05/07

REFLECTIONS OF THE 2007 CARVER HIGH SCHOOL REUNION
June 30 - July 04, 2007
Picayune, MS
Again this year, in 2007, the G.W. Carver High School Reunion was enjoyed by many. Because of destruction caused by Hurricane Katrina in 2005, all reunion activities this year took place in Picayune with the exception of a visit to the Mississippi Gulf Coast for several hours on Monday, July 2nd. I think the Carver High School Reunion Committee deserves a great deal of credit for their efforts to make the event a success. I personally appreciate all the work done by each member of the committee.
THE PIRATE ANGELS HELP KEEP THE MEMORY OF THE PIRATE ALIVE
FIRST PLACE FLOAT WINNERS - CARVER'S LAST 7TH GRADE CLASS
HOME BOYS FOR LIFE
ENJOYING THE BANQUET
TO LEARN FROM A MASTER
THE CLASS OF 1962 WAS A WINNER TOO

MORE 2007 REUNION PHOTOS
To see more pictures of the 2007 CHS Reunion activities, visit photos.
2009 REUNION PHOTOS
To view photos of the 2009 CHS Reunion activities, visit pictures.
2011 REUNION PHOTOS
To view photos of the 2011 CHS reunion activities, visit pictures and photos.

A MESSAGE FROM DR. NOEL E. POLK
Dr. Noel E. Polk is a 1961 graduate of Picayune Memorial High School. He attended some of the 2009 Carver High School Reunion activities in Picayune in early July. Now Noel would like to convey the following message to all concerned:
"I thank you all for letting me attend the Carver Reunion last month. I am grateful for your kindness, your warmth, and your welcoming spirit. I could, and do, waste time regretting that our meeting was nearly 50 years later than it should have been, but for a month now I have been filled with joy at meeting you and in recovering a part of my past that I didn't know I had. Thank you so much for allowing me to indulge myself in your company. I wear my Carver T-shirt proudly! All best to everybody."
Noel
08/01/09
Obituary of Noel Earl Polk

SNAKE'S
Snake's Malt Stand, located on Rosa Street on the west side of Picayune, was a place that provided opportunities for social activities for African-American youth in the '50s and '60s. Although a crowd could usually be found at Snake's on weekends, teenagers would also often gather at the place after activities at Carver High. Mrs. Jewel's Place, located on the east side of town, was also a poplar hangout for teenagers during the time.
The malt stand was owned and operated by Clifton Jerry "Snake" Abram, who was assisted by his wife Annie Mae, and sister Vivian "Polly" Byrd. In addition to providing a hangout for teenagers, Snake was also known for occasionally giving good advise to those of us who could catch him in the mood.
THE LOCATION OF SNAKE'S MALT STAND IN THE '50s AND '60s

.

MEMBERS OF THE CLASS OF 1962

The Carver High School Class of 1962 consisted of thirty-two students, nineteen females and thirteen males. The members of that class are Catherine Acker, Jessro Weems*, Gladys N. Benjamin, Florence LaVern Woodard*, Annette Spears, Willie L. Robinson, Charles Eugene Johnson*, George Bolden, Edward Snyder, Jr., Jimmy Gates, Robert Lee Washington*, Cornelius Washington, Jr., Vernell Reed*, Eula Mae Brown, Bertha Juanita Burton, Marvin Avery Palmore*, Sylvia Elaine Moore, Bobbie Anne Johnson, Ruby Nell Bender*, Annie Marie Bogan, Pearl Elaine Dees, Charles Rufford Malone, Leon Magee, Jr., Marvin Nicholson*, Alene Fields, Daisy Lee Pittman, Johnny M. Littles*, Barbara Ann Foster, Henri Kata Dixon, Joyce Marie Dedeaux, Mary Dean Brown* and Florence Breland*.

The class motto was "Life without God is like a ship without a compass." The class flower was the pink camellias, and the class colors were cerise and green.

For a more complete listing of graduates of the East Side Colored School and Carver High School, go here.

*Deceased

RECIPIENTS OF THE CROSBY SCHOLARSHIP AWARD*

Beginning in 1957 and continuing for the remaining years of the school's existence, the Crosby Family of Picayune awarded a four year college scholarship to a deserving Carver graduate each year. The fourteen recipients of the award are Helen Johnson - 1957, Barbara Moore - 1958, Gene Smith - 1959, Elizabeth Williams - 1960, Buford Satcher - 1961, Eula Mae Brown - 1962, Louis Alexander - 1963, Barbara Washington - 1964, Martha Whitehead - 1965, John Lenoir - 1966, Maxie Jefferson - 1967, Mary Dunn - 1968, Lynda Joyce Lather - 1969 and Marcia Alderman - 1970.

*Source: Surviving The Storm!

PHOTO, VIDEO & NEWS LINKS

IN MEMORY OF MRS. CORRINE MCCANN ANDREWS

"How far you go in life depends on your being tender with the young,
compassionate with the aged, sympathetic with the striving and
tolerant of the weak and the strong. Because someday in life you will
have been all of these."
~ George Washington Carver
Please Sign Guestbook
This site is developed and maintained by Willie L. Robinson.
LAST UPDATE: May 26, 2016

MORE LINKS

John Prentiss (J.P.) Johnson
Annie M. Johnson
Remembering Carver High School - July 03, 2009
The 2009 CHS Reunion Parade - July 03, 2009
A Tribute to My Late Aunt Kitty
Tennessee Bicentennial Capitol Mall State Park Photos
2011 Carver High School Reunion Letter
Wake Up Picayune
Photos of the 2011 Carver High School Reunion - 07/01/11
Photos of the 2011 Carver High School Reunion - 07/02/11
Remembering Their Names
Rosa A. Temple High School Reunion Photos - 09/02/11
Rosa A. Temple High School Reunion Photos - 09/03/11
ROBINSON, VARNADO & Other Family Research
Jo Jo Gunne
Obituary of Coach Joe W. Gilliam
Carver Culture Museum - Picayune, MS - YouTube
Freddie Little KO2 Hisao Minami
List of Educable Children - Picayune 1943
Now I Know What Happened to Clyde
Obituary of Coach Marion Lorenzo Henley
Wake Picayune, Holiday Edition 2015
2015 George Washington Carver High School Reunion Photos
In Memory of Johnny Moses Littles (February 20, 1941 - October 10, 2015)

Email: wlr0819@aol.com