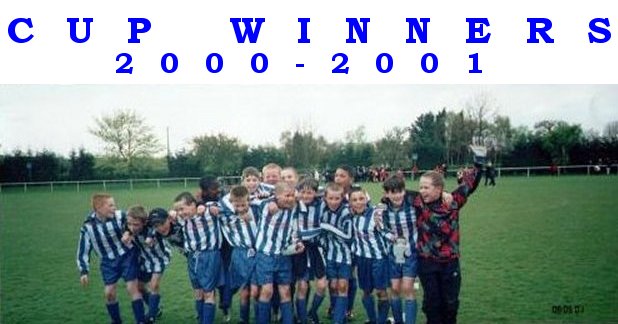 MANAGER : Steve Pentland.
ASSISTANT MANAGER : Eddie Clare
COACH : Mark Prestage
SPONSOR : Atticus Trophies -
Supplying WAFC with the Winners Cup -
TEL 0161 368 3683




Wythenshawe Amateurs Football Club were established in 1946 and have a long and distinguished history. In the 1950's our club played against Manchester United and drew 2-2. We have 10 successful junior teams ranging from under 8's up to under 16's and 3 senior teams all competing in leagues around Manchester. Our Club is based on Longley Lane, Northenden, Manchester, England. Although with the amount of teams we have competing, we all play at different pitches around the Wythenshawe area.


We are the under 12ís and we play our football in the Timperly and District Junior Football League. Our home pitch is at Brookway High School, Wythenshawe.


Our aim is to maintain a structured, yet friendly environment for children of the local area to participate in organised football activities. All of which is done on a voluntary basis.
We are well known in the local area so we decided to set up this website to introduce ourselves to the rest of the world and also as a thank you to all the players, supporters, parents and club staff, without whom this club would be unable to exist.

We hope you check in regularly and keep yourselves abreast with all our latest results and news and enjoy following us through this and many seasons to come.



Date
Venue
Opponents
Result
Goal Scorers
M.O.M.
Sponsor
9-9-01

Away

Unicorn

1-3

C.Canning

R.Fallon

16-9-01

Home

Lymm Rovers

18-1

Chris C(8), Macca(4),Danny, Karl, Rhien, Mark, OG(2)

M.Prestage

Quid's In
Northenden

23-9-01

Home
Bridge Colts (Lancs Cup)
13-3
C.Canning (4), Macca (4), Rhien (3), Byron, Danny

Royal Oak Post Office


30-9-01

Away

Halebarns

7-10-01

Home
St. Josephs

Forget Me Not
Card shop

14-10-01
Away
Woodhouse Park

4-11-01
Away
AFC Urmston

11-11-01
Home
Sale Utd

Mr. & Mrs. Mee

18-11-01
Away
Urmston Town
25-11-01
Away
Flixton Jnrs
2-12-01
Home
Timperley Villa
9-12-01
Away

Timperley Villa

16-12-01
Home

Wilmslow Sports

6-1-02
Away
Lymm Rovers
20-1-02
Home
Halebarns
27-1-02
Away
St. Josephs
3-2-02
Home
Woodhouse Park
17-2-02
Home
AFC Urmston
24-2-02
Away
Sale Utd

3-3-02

Home
Urmston Town
10-3-02
Away
Wilmslow Sports

17-3-02

Home
Unicorn
24-3-02
CUP
(Semi Final)
7-4-02
Home
Flixton Jnrs
View My Guestbook
Sign My Guestbook
Please see our News section if you would like to help the team.