Welcome to Appalachian Contesters!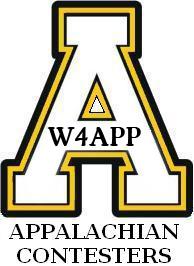 Welcome to the website of Appalachian Contesters W4APP, an ARRL affiliated club. Appalachian Contesters is a group of amateur radio operators located in the High Country of North Carolina who have developed a passion for radiosport. As that passion grew the need for a contesting club and a group callsign became clear. In November 2008 Appalachian Contesters was born.
The call W4APP is reflective both of the region we are a part of and the university that many of us have connections to. Located in the Appalachian mountain region the call serves as a beacon of our mountain heritage, a heritage we are very proud of. The call also represents Appalachian State University, yes the school that beat Michigan in 2007. Many of us have ties to Appalachian State and are proud to have our call reflect our allegiance to the back to back to back NCAA FCS (formerly Division I-AA) national champions (2005, 2006, 2007).
Our mission is simple. We strive to promote active participation in radiosport, especially here in the Appalachian mountain region; to promote the group practice of radiosport; to serve as a forum for the discussion of issues related to radiosport; to formulate and participate in DXpeditions, griDXpeditions, special event stations, and other events; to educate ourselves and others about radiosport; and to promote good operating procedures and practices. If you share the ideals of this mission please check out our "Join Us" page to see if Appalachian Contesters might be the right contest club for you.
While none of us have that "big gun" station we are continually striving to build better stations and to become better operators. We have individually and jointly brought home awards in several contests, including the PSK DeathMatch, the NC QSO Party, and several VHF contests. We look forward to the day we win that "big one", until then we strive to be the best we can be.
Our contesting efforts have begun to pay off. Some of our club accomplishments include:

2010 and 2011 NC QSO Party In-State Club SSB Champions
2012 NC QSO Party Expedition Champions
2011 ARRL RTTY Round Up Roanoke Division and North Carolina Low Power Club Champions
Very good showings in ARRL VHF Contests and the CQ VHF Contest.
If you hear W4APP on the air please say "howdy". If you've just worked us thank you. If you've just found our website please take a look around and enjoy your visit. Stop back often to see what we are up to. Who knows, we may be activating a grid you need for your VUCC or a state you need for the "clean Sweep".
Peace to you and yours. 73 and good DX
Appalachian Contesters...W4APP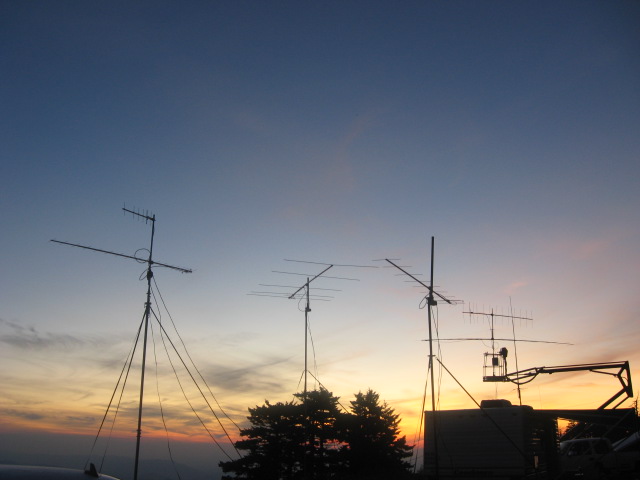 "Aluminum at Sunset"
VHF/UHF set-up, Whitetop Mountain Virginia 2009.