* 70s invasion , SEX PISTOLS *
updated as of Feb 26th '05
JOHNNY ROTTEN jan '78
'AFTER THE RELEASE OF 'GOD SAVE THE QUEEN' WE GOT BEAT UP ON THE STREET'
the PISTOLS had just broken up it was early ' 78 and JOHNHNY had just gotten off the plane in Ireland , he had come to see his brother's JIMMY's band which he thought we be good for a laugh, 45 minutes later 2 cops hit him several times with their fists and dragged him off to jail after recognizing him, says Johnny
' 2 YOBS COPPED AN ATTITUDE WITH ME, AND UNFORTUNATELY ONE OF THEM WAS AN OFF DUTY POLICEMAN. I GOT DONE IN FOR GBH ( grievous bodily harm), BECAUSE I ATTACKED 2 POLICEMEN's FISTS WITH MY FACE SEVERAL TIMES'
'MOUNTJOY WAS FILLED WITH I.R.A, U.D.A., PSYCHOPATHIC WARDERS, AND THE LOT. I WAS LUCKY IN THE RESPECT THAT THE WARDERS DECIDED TO MAKE AN EXAMPLE OF ME. THEY STRIPPED ME NAKED AND THREW ME OUT IN THE EXERCISE YARD AND HOSED ME DOWN. THE REST OF THE PRISONERS WATCHED AND FIGURED I MUST BE ALL RIGHT. IF THE WARDERS HATED ME THAT MUCH, I MUST HAVE DONE SOMETHING GOOD'
( excert from page 263 of )
'NO IRISH, NO BLACKS, NO DOGS, _______________________________
by JOHN LYDON
( johnny rotten)
EXCELLENT BOOK WRITTEN BY THE LEADER OF THE SEX PISTOLS AND RELEASED IN THE 90s, LIKE US YOU MAY BE AN AVID FAN OF THE SEX PISTOLS, AND P.I.L. AND READ SEVERAL BOOKS AND STORIES, WEBSITES, etc....... ABOUT THE LIFE OF THIS PUNK ROCK PIONEER, ARTIST, AND FAMILY MAN, BUT THIS IS THE BEST ONE WRITTEN, HANDS DOWN..........WITH ADDITIONS ADDED BY CLOSE FAMILY FRIENDS AND EVEN JOHNNY's FATHER, WHAT MORE COULD U ASK FOR ?
THERE ARE EVEN PERSONAL FAMILY PHOTOS OF JOHNNY AS A YOUNGSTER LOOKING LIKE A JUVENILE SEWER RAT, PRICLESS INDEED....
( continuing from the above excert )
'IN THE MIDDLE OF THE NIGHT 2 WARDERS DECIDED TO COME IN AND BEAT ME WITH THEIR TRUNCHEONS'
( they decided to let the prisoners watched the film ' THE PUNK ROCK MOVIE' starring the SEX PISTOLS and others, but it worked against the warders, because the prisoners ended up standing up for Johnny, because most liked an understood the film )
later that night 2 guards came over while Johhny was sleeping and began to bug him, then began to hit him with the clubs, suddenly everyone in the place stodd up for him, and the guards retreated.....
.....ONE THING WE HERE AT THE 70s invasion LOVE ABOUT THIS BOOK IS LYDON"s SENSE OF HUMOR, U CAN FIND IT ALL OVER THE PLACE, EVEN IF SOME OF IT IS LEADING TOWARDS CYNICAL HUMOR, HIS WRITING SKILLS ARE FAR BETTER THAN YOUR AVERAGE IDIOT ON THE STREET, HIS POINT OF VIEW OF ENGLAND AT THE TIME GIVES A VERY HONEST PORTRAYAL IN EXPOSING MANY OF THE POLICTICAL AND SOCIAL OBSTACLES IN THE WAY..... ( more quotes from the book )
( Johnny on his mum )
'JUST BEFORE LEAVING SHE WOULD ALWAYS COME UPSTAIRS TO MY ROOM AND ASK IN HER HEAVY IRISH BROGUE ' WHAT HAVE U BOUGHT LATELY SON ? I HEARD SOME NIOSE EARLIER ON THAT I RATHER LIKED', 'NO MUM I'M SURE U WON' T LIKE THIS', 'SHE WOULD SIT AND LISTEN AND ABSORB THE MUSIC, SHE WAS GENUINELY THRILLED. SHE LOVED 'FUNHOUSE' BY THE STOOGES'. 'IT WAS HARD TRYING TO BE THE REBELLIOUS ONE HERE IN YOUR ROOM WHEN YOUR MUM'S SITTING THERE LISTENING TO 'FUNHOUSE' OH NO GET ME OUT OF THIS CRAZY FAMILY QUICK' !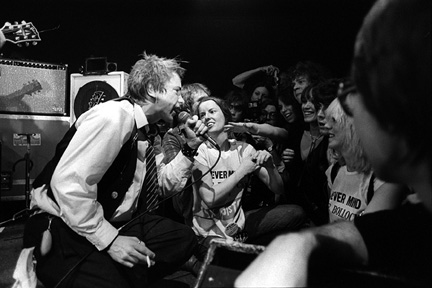 Johnny and fans in Atlanta, Georgia jan '78
( John's father )
' THERE WAS AN ARTICLE NOT LONG AGO IN THE PAPER WHERE THEY WROTE ABOUT JOHNNY THAT HE WAS ONE IN a MILLION WHO CHANGED THE WORLD. BY GOD I THINK HE DID, MY JOHNNY CHANGED THE WORLD'
Well there u have it, a few qoutes and our thoughts on the book , Note; in the book it does say that no quotes can be used from the book unless they are for the purpose of doing a review and then only small ones can be used, well we've used a few to enhance this review, thats all :)
One thing we disagree with John is the Pistols concerts in the states on the ' 78 tour, the band were outta site ! Sid's playing was great, to see for yourself buy the video 'D.O.A.' ( A film about the Sex Pistols, and punk rock', and even better are the DALLAS, and SAN FRAN concerts, there is nothing in the world quite like their encore 'NO FUN' from either concert.

---
It is likely that more than 50% of the U.S. population is strongly dissatisfied with the ascendancy of George W. Bush to the office of President. There are three likely reasons:

1. Bush won the election under questionable circumstances; 2. Bush has espoused a reactionary platform that places him far to the right of mainstream America; 3. Bush has demonstrated none of the intellectual attributes expected of a president.

In the interest of democracy, one could discredit election gripes (point number one) as being unfair to our longstanding electoral college process. Also, one might disregard Bush's agenda (point number two) because the hallmark of the United States Constitution is tolerance for divergent political and moral beliefs.

However, point number three leads to a more egregious problem, namely that a rather anonymous man, with no distinguishing ambition or vision has, by virtue of family wealth and connection, been installed as President of the United States. Even the most cursory glance at George W. Bush's history and character builds a strong case for charges of nepotism and cronyism. Such a glaring display of favoritism, to benefit an individual with no considerable talent, runs counter to the spirit of competition and fair play that has driven the engine of American capitalism for more than two hundred years.

There is a way to tangibly and immediately raise a voice in protest of George W. Bush as President. For the remainder of his term, conscientious Americans should simply write "Bush Is a Fraud" on all U.S. currency that passes through their hands.

This protest has already begun. The first bills were marked and spent in San Francisco as of January 26, 2001. What is important, though, is to not only begin marking all currency (and to continue the effort throughout the Bush presidency), but to forward this memo as much as possible so as to replicate the message throughout our money supply.

Make your voice heard. You can get a rubber stamp at TheStampMan.com for $9.31 and then stamp every bill that passes through your hands. I wonder how long it will take to stamp every bill made?
---
SID and crowd shot at Dallas '78 jan. '78
some current news about John -
those of u interested can get ROTTEN TV on video, 3 shows were aired on cable from '99 - 2000, we have the 1st 2 and they are funny, he also appreaed on the JUDEG JUDY show, which is something unique to have on video, and a real hoot at that !
currently in '04 he has been doing some safari adventures meeting and playing with animals, and a lot of it has been documented on film, see this link at John Lydon.com for more info -
http://www.johnlydon.com/jlnews.html#shark
---
this comment we added here, it was taken from John Lydon.com, the intreviewer was asking John about the current state of the PISTOLS -

What's your relationship with the rest of the band ?

We genuinely do not like each other as human beings. The way we see things is so different, but when those differences came together it made pure common sense. That natural revulsion we had for each other brought out the best. Because despite the hate it never separated us. We're still attached to each other. There's a common bond there, but none of us can tell you what it is. I'll have a go at them, they'll have a go at me, but if anyone else has a go at them, I'm with them. This is one loyal firm in that respect. No one has earned the right to slag any of them.

HAVE U SAW OUR SEX PISTOLS GALLERY 2 ? IT's ALL ABOUT JONESY's JUKEBOX AND THE SONGS HE HAS BEEN PLAYING ON L.a. RADIO IN '04 - CURRENT TIME OF FEB '05, SEE OUR GATEWAY 2 UP TOP....

url for the homepage

https://www.angelfire.com/vt2/70sinvasion