Queen Virginia Video and Picture Page
This you will Learn about My Long Toenails
Pictures From My Trip To New York City October White Tips
Video Clips
Links to other Long Nail Video Pages
Join The Yahoo Groups! NEW PICTURES ADDED!
UPDATES and New Page from My Trip To New York City March 2003 See Link at Bottom of Page
New Long Nailed Friend Shelly Ann
Reactions I get about my Toenails-WAV Files
Get Your E Mails Posted
Have you seen my pictures from my Jamaica Trip? Check all my sites and you will find
"JUST ADDED!" Pictures from My Recent Trip To NYC of My White Tipped Toenails!
Calendars for 2006 are available for you to obtain. E mail me for more information.
I have also name my business"Fancy Feet Enterprises".
Professional Foot,and Shoe Model,Foot Fetish Shoots,also Modern Dance,Foot Worship,Personalized Poetry and Songs.Private Appointments Available........Must Provide Expenses. Also personalized Private Videos Available.Whatever Your fanticy is , I will try to Make That Video for you.
"ONLY THE SERIOUS SHOULD CALL OR E MAIL ME"
Phone:SORRY SOME DON'T LISTEN!
"FANCY FEET ENTERPRISES
"PLEASE!"......."NO PRANK OF VULGAR CALLS WILL BE TOLLERATED"
I have Grand Children living with me and they answer the phone. Please respect my Home and Family
/center>BEST TIMES TO CALL ARE 8:00AM-9:00pm MONDAY-SUNDAY
2004_0509studiova0066.JPG
"I HAVE CHANGED MY E MAIL BACK TO
toeclawsoo@yahoo.com
I will also be having my Shoes available for sale if anyone is interested
"CHECK THE LINK BELOW , YOU WILL HAVE TO JOIN GROUP TO SEE ALL THE NEWEST PICTURES FROM MY TRIP TO THE BIG APPLE LAST WEEK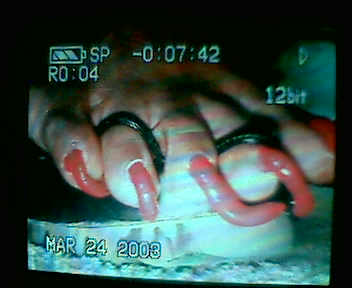 Hi Sorry I have not been updating my page. My Computer has been on the Blink. I hope to get it repaired soon. On a better Note, Imade the trip to new York City. I had a great time and had the opportunity to interview "Shelly" from "Shelly 's Nails. She is blessed with the ability to grow her nails for 7 Years. I interviewed her "Girl Talk" Syle and It was video taped by Tony, and will soon be available on her web site.. Contact my manager for more information.
---
I also have TWO new Videos available: 1st one is "Miami Blues".And 2nd, "Big Apple Red". You can obtail both videos . The Length of Miami Blues is 90 Minutes, Cost is 35.00.
"Big Apple Red" is 2 hrs and has the "1st Interview of Shelly Ann" about her Nails That She has been growing for 7 Years!.The Video is also 30.00 Plus Postage 3.85. You can Obtain Both for $55.00 plus 7.50 Postage. This is an excelent quality and Subject content Video. I hope to get Clips added to This Web Site soon, or I will be forced to Sharpen up The Toenails again!
I also had a chance to meet some of my loyal admirers in NYC. Hi Bob! Hi Neville!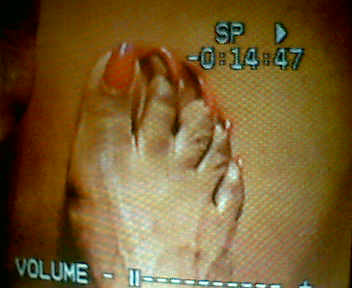 LOVE YOU ALL
Queen Virginia
LOVE YOU ALL E Mail at: toeclawsoo@yahoo.com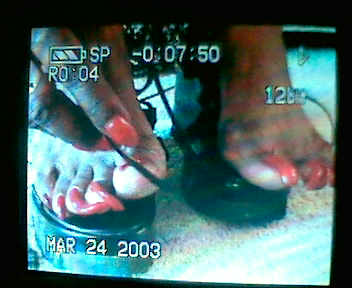 "Lovely Toenails Miss1"
This is a New Format I made my web man develop
He is making me happy because the videos work!. If they did not work, he will be severly punished by the rath of my Long Toenails and My Serious Sexy High Heel Shoes.My Toenails are very sharp and they do cut skin!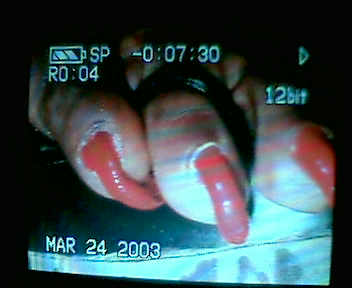 "Do They Hurt Your Feet Miss?"....." No!"
Miami Blues
---
I HOPE THAT YOU ALL WILL ENJOY THESE PICTURES I AM HAVING ADDED TO THIS NEW SITE
i WILL ALSO BE ADDING A PAGE TO CONSEL YOU IN THE CORRECT WAYS OF WORSHIPING MY LONG TOENAILS AND SEXY SHOES
THESE PICTURES WERE TAKEN IN ATLANTA AT PIEDMONT PARK WHILE I WAS CLAWING THE MANDELLA ROCK!
Like these shoes? They Show my toenails too!
PAGE 2 HAS MORE FOR YOU!


View My Guestbook
Sign My Guestbook


Click to visit Glowgirl.com
THESE ARE MY FAVORITE LINKS ABOUT LONG TOE NAILS AND FINGERNAILS
Shelly Has Been Growing Them For 7 Years
Toe Nail Pics Page 1
Queen Virginia Media Page 1
Queen Virginia Serious Shoe Page 1
Flash Pictures my Web Servant is working on, Please Try!
Visit My soon to Be Updated Sexy Shoes Page
No go to Page 2
October Nails
Remember Sexy Mona? Super Long Fingernails!
MARCH 2003 UPDATES BIG APPLE RED!
GO TO YAHOO GROUPS TO SEE ALL THE NEW PICTURES
More To Come! From NYC!
More Pictures From The Past

Email: queenvirginia@lycos.com